Chainlink (LINK) Price - A Forecast for 2022
- 7 minute read

2021 is drawing to a close. One in which Chainlink has had its highs and lows. Therefore, it seems like the perfect moment to have a look at what we can expect from Chainlink in 2022.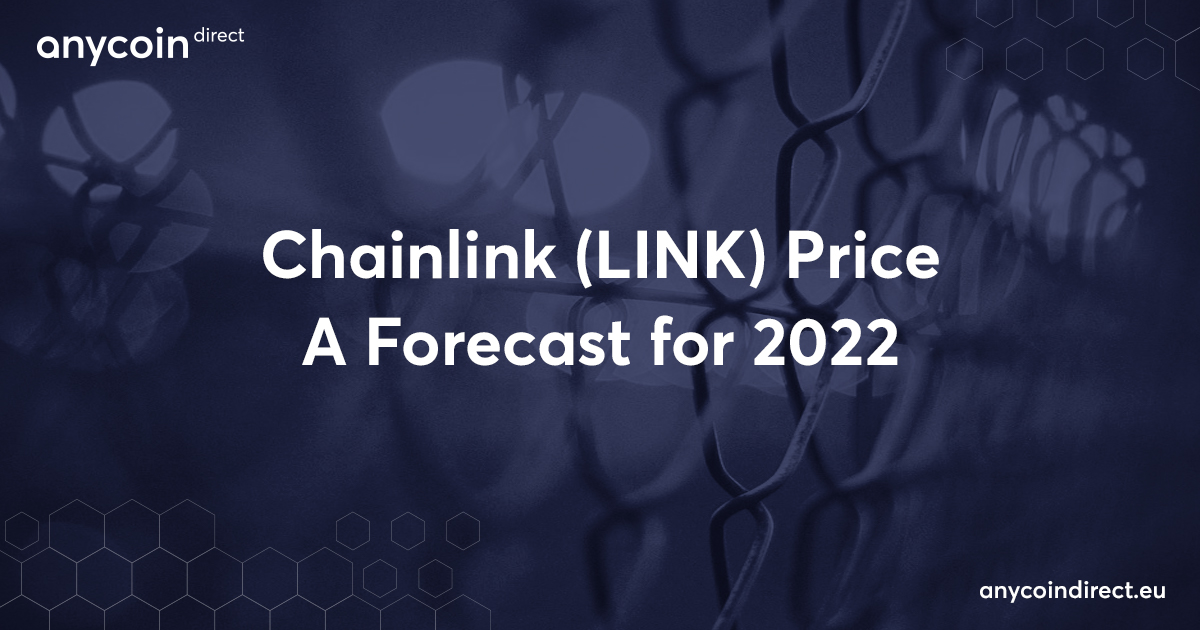 Table of contents
Chainlink Chart
What is Chainlink?
Chainlink is a blockchain-based, decentralized oracle network that allows smart contracts to connect to external data. Smart contracts are in fact pieces of code that ensure that an agreement between two parties is performed automatically on the blockchain. When the conditions are met, the contract executes the reward automatically.
Blockchains on their own are incapable of communicating with external data. On-chain data cannot communicate with off-chain data. As a result, many blockchains with smart contracts could not realize their full potential.
Chainlink has come up with a solution for the communication between on-chain and off-chain data thanks to Chainlink's oracle service. An oracle is software that translates external data into a language understandable by smart contracts and vice versa.
Situations that oracles can resolve between blockchain and external data include:
Results of sports events so that sports bets are paid out correctly.
Use location data to track a logistics company.
Retrieving weather data so that insurance premiums can be calculated.
Want to learn more about Chainlink oracles? Read our article about it here.
Chainlink Price
Chainlink entered the cryptocurrency market at the end of 2017 and therefore does not yet have a long price history. Nevertheless, there has already been plenty of hype in Chainlink's early history. Here is a small overview from 2017 to 2021.
Chainlink price 2017
Chainlink entered the cryptocurrency market at the end of 2017 and 1 LINK is valued at around $0.20 cents. With their listing on various exchanges, Chainlink partially participated in the crypto hype that was in full bloom at the end of 2017 and is also known as the bull run of 2017. At the peak of the bull run, 1 LINK equaled $1.42 and Chainlink was worth more than $400 million in total.
Chainlink price 2018
In 2018, the entire crypto market experienced a severe correction and a bear market emerged. In this, the price of Chainlink also fell. Throughout 2018, 1 LINK was worth less than 1 dollar.
Chainlink price 2019
In 2019, everything changed around the sentiment of Chainlink. Mainstream cryptomedia started reporting on Chainlink and mentioned the huge potential Chainlink has thanks to the oracle system. This appealed to the public and people started investing in Chainlink. The price of Chainlink rose from 50 cents to nearly $4 USD in less than two months, setting a new all-time high for Chainlink in terms of market capitalization.
Chainlink price 2020
By the start of 2020, Chainlink had become a real hype and was among the fastest rising cryptocurrencies at the time. This was until the covid-19 crisis hit worldwide in March 2020. Almost all financial markets experienced a contraction and so did the crypto market. Chainlink dipped to around $2 USD.
Shortly, however, the crypto market recovered and Chainlink's price rose, leading to a new all-time high in August. Chainlink reached a value of $19.85 and a market value of more than $6 billion. The crisis in the crypto world seemed to be over and a new bull run was underway. This made many curious about the Chainlink forecast for 2021.
Chainlink price 2021
This year the crypto market as a whole exploded, in a good way. Chainlink's price thundered on, reaching an impressive $50 USD per LINK in May this year. It even temporarily nestled in the top 10 highest valued cryptocurrencies.
Soon after reaching the all-time high in May, the crypto market experienced a severe correction and Chainlink's price dropped significantly to around $15.
But the bearish sentiment did not last long after the correction and meanwhile Chainlink, like most crypto currencies, has found its way back up in price. Bitcoin has even recently broken through its all-time high of May this year. Should alt-season come, Chainlink will, as expected, follow suit.
Chainlink Price Forecast 2022
Due to the fact that Chainlink's share price is now recovering, it is very interesting to see what we can expect from Chainlink's share price in 2022. To determine the Chainlink price forecast for 2022 you can consider the following factors:
The cryptocurrency market
The price of Chainlink is determined by many factors, but no factor is as important as the overall crypto market. If the crypto market collapses for any reason, this will also have a major impact on the price of Chainlink. This is because it is rare for a cryptocurrency to swim against the current for an extended period during a market correction.
Some crypto experts such as PlanB expect the crypto market to reach its climax sometime in late 2021 or early 2022 and Bitcoin to be worth more than $100 thousand dollars. Looking at the history of crypto, a climax is always followed by a severe correction. The saying "History repeats itself" is not for nothing a well-known saying in the financial world.
When #bitcoin is in all time high mode (color turns red), it usually stays in ATH mode (red) for a couple of months pic.twitter.com/5QYkWjdgNv

— PlanB (@100trillionUSD) October 24, 2021
Nevertheless, a market cycle never goes exactly the same way as the previous cycles and it is impossible to predict the peak of a cycle. Whether the crypto market reaches its climax as the experts indicate is therefore impossible to say. On the other hand, there are also plenty of so-called experts who believe that the bull run may continue through 2022.
Long story short: keep a close eye on the market. Should the bull run continue for a long time, including an altcoin season, it is likely that Chainlink will benefit from it.
Fundamentals Chainlink
The entire crypto market is extremely important for Chainlink's price, but the fundamentals are almost as important for Chainlink's 2022 forecast. After all, if Chainlink does not come up with good developments, investors may prefer to invest their money elsewhere.
Looking at Chainlink's oracles, Chainlink has a very usefull product that currently supports many blockchains such as Zilliqa and 1Inch. In addition, Chainlink has partnerships with major players such as Intel and Google Cloud.
When Chainlink enters into more major partnerships in 2022, and multiple crypto exchanges use Chainlink's oracles, this could have a positive impact on the price of LINK. But if we are completely honest, Chainlink has no clear roadmap compared to a Cardano or Ethereum. After the implantation of the Oracle network, Chainlink has been quiet. They say 'buy the rumour, sell the news', but meanwhile there is no rumour and no news about LINK.
Chainlink competitors
Chainlink's success has not gone unnoticed. Competitors are trying to do what Chainlink does (but better). CoinMarketCap has compiled a list of all cryptocurrencies that offer oracles. This list shows that Chainlink is by far the largest in terms of market capitalization compared to its competitors, like Band Protocol and WINkLink.
The fact that Chainlink is worth a lot more at the moment does not mean it will remain so in the future. The crypto landscape may change rapidly, so Chainlink has to continue to innovate through technology or partnerships. Nevertheless, Chainlink is the first oracle network to have generated a lot of notoriety, so we can expect the competition to not be able to snatch away much of Chainlink's market value in 2022.
1-Year Returns
Dogecoin $DOGE: +9412%
Cardano $ADA: +2218%
Binance $BNB: +2174%
Solana $SOL: +2128%
Ethereum $ETH: +756%
Uniswap $UNI: +593%
Polkadot $DOT: +591%
XRP $XRP: +348%
Bitcoin $BTC: +332%
Litecoin $LTC: +214%
BitcoinCash $BCH: +142%
Chainlink $LINK: +92%
Gold $GLD: -9%

— Charlie Bilello (@charliebilello) August 23, 2021
Conclusion
So what is Chainlink's 2022 forecast? In terms of product, Chainlink is rock solid and has an extremely useful use case. But it lacks an actual roadmap outlining the plan for the coming year(s). Competitors such as Band Protocol are developing further with the aim of knocking Chainlink off the throne as the best decentralized oracle network.
Most cryptocurrencies increase in value during a bull run, but the exceptional cryptocurrencies with a unique use case or technology stand out above the rest. Chainlink was one of those cryptocurrencies that stood out above the rest in 2019 and especially 2020. But the hype that was there around 2019/2020 has subsided for now. Chainlink will have to present big plans in 2022 if it wants to stand out like it has in recent years.