Anycoin Direct x Blockpit - Do your crypto taxes within a matter of minutes
- 3 minute read

It's our mission to make the access to cryptocurrencies a bit easier and a bit smarter. This includes us supporting you with related and relevant topics, such as doing your crypto taxes. That's why we partnered with Blockpit, a company that specialises in compliant digital asset reporting. With their technology, you can do your crypto taxes within minutes.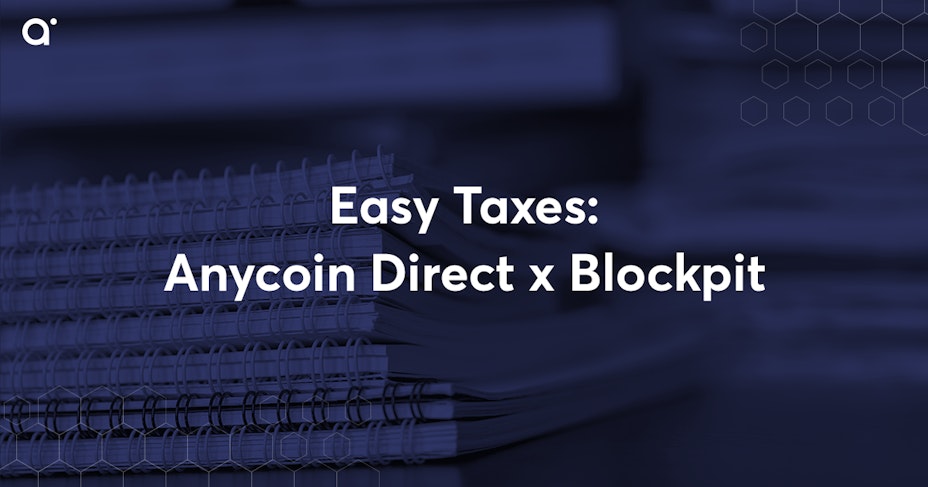 Table of Content
About Blockpit
Blockpit is a leading European provider of legally compliant crypto tax solutions. Their tax frameworks have been analysed by a Big4 audit firm and are continuously updated to reflect the current legal requirements. Based on the transaction data provided by Anycoin Direct, Blockpit can generate a complete tax report that you can file directly at your tax office.
Track your portfolio
There is more. The tax reports are not only limited to your assets stored on Anycoin Direct. It's for all your assets, even if they're stored on a different exchange or wallet. Blockpit tracks these digital assets daily via an API or CSV interface and directly from various Blockchains. Blockpits report can even prove useful at your bank when cashing out and being prompted for proof of origin.
How to export a tax report?
Getting started is easy. Log in to your Anycoin Direct account and go to your orders overview. There, click the button 'Blockpit.io export'. A screen will pop up which takes you to the Blockpit environment. Customers of Anycoin Direct receive a special discount of 20% on their licences.