Tether (USDT) reaches a market cap of $50 billion
- 5 minute read

Tether, currently the largest stablecoin in the world, reached a total market cap of $50 billion last week. With this milestone, Tether has a bigger market cap than all of its competitors combined. The market cap of USDT has grown with a staggering amount of 29 billion dollars since the start of 2021.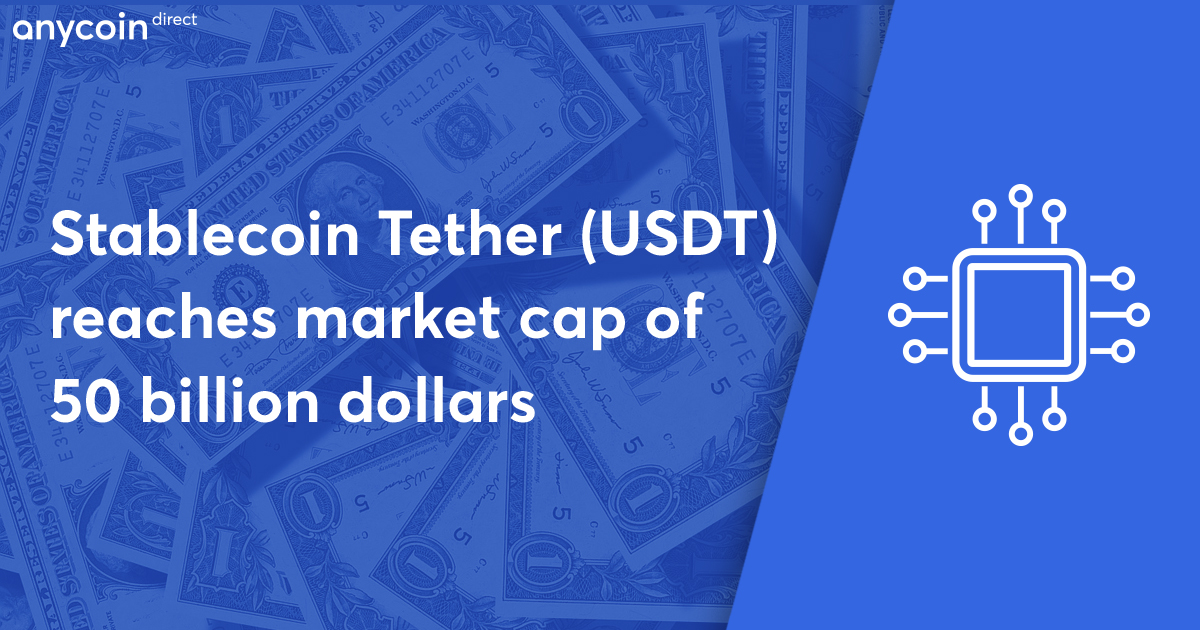 On Monday the 26th of April, Tether Operations Limited confirmed that 50 billion dollars' worth of USDT is in circulation. For those of you who are unaware, Tether (USDT) is a so-called stablecoin, a coin that is backed by traditional fiat currencies (for example dollars or euro's). The USDT is pegged to the American dollar, meaning that one USDT has the same value as one dollar. Stablecoins provide stability in an otherwise volatile market and is more commonly used as a store of value instead of a means of investment.
🎉 Tether has just surpassed $50B market cap!
🚀Tether's market cap is growing fast, with a monthly increase of $10B. Will we reach $100B before 2022?

Stay up to date on our official Telegram channel ⬇️https://t.co/137b5oOauU pic.twitter.com/VMV4C52U5t

— Tether (@Tether_to) April 26, 2021
Tether Dominance
Tether's popularity and the bull market have gone hand in hand in the previous year. In fact, Tether's supply has multiplied x10 over the last twelve months of which 25% happened in March. During the last few months, Tether has become increasingly popular amongst exchanges where approximately 67% of all stablecoin transactions consisted of USDT swaps. The company behind the coin reacted, saying that USDT is currently cheaper and faster than fiat wire payments or credit card transactions. Another big part reason behind the increase is the usage of Tether in the DeFi economy.
The banking system of the Future
Tether has had some controversies throughout the years. They were accused of influencing the Bitcoin course/price. Other questions also started to surface if Tethers (and Bitfinex) were actually backed by its dollar reserves and whether Bitfinex wasn't creating tokens out of thin air. After a 22-month inquiry, the case was settled in court and ended with a (small) settlement of 18.5 million dollars. With these controversies out of the way, the future of Tether is looking bright. Tether's CTO even stated that Tether could function as a blueprint for Central Bank Digital Currencies (government-controlled stable coins) and even called it 'the banking system of the future.'