Top 5 NFTs on OpenSea
- 8 minute read

NFTs are one of the hottest items in the crypto landscape in which OpenSea is the leading NFT marketplace. NFT projects like CryptoPunks and Bored Apes Yacht Club are traded on OpenSea's platform as well as many other well-known to lesser-known NFT projects. Today we take a look at the five most traded NFT projects by volume on the OpenSea platform.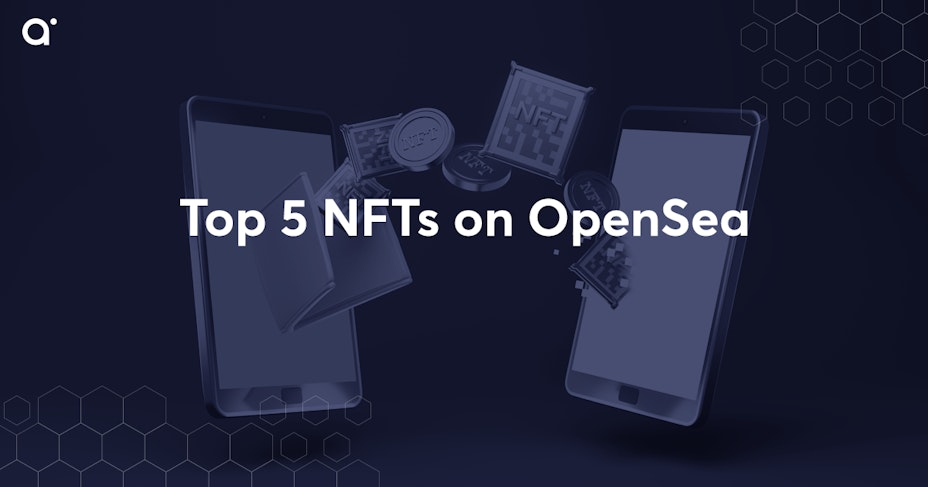 Table of Contents
What is an NFT?
For those readers who do not know what an NFT is: an NFT - Non-Fungible Token - is a digital asset that represents real objects, such as music, works of art or real estate, but also, for example, the first Twitter message from Jack Dorsley, founder of Twitter. These NFTs can be bought and sold online for cryptocurrencies, such as Ethereum .
A characteristic of NFTs is that they are unique and have unique identification codes. In addition, NFTs exist on a blockchain and cannot be copied. An individual can fake an NFT, but it will never be seen as the real NFT since the real NFT has its unique identifier. These digital assets have grown in popularity as a solution for artists who want to protect their intellectual property.
As of 2014, the first NFTs were already circulating on the internet. By 2017, the NFT market had already grown to a reasonable size and $130 million worth of NFTs were traded. However, the real hype surrounding NFTs started in 2020. Several NFT marketplaces, including that of OpenSea generated a lot of media attention and the prices for the NFTs rose rapidly. In 2017, a single NFT managed to sell for over $69 million. This NFT was designed by the internet artist Mike Winkelmann, who sold the artwork ''Everydays: The First 5000 Day'' for 58.2 million euros.
What is OpenSea?
OpenSea, founded in 2017, is currently the largest NFT marketplace found on the internet and is an equivalent to marketplaces such as eBay and Amazon. OpenSea exclusively sells unique digital collectibles in the form of NFTs that can be bought, sold or stored. The NFTs can then be traded peer-to-peer (directly with each other).
Digital artists and content creators can use this platform to store NFTs, create custom marketplaces and NFT collections, set fees on their tokens, and create auctions to sell them.
How does OpenSea work?
Fully in line with cryptocurrency thinking, transactions are carried out in a decentralised manner. This is made possible because transactions are facilitated by self-executing smart contracts that guarantee fair trade. A smart contract is an agreement written in code language, which automatically comes into effect when certain conditions are met. Transactions are either only executed in their entirety (the buyer gets the NFT and the seller gets paid) or not at all.
Thanks to the peer-to-peer nature of the OpenSea NFT marketplace, there is technically no intermediary between buyer and seller. Nevertheless, OpenSea earns 2.5% per transaction, because they continue to develop and make it available.  
NFTs on OpenSea, and on other NFT marketplaces too, work with floor prices. The floor price is the minimum amount you have to pay to become an owner of an NFT within a certain project.  
Top 5 NFT projects on OpenSea
The top 5 NFTs on the NFT marketplace OpenSea are based on the 30-day trading volume. The trading volume indicates the total value of an NFT project traded in the last 30 days. These volumes are variable and change from month to month, as each month has a different volume of transactions with different values. So the top 5 NFTs on OpenSea are dynamic and may have changed depending on the date you are reading this article.
#5 Clone X - X TAKASHI MURAKAMI
Starting with number 5 on this list is the CLONE X - X TAKASHI MURAKAMI - in short; Clone X - NFT project, developed by the company RTKFT in collaboration with Takashi Murakami. Already known for creating virtual streetwear and sneakers, RTKFT has been offering Clone X NFT avatars on OpenSea as part of RTKFT's metaverse since mid-December 2021.
The price of a single Clone X avatar already had an average value of around 9 ETH at release. Since the end of January 2022, the price has almost doubled and the average selling price of a Clone X NFT on OpenSea is now around 20 ETH. That is roughly $60,000 per Clone X NFT. At the moment, there are 19.2 thousand Clone X avatars. Every week 100 avatars are released on both Tuesday and Thursday, until the number of 20,000 avatars is reached.
Trade volume last 30 days: 27.6k ETH 
Total trading volume: 175.8k ETH
#4 Bored Ape Yacht Club
The Bored Ape Yacht Club NFT collection is ranked #4 by volume on OpenSea. The collection is built on the Ethereum blockchain and consists of 10,000 unique Bored Ape's. Since 23 April, the NFT collection has gone live with a presale. Owners of a Bored Ape NFT get access to a private online club, exclusive in-person events, and intellectual ownership rights to the image.
That the price of a single Bored Ape avatar has risen at lightning speed is an understatement. When the avatars were first tradable on OpenSea, a single avatar was worth an average of 0.5 ETH. The price of a single NFT rose steadily, but exploded around September 2021. The value of a single Bored Ape avatar shot from an average of 15 ETH to 50 ETH within a few weeks. Since then, the price has risen gradually. Currently, Bored Ape avatars are traded for an average of 130 ETH each. That translates to around $390,000 a piece. The total trading volume for the Bored Apes currently stands at 501.9k, which converts to over $1.5 billion.
Trading volume last 30 days: 38.5k ETH
 Total trading volume: 501.9k ETH
#3 Mutant Ape Yacht Club
The Mutant Ape Yacht Club NFT collection is an outgrowth of the Bored Ape collection. At the moment, 18.7k Mutant Ape's have been created and only a maximum of 20k Mutant Apes will be created. Mutant Apes can only be created if an existing Bored Ape is exposed to a so-called Mutant Serum, or by minting a Mutant Ape in the public sale. 
The MAYC collection launched on 28 August 2021. The launch included an airdrop of mutant serums to all existing Bored Ape holders, allowing them to create mutant versions of their apes for free. In addition, 10,000 original Mutant Apes were released in a Dutch auction where bidding started at 3 ETH.
Over the past 30 days, trading Mutant Apes has been more popular than trading Bored Apes. The difference is however minimal, namely 42,462 ETH to 38,588 ETH. The major difference in Mutant Apes compared to Bored Apes is that there are many more Mutant Apes being traded. A single Mutant Ape avatar has an average value of just under 40 ETH. This makes these NFTs slightly more accessible to investors than the Bored Apes, and therefore more traded. 
Trading volume last 30 days: 42.4k ETH
Total trading volume: 328.2k ETH
#2 Azuki
The Azuki NFT Collection is a collection of 10,000 avatars designed in an anime style. When you own an Azuki NFT you get membership access to The Garden: a place on the internet where artists, developers and web3 enthusiasts meet to create a decentralised future. Azuki's vision is to create the largest decentralised brand for the metaverse, built and owned by the community.
In mid-January 2022, Azuki avatars became tradable on OpenSea, with an average value of around 5 ETH. Meanwhile, several months later, the average price of a single Azuki avatar has risen to around 25 ETH. Over the past 30 days, Azuki avatars have had a volume of 50,000 ETH, which converts to over 150 million dollars. For a long time, Azuki was the most traded NFT on OpenSea based on volume, but recently Azuki has been (perhaps temporarily) ousted from the throne by a new entrant.
Trade volume last 30 days: 50.1k ETH
Total trading volume: 186k ETH
#1 Moonbirds
Moobirds is an NFT collection that has recently been traded on OpenSea. The collection contains 10,000 unique owls. In addition, managing a Moonbird unlocks membership in the private club and additional benefits the longer you own them. This means that NFT holders can get upgrades such as "enhanced rewards and drops" over time.
The start of the sale of Moonbirds avatars on OpenSea has been a real success. In the past week, Moonbirds has had a volume of over 88k ETH, which converts to over $280 million. This is an amazing start for NFT standards and has knocked Azuki off the throne as the most traded NFT on OpenSea by volume. Whether Moonbirds can maintain its number one position will become clear in the coming weeks. 
Trade volume last 30 days: 88.4k ETH
Total trading volume: 88.4k ETH
Honourable mentions
The NFT-market is a dynamic market in which NFT projects can quickly rise and fall in popularity and volume. The most recent example is Moonbirds, which in a few days firmly took the number 1 position on the NFT marketplace OpenSea. 
 Because a number of new or renowned NFT projects just did not make the top 5, we mention them in the honourable mentions, as they could have been in the top 5 in another month, for example.
World of Women Galaxy
Starting with the honourable mentions is the World of Women Galaxy NFT collection . This collection was also very close to being in the top 5. The collection consists of 22,222 unique, powerful women, designed by Yam Karkai. 
 Although the collection has only been traded since the end of March, over 25k ETH have already been traded. Not the same success as Moonbirds but nonetheless an achievement the World of Women Galaxy team can be proud of.
Trading volume last 30 days: 25.5k ETH
Total trading volume: 25.5k ETH
BEANZ Official
The BEANZ NFT collection has recently become tradeable on OpenSea. At the moment, they are all identical red beans (yes, the vegetable) and will grow into a small sidekick for your Azuki avatar. The beans will sprout into a wide range of unique BEANZ, but as a buyer, you don't know beforehand which one it will turn into.
The popularity of BEANZ is not surprising since the project is linked to the Azuki project. The project has been tradable since 1 April and has already made a volume of over 25 thousand ETH. 
Trade volume last 30 days: 25.7K ETH
Total trading volume: 25.7k ETH
CryptoPunks
Last but not least, we should mention CryptoPunks . The NFT that has made NFTs extremely popular. Despite the fact that the volume of CryptoPunks is no longer in the top 5 of OpenSea, the blocky crypto punk avatars are still extremely popular. 
Because a single CryptoPunk avatar costs around 70 ETH on average, not many CryptoPunks are traded per day. Nevertheless, CryptoPunks still have a volume of 17 thousand ETH in the last thirty days. CryptoPunks is also the most traded NFT on the OpenSea marketplace, with a total of 891 thousand Ethereum traded. Converted, this is currently worth more than 2.7 billion dollars. 
Trade volume last 30 days: 17k ETH
Total trading volume: 891.6k ETH