Waves coin – Price prediction 2023 - 2026
- 5 minute read

Waves is a project with its own platform and consensus algorithm. The coin that makes all this possible? Waves! Let's see what is possible on the Waves platform and what we can expect from Waves in the future.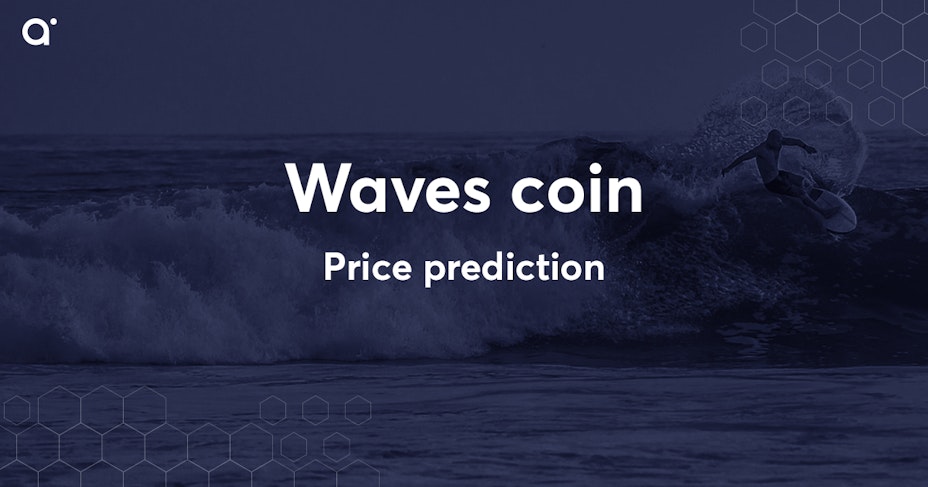 Table of Content
What is Waves? 
Waves is a decentralised platform that uses a public blockchain. The network enables users to build and use decentralised applications. The network uses on-chain governance. On-chain governance is a system for managing and implementing changes on cryptocurrency blockchains. In this type of governance, the rules, and how they are changed, are encoded in the blockchain itself. Developers propose changes through code updates and each node votes on whether to accept or reject the proposed change. Mathematical formulas are used to determine whether the network is working properly. This is also called formal verification. Leased PoS, which is a variation of Proof-of-Stake, is used to achieve conformance, allowing transactions to take place and smart contracts to be added to the blockchain. Leased PoS allows token holders to 'lease' their tokens to entire nodes in exchange for a percentage of the revenue a node earns. 
Who founded Waves? 
Waves was founded in 2016 by Russian physicist Alexander Ivanov after a successful ICO (Initial Coin Offering) that raised 30,000 BTC. The developers designed the network to solve the shortcomings of existing blockchains. In particular, Waves wanted to focus on enabling business adoption. Furthermore, Waves focuses on speed, scalability, security and user experience. 
The development of Waves 
In Q3 of 2016, Waves was launched with the ability to enable token creation and management of digital tokens. Starting in 2017, Waves began working with Microsoft Azure and became an official partner of Deloitte. Waves also implemented a new consensus protocol that increased transaction speed to 100 tps. This consensus model is called Waves-NG and is based on the Bitcoin-NG proposal by Cornell professor Emin Gün Sirer.  
In 2018, the Waves app was launched on which Waves most popular features can be used on smartphones and tablets.  
Currently, the platform offers designed tools to facilitate the process of developing and running dApps, and hosts various applications and use cases. The network has the functionalities to enable the creation of a decentralised exchange (DEX), algorithmic stablecoins, DAOs, encrypted messaging and gaming. 
Waves coin price
Waves price prediction 2023 
Based on their own algorithms, Digitalcoin, Gov Capital and TradingBeasts make price predictions for Waves in 2023.  
Digitalcoin's analysis predicts that the price of one WAVES coin could reach $7.28 in 2023. The minimum amount Waves will reach according to Digitalcoin is $6.38 per WAVES coin.  
TradingBeast's prediction for WAVES coin is less positive. They expect the price to rise to $5.71 by 2023.  
Gov Capital's price expectations are a lot more positive. They expect the price to explode in 2023 and see WAVES reaching a price of almost $29 per WAVES coin. 
| | | |
| --- | --- | --- |
| Digitalcoin | 2023: | $7,28 |
| TradingBeasts | 2023: | $5,71 |
| Gov Capital | 2023: | $28,98 |
Waves price prediction 2024 – 2026 
Between 2024 and 2026, Digitalcoin expects the price for one WAVES to fluctuate, as the price continues to rise in 2024 and 2025 before falling in 2026.  
TradingBeasts' expectations for 2024 and 2025 are fairly similar to Digitalcoin's expectations. For 2026, TradingBeasts has not yet made a forecast.  
Gov Capital expects astronomical prices for WAVES in 2024 through 2026. They expect Waves to become very popular in the coming years and expect WAVES coin to reach $108 per coin by the end of 2026. 
Digitalcoin
2024:
$8,23
2025:
$10,27
2026:
$9,55
TradingBeasts
2024:
$8,79
2025:
$

10,65

2026:
-
Gov Capital
2024:
$

51,56

2025:
$

78,81

2026:
$108