How to create a business account
A Business Account is an account that can be used by companies or sole traders. When using a Business Account, you can only purchase coins with a verified company bank account. To start creating your Business Account, click the 'register' button next to the green 'Login' button that can be found on the top-right corner of every webpage.
Step 1
Enter your email address
The first step is to enter your preferred email address. To inform yourself about our terms and conditions and the way we handle your data, please read our general terms and privacy policy. You can also decide to stay up-to-date with the latest Anycoin Direct and cryptocurrency news by simply ticking the 'I would like to receive the newsletter' box.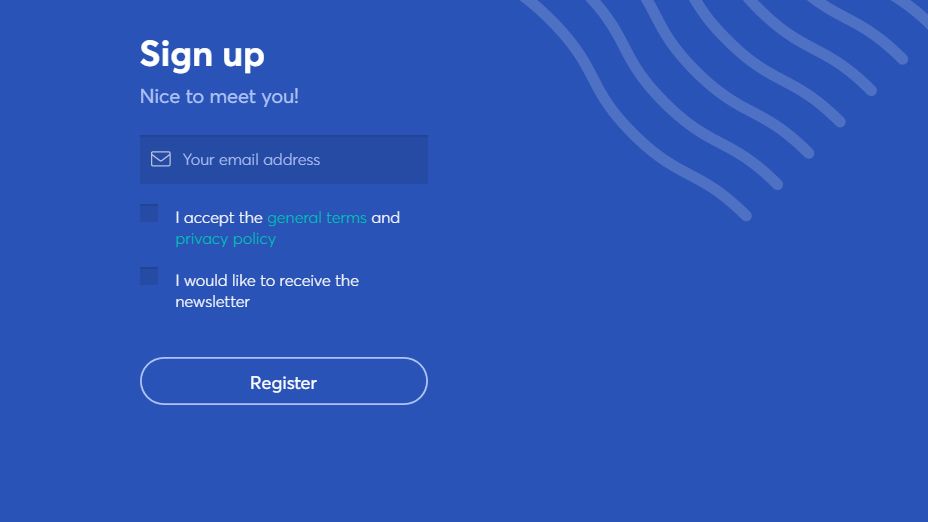 Step 2
Verify your email address
After entering your email address, we will send a verification email to your mailbox. This is to make sure that the email address you entered is correct. You can simply write down or copy the verification code from the mail in the registration flow. If you did not receive an email, please click on the resend email button to try again.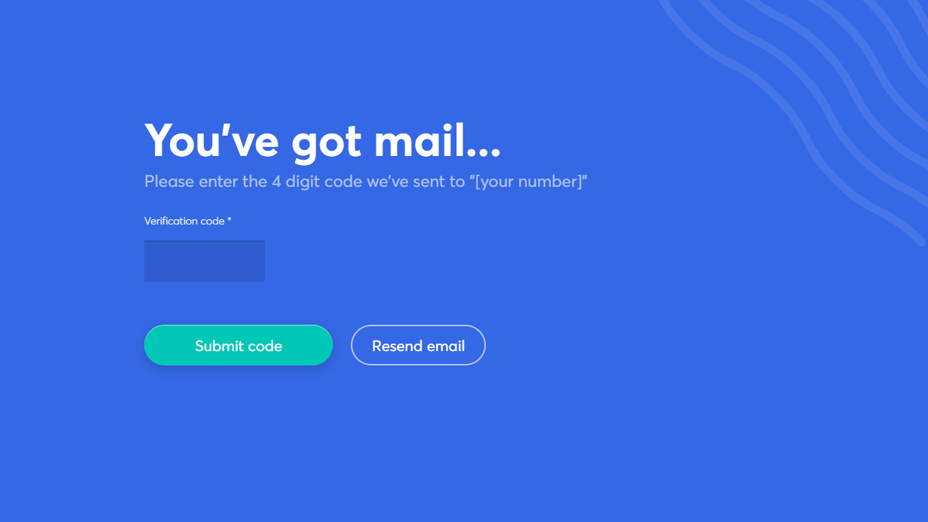 Step 3
Enter your personal information
After verifying your email, the next step is to provide us with some of your personal information. You are asked to enter your first name, last name and date of birth. After filling in all the information, do not forget to check the 'This is a Business Account' box!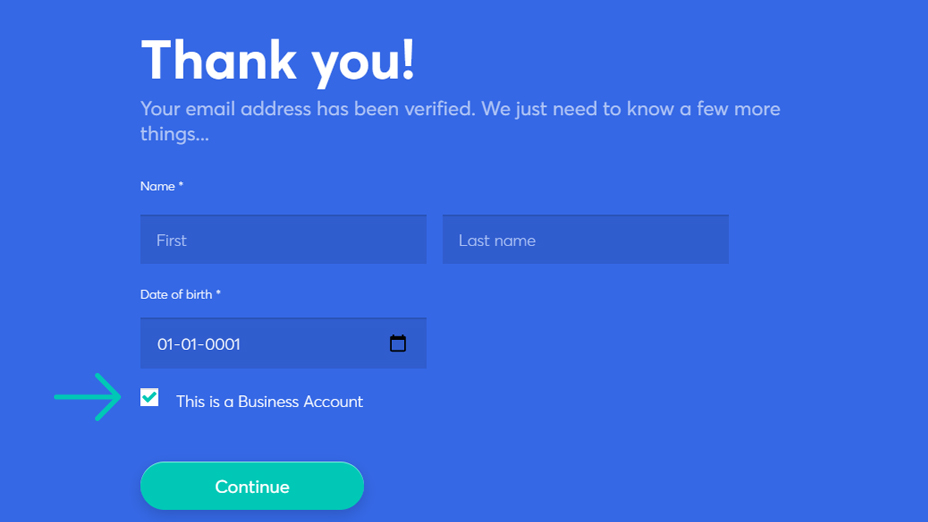 Step 4
Enter your company's information
Now, it is time to enter the business-related information. You are required to fill in the company name, VAT number, company registration number as well as upload an extract from the Company Register. Keep in mind that the extract of the Company Register cannot be older than 6 months, the company name has to match the company name registered on your account and that the VAT and registration numbers in the extract and in your business account are identical. Company extracts can only be uploaded in Dutch, English or German. All the other languages have to be official, notarial translations.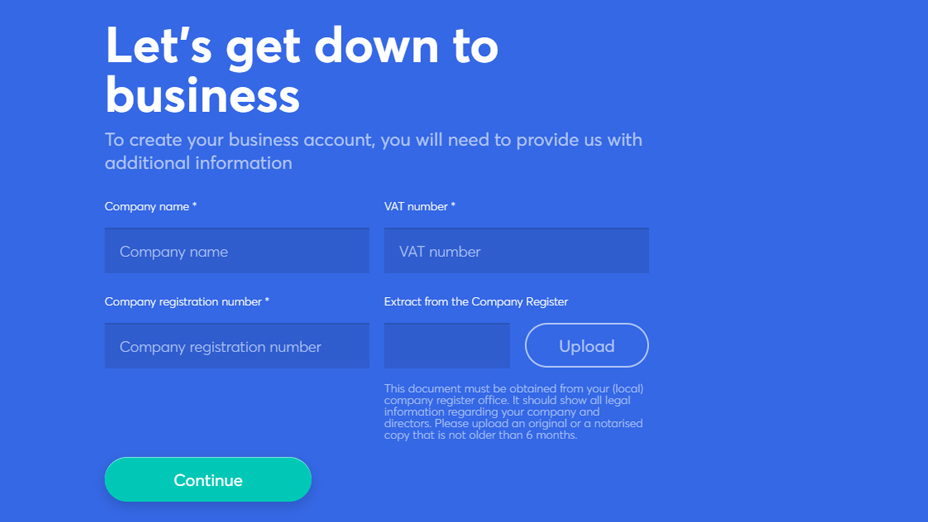 Note:
An extract from the company register is a document that states all vital information about the company, such as the name of the company, the business activities, the company registration number, the VAT number, the legal form, the board of directors or governing entities, their authorizations and the legal address of the company. You may request this document from your (local) registration office.
Step 5
Upload your personal documents
To verify your identity, we will ask you to send us a copy of your passport or both sides of your ID and a proof of residence. A proof of residence should be official communication from the government, bank or utility company, cannot be older than 3 months and must show your legal name and personal address. The uploaded documents have to be well readable and of high quality.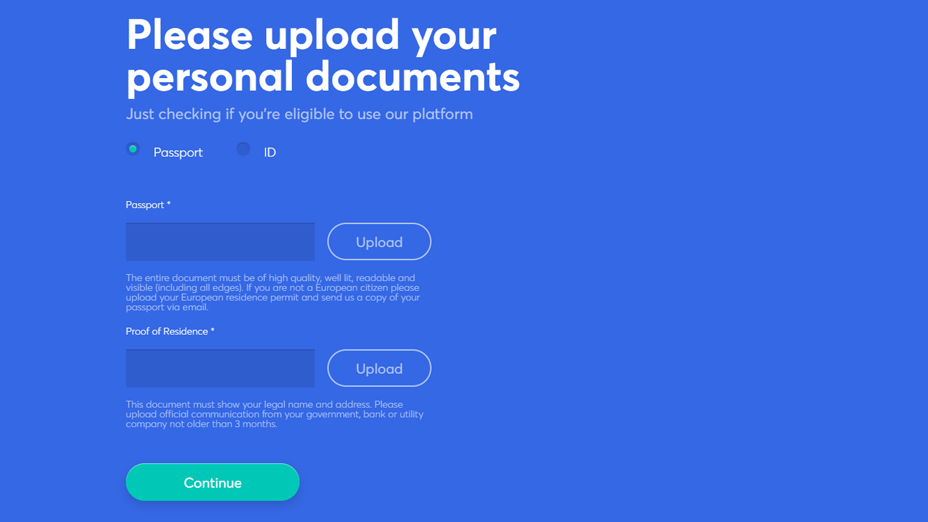 Note:
The documents sent in must be of high quality, well lit, readable and completely visible (including all edges).
Step 6
Enter your personal address
Hold on for just a few moments longer, your registration is almost complete. In this step you have to fill in your personal address. Please provide us with the address, postal code, city and country of the place you are located.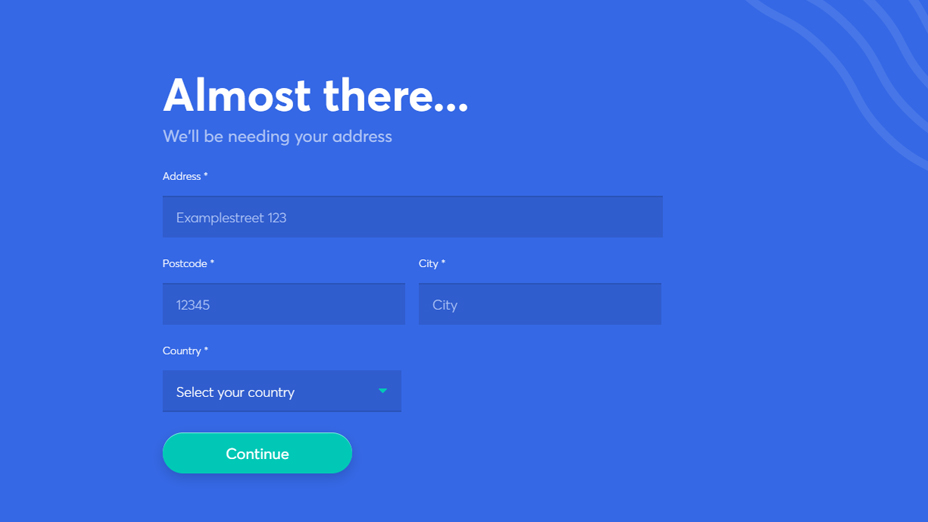 Note:
The address entered in this step should be your personal address, not the address your business is registered on and match the address mentioned in the uploaded Proof of Residence.
Step 7
Create a strong password
Time to protect your account by creating a password for your Business Account! Try to insert a password that is long and complicated for others, but easy to remember for yourself. The minimum requirement is to have at least 8 characters. Make sure to store and save your password in a secure location.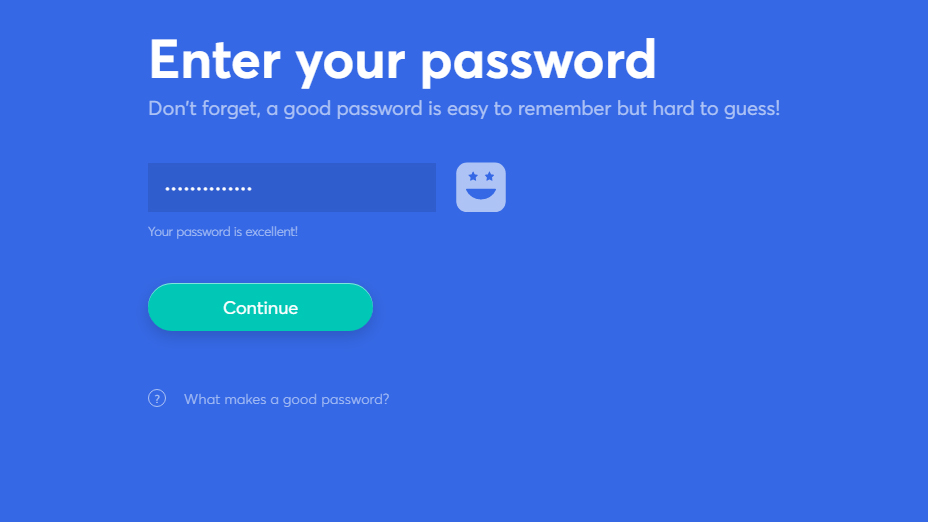 Step 8
Protect your account by adding two-factor authentication
Now that you have provided us with this information, it is important to keep your account safe! The best way to do this is by adding two-factor authentication (2FA) protection, which obliges you to confirm the login on your phone. You can enable this function by entering your phone number and verification code, but you can also skip this step.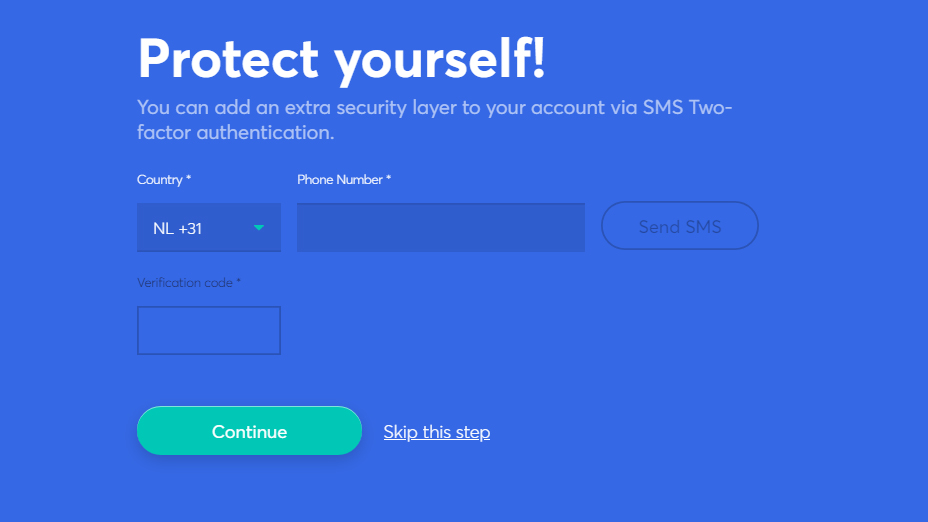 Step 9
Your business account has been created!
You have successfully created your Anycoin Direct Business Account! If you are a beginner on our website, you can read the guides listed on the page to understand how to buy or sell cryptocurrency, how to raise your limits and how to view our entire coin selection. Before you are actually able to buy, sell or trade cryptocurrency using our platform, there is one more step to go…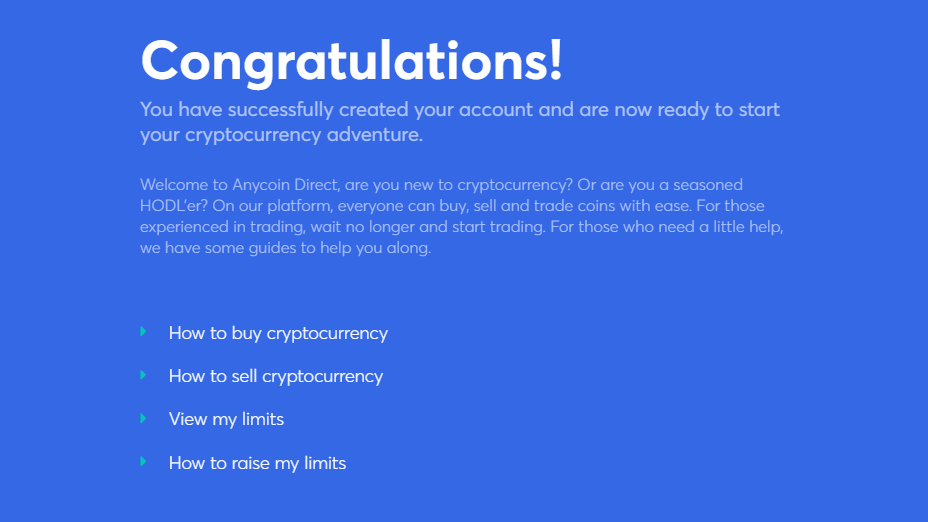 Note:
One more thing before you can actually start buying, selling or trading cryptocurrency…
The last thing you have to do is to fill in a form and answer a few standardized questions that will be sent to you by mail. The questions serve to provide a baseline of trust between Anycoin Direct and its customers. They are also required for us to comply with financial legislation.