How to buy cryptocurrency
At Anycoin Direct, you can buy a wide variety of cryptocurrency and have the coins sent to your personal wallet. In this guide, we will explain the process of buying cryptocurrency on the Anycoin Direct platform. Before you start your buy order, we advise you to have your personal wallet open and ready. Don't worry if haven't got a wallet, just take a look at our Wallet Overview page. If anything remains unclear after reading this guide, or if you have any questions in general, our customer support team is happy to help!
Step 1
Create an Anycoin Direct account
Your cryptocurrency journey starts by creating your Anycoin Direct account. With your account, you are able to buy, sell and trade over 25 cryptocurrencies in a fast and secure manner. So how do you start? Click 'register' in the top right corner and sign up! Verify your email, enter some personal info and set up your password. Before you can start, we will give you the option to enable a 2FA security layer. After everything's been set up, you are able to start buying cryptocurrency. Having trouble with creating your account? Read our guide or ask our customer team for help!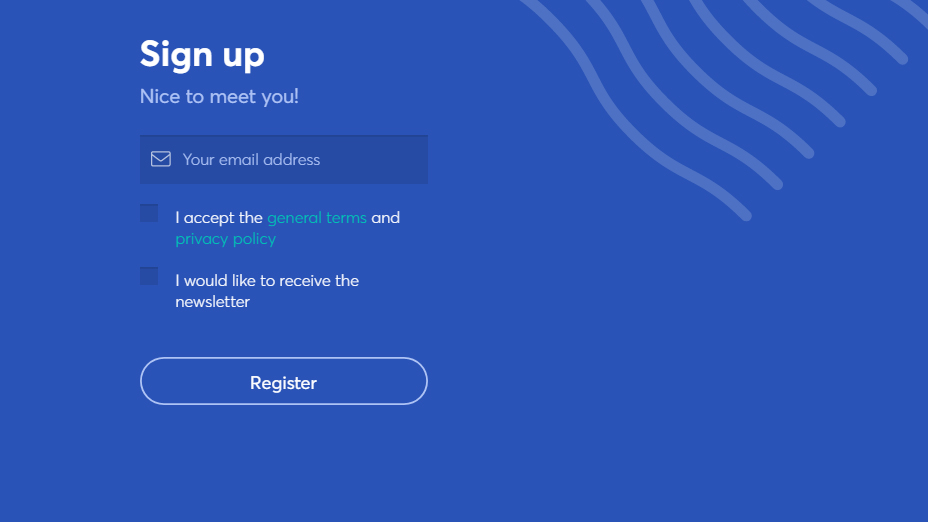 Step 2
Select a coin. Anycoin
If you want to buy a coin on Anycoin Direct, you need to start at the blue exchange bar which can be found on the home, buy and sell pages. Here, you can select the cryptocurrency you would like to buy. Enter the amount of coins you would like to purchase or the amount you are willing to spend. No matter what you choose, the opposite value will be automatically be updated to the current exchange rate.

Step 3
Enter your wallet address
Where do you want us to send the coins you selected? In the introduction of this guide, we advised you to have your wallet open and ready. Still haven't got your wallet ready? Check out our wallet overview page. By entering the receiving address of your wallet, you are sure to receive the cryptocurrency that you purchased. A tip from us: always copy and double-check your coin wallet address instead of typing it.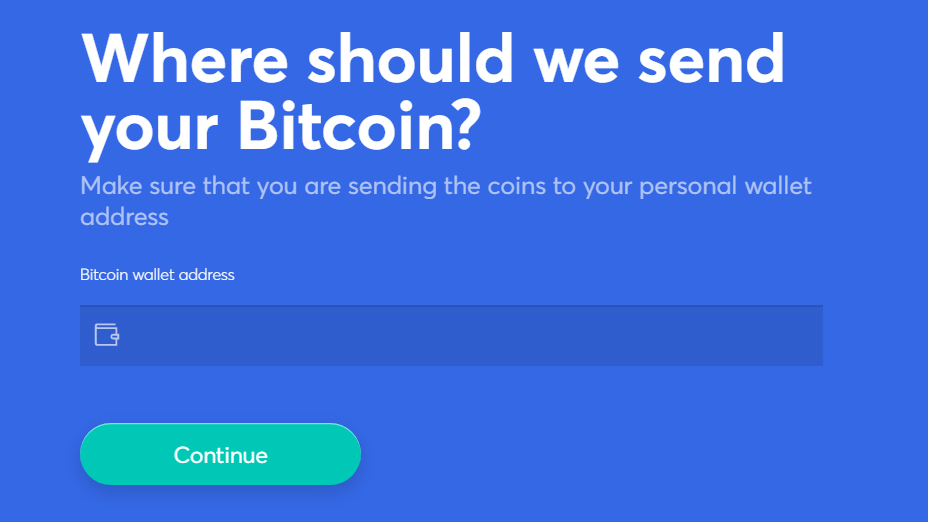 Note:
Please make sure that you enter the coin address of your personal wallet. We do not allow customers to send cryptocurrency to an ICO, merchant or illegal online services. If you do want to send your coins to a third party (ICO or merchant), you can do so by sending the coins directly from your own personal wallet.
Step 4
Select your bank account or credit card
After entering your coin address, you can select your bank account or credit card for this order. You can select a verified bank account/credit card, or add a new one. Don't worry if you need to add a new bank account. Our website will automatically guide you through this process! Once verified, you can select your bank account any-time you want to place a new order.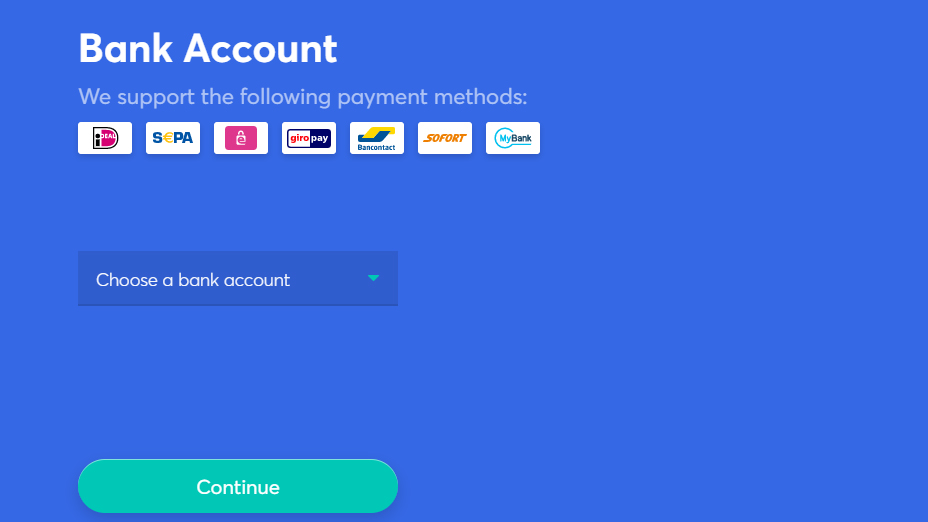 Step 5
Select your preferred payment method
After selecting your bank account, it's time to select your preferred payment method. Our website will show you an overview of all payment methods that are currently available to you and their corresponding service fees. Due to security measures, certain payment methods can be unlocked by providing us with additional information. So don't worry if your preferred payment method isn't available immediately!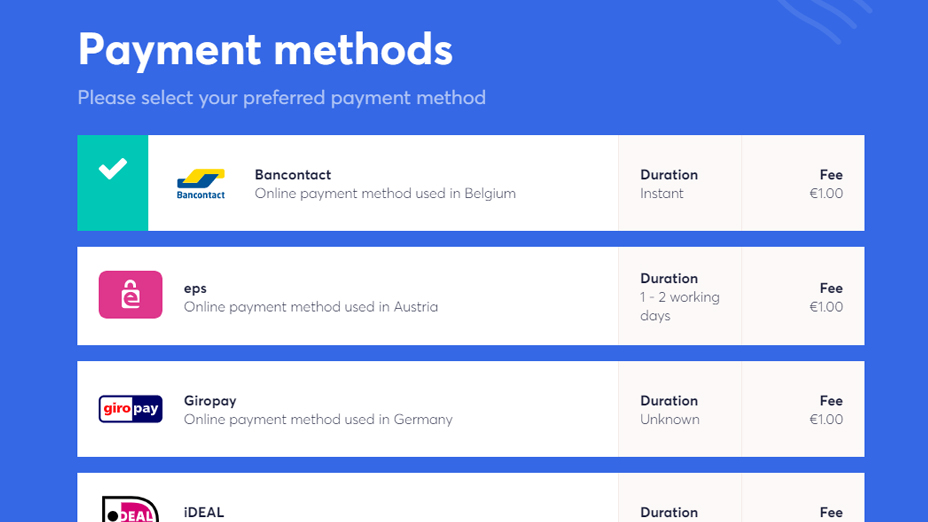 Step 6
Confirm and check your order
After you have selected your payment method you will see an overview of your order. In your order overview, you will have the opportunity to check and adjust your order one final time. Here, you can see your selected amount, wallet address, payment method, fees, credits and corresponding total cost. We advise you to take a good look at this order summary and check if everything is in order. Once you have accepted our general terms and privacy policy, you can proceed to the final step by clicking on the green button and place your order.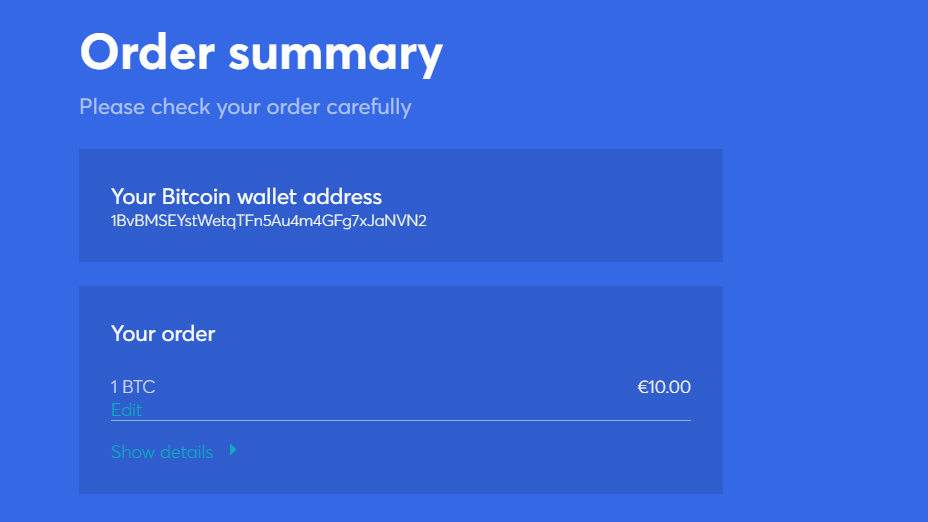 Step 7
Complete your transaction
After finishing all the previous steps, its time to complete your transaction. Simply put, you have to transfer the payment via your selected payment method. Depending on the payment method you selected, a new page will be opened redirecting you to your payment methods online environment. Follow the instructions and complete the payment. We will send your coins to your wallet address, once the payment has been confirmed and received. Navigate to your account dashboard, where you can see your current order status and -history.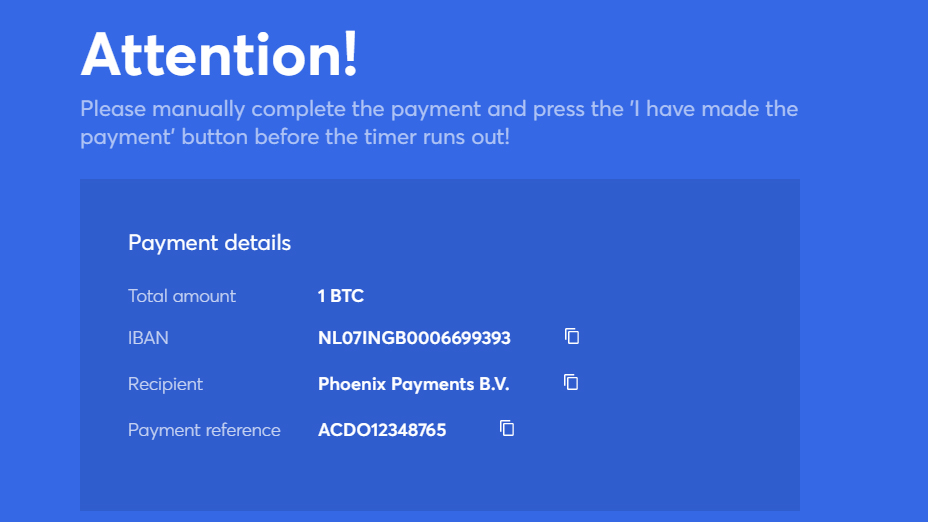 Note:
If you have selected SEPA you need to manually transfer the payment via your online bank account. All relevant payment details will be shown on the final screen. Use these payment details to complete your SEPA transaction. Be aware that SEPA transactions can take up to two working days.