Best Crypto Podcasts
- 5 minute read

Did you know that 28% of all Europeans have listened to a podcast in the last month? And that this number is even higher in the USA where a third of the people tune in? Podcasts are becoming more popular and with the sudden rise of crypto in the last decade, the combination of the two seems an immediate success. Let's take a closer look at the best crypto podcasts that we recommend.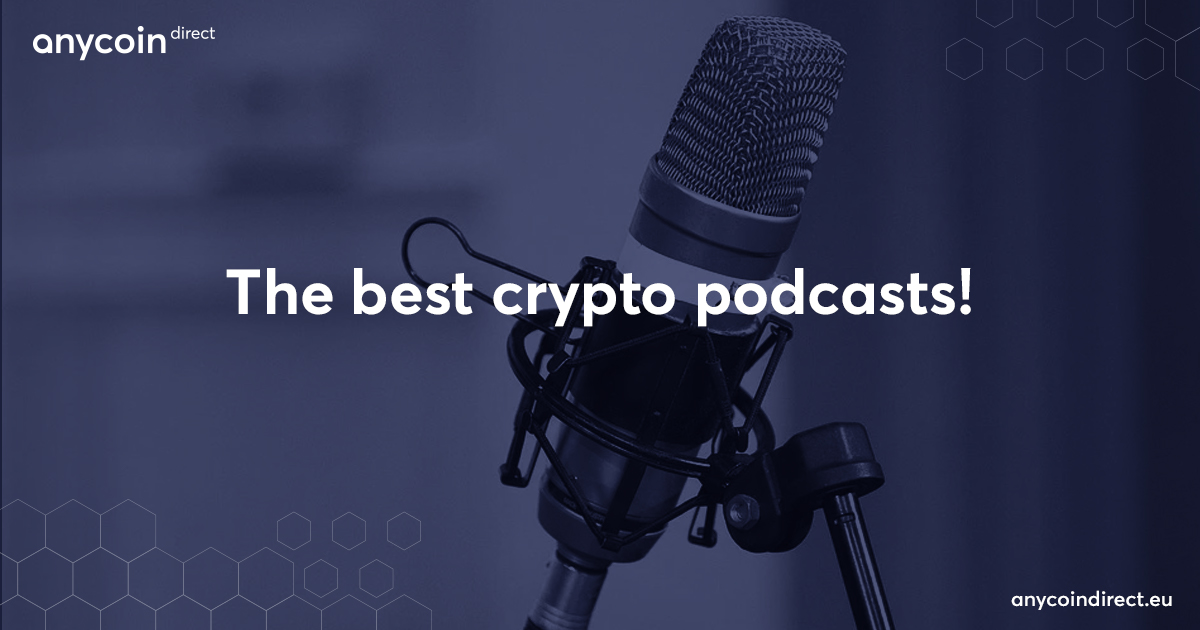 Invest like the Best with Patrick O'Shaughnessy – Hash Power Episode 1
If you have never listened to a podcast before, or if you don't have the time to listen to thousand hours of content, we recommend that you listen to one episode of Hash Power. Hash Power, a titled episode by Patrick O'Shaughnessy, explains the basics of blockchain technology in one power packed episode. In a little more over an hour, Patrick covers the basics and shows ample examples of the technology we know and love. More of an audio documentary than a podcast, but absolutely worth your time!
Unchained/Unconfirmed
Independent crypto and blockchain journalist Laura Shin has always been interested in The-Internet-Of-Things, web3.0 and cryptography since she left her position as senior editor at Forbes. Now that she is independent (and thus unchained), Laura Shin uses her experience in the business to host one of the biggest crypto podcasts out there. In Unchained and Unconfirmed (shorter and more focused), notable guests take a seat to talk about anything crypto. From CEO's to legislators and from taxes to investment advice, the show of Mrs. Shin handles every topic imaginable.
The Pomp Podcast
Anthony Pompliano, also known as "Pomp", was a former growth manager at Snapchat and Facebook. Pomp was extremely early with Bitcoin investment and crypto start-ups in general. Nowadays, Pompliano manages a crypto investment fund and is host of The Pomp Podcast. The weekly show has featured guests like Mark Cuban, Cathie Wood, Plan B and Anthony Scaramucci. The podcast is aimed towards interviews with notable people in the market. A must-listen for people that are already interested in the market.
What Bitcoin Did by Peter McCormack
The number one podcast that is solely dedicated to the number one currency; Bitcoin. What Bitcoin Did has been focusing on BTC for quite some time and discusses blockchain technology and future plans with notable people from the industry. The host? Peter McCormack is an unpretentious Englishman that doesn't always understand the technical side of things. And that is what makes him a good podcast host. His curiosity and honesty when he doesn't understand something is refreshing in a sea full of technical terms and people that claim to know everything.
Satoshi Radio
We want to give a shoutout to the Dutch podcast Satoshi Radio. With their catchphrase 'Forever Bullish', Satoshi Radio tackles everyday crypto news ranging from NFT's to the current situation in El Salvador. One of our founders, Bram Ceelen, was also invited to talk on their show once. You can check out that episode here:
Crypto 101
The average consumers guide to cryptocurrency is an award winning podcast that focuses on explaining the basics of crypto and blockchain technology. Where most podcasts are more opinionated and revolve around the guests that are invited, Crypto 101 chooses to be more consumer friendly. That doesn't mean that crypto crusaders Bryce Paul and Aaron Malone aren't well connected, as they have gathered a name for themselves throughout the years. Great tip for those who want to learn more about their favorite crypto.
Bitcoin Audible
A lot of Bitcoin orientated books are quite technical and difficult to understand. Bitcoin Audible is hosted by Guy Swann and explains the most difficult topics in an easy to digest manner. Guy's podcasts are not set in stone, as they differ from format from time to time. Sometimes you might have interviews where some episodes are readings on difficult topics. Want to know if this podcast is suited for you? Then check out the episode on Satoshi's White Paper!