Bitcoin on the way back? This is what experts think.
- 4 minute read

Bitcoin has been experiencing a price correction for several months. For example, the price corrected during the period from August 2021 to February 2022. In recent weeks, Bitcoin has shown a positive price trend. Bitcoin's price rose 10% on Friday, February 4. This is the biggest increase of Bitcoin in one day for a year. What does this mean and has the way up been found again? Or can we speak of a false breakout?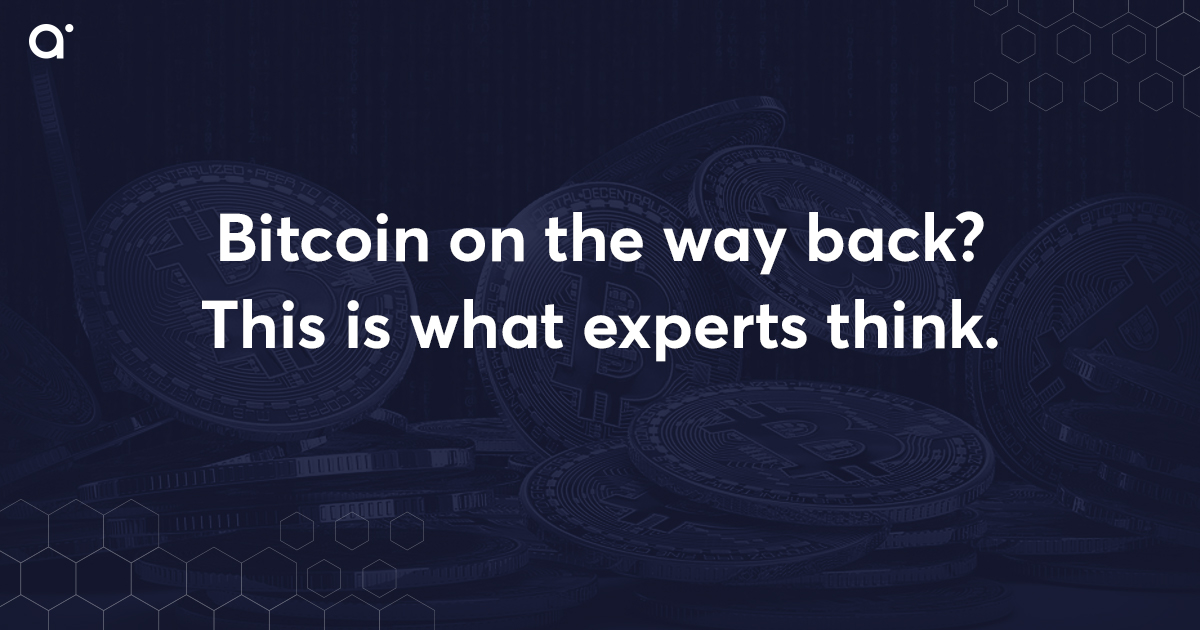 Bitcoin finally breaking out of a negative trend
Lark Davis a well-known crypto analyst, Bitcoin optimist and YouTuber, sees that Bitcoin has finally broken through the negative trend that started in November 2021. In doing so, he raises the question of whether Bitcoin is headed for the 'MOON'. In other words, he sees this as a bullish development.
#bitcoin has been in a downtrend since November, we have now broken out of that trend.

Next stop? M O O N pic.twitter.com/jOjdV6LnIQ

— Lark Davis (@TheCryptoLark) February 7, 2022
Cryptoanalyst Matthew Hyland has also posted a striking analysis on Twitter. He makes a comparison with NASDAQ in the period of 1997-1999 and sees similarities with Bitcoin. In the image, we see two graphs that show similarities in the form of a pattern of the price development of both assets. Matthew can conclude from this that Bitcoin's price development looks bullish. Whether Bitcoin will follow the NASDAQ pattern, remains to be seen.
NASDAQ Pre Dot-Com Bubble vs #Bitcoin Today

Showing some interesting similarities, perhaps rhyming:

✅Similar Time Frames
✅Similar Fractals
✅Similar Corrections
✅Similar Market Cap Sizes pic.twitter.com/oTI1SKHiOo

— Matthew Hyland (@MatthewHyland_) January 29, 2022
YouTuber and crypto analyst Satoshi Stacker shows several analyses in a comprehensive video and indicates that Bitcoin's breakout is positive, but this does not yet mean that the price of Bitcoin will continue to rise. On the daily time frame, Bitcoin has broken through the resistance level. This makes Satoshi Stacker optimistic about the Bitcoin price. He is bullish, but says that before the $50k per Bitcoin, there are about four more resistance levels that the price will face. A resistance level is a point on the price that the price struggles to rise through. Namely, around $43.8k, $45k, $47k and $48.2 per Bitcoin. To maintain momentum, Satoshi Stacker says it is important to close the daily candle above $42.6k per Bitcoin. It is also important to keep an eye on the 50 day moving average. The price has reached the point of the 50 day moving average which, looking at the past, has caused significant price movements. The day moving average is a technical analysis term that refers to the average closing price of a security over a period of time. The most common time frames are 20, 30, 50, 100 or 200 days. A 50-day moving average is calculated by summing the closing prices of Bitcoin over 50 days and then dividing the result by 50.
Bitcoin Adoption Expands
The adoption of Bitcoin by celebrities like Elon Musk and Michael Saylor has been going on for a long time, but we are seeing more and more celebrities or influential people speaking positively about Bitcoin and digital currencies in general. In addition, El Salvador has accepted Bitcoin as legal tender and Vladimir Putin has indicated (contrary to previous reports) that he will better regulate Bitcoin. Currently, Russia is a leader in mining. African countries are also slowly adopting Bitcoin because they are often financially unstable and Bitcoin trading is considered easy when people have a phone and internet access. Transaction fees average 8%, which makes it interesting to use to receive money from abroad.
The optimistic statements made by powerful people like Elon Musk can also be dangerous. In the past we have seen Elon Musk play with the price of Bitcoin and Dogecoin, among others. A single negative statement from Elon Musk can cause the entire crypto market to plummet. Even positive news from Russia does not mean immediate success. Opinions of countries regarding crypto have changed in the sharing process. Russia initially flirted with a ban on crypto, and China has also expressed fickle opinions on crypto in the past.
Russia's second richest man on #Bitcoin: "Metal coins were replaced. Digital assets are the next stage." 🇷🇺 pic.twitter.com/gSzpyTbgIN

— Bitcoin Magazine (@BitcoinMagazine) February 7, 2022
Canada candidate for Prime Minister: "I've learned a lot about #Bitcoin." 🇨🇦 pic.twitter.com/0as6VyFIPV

— Bitcoin Magazine (@BitcoinMagazine) February 7, 2022
Conclusion
The price of Bitcoin has shown a bullish trend for the first time since 2021. On Friday 4 February, the Bitcoin price managed to increase by 10%. As a result, analysts are positive about Bitcoin's price development and see the price possibly rising further. However, it is dangerous to make any statement about the price, so Satoshi Stacker also shows the other side in his video. There are two sides to Bitcoin's increasing adoption by countries, parties, and powerful individuals. Of course, as crypto enthusiasts, we want Bitcoin to be adopted, but at the moment, the fact that some people can manipulate the market with their statements is still being misused.
Want to know more about our cryptocurrency portfolio?
Check out our cryptocurrencies overview