Cardano (ADA) forecast - What to expect from the price
- 7 minute read

Cardano's latest upgrade, called Alonzo, is just around the corner. In fact, the upgrade is scheduled for 12 September via a hard fork combinator (HFC) event. In our previous blog we told you that since the announcement on 13 August, Cardano's share price has been on the rise and has reached new all-time highs. Herewith, Cardano has several similarities with Ethereum in its early years. This article will provide you with information on how future upgrades may affect Cardano's price, partly due to similarities with Ethereum's upgrades.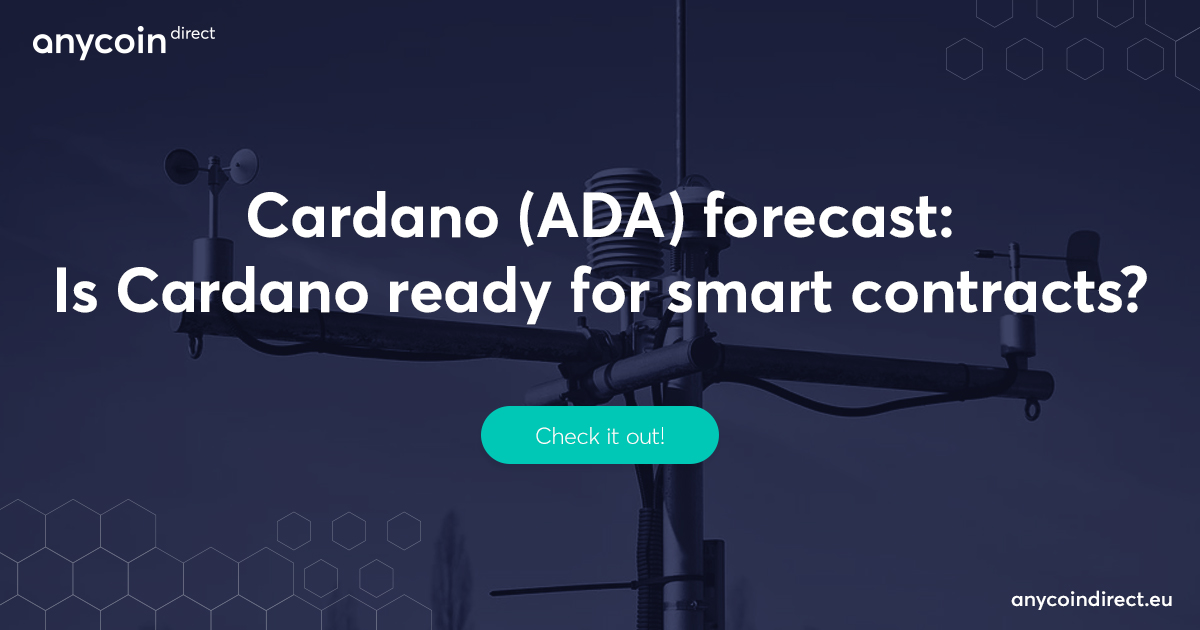 Ethereum's price history after major upgrades
To determine the projected price of Cardano, it is important to consider what the price of Ethereum has done after launching certain upgrades. Cardano has many similarities with Ethereum and they share the same goal Namely, running crypto applications related to smart contracts (DeFi, NFT) on their network.
Ethereum is more advanced in its development, but many crypto enthusiasts and various experts see greater potential in Cardano. These high expectations come not out of the blue. Cardano founder Charles Hoskinson co-founded Ethereum, but resigned because his philosophy differed from the other founders.
Ethereum has undergone many upgrades in the past. These upgrades have subsequently had a significant impact on the price of the second largest crypto currency in terms of market value. The exact correlation between the upgrades and the price is difficult to measure, as the price is also strongly dependent on other factors, such as the price of Bitcoin and market sentiment. Nonetheless, there is certainly a pattern to the upgrades of Ethereum and its price.
Ethereum launched its first version (Ethereum 1.0), called Frontier, in July 2015. This enabled smart contracts to be run on Ethereum's network. Thanks to smart contracts, developers could test their decentralized applications (dApps). This gave Ethereum an advantage over other altcoins, as they did not (yet) have smart contracts. For Ethereum this resulted in a price increase of more than 17,500! thousand percent in market value in just over one year.
https://t.co/Pv5I3gjWUB <- #ethereum #frontier is on the finish line!

— vitalik.eth (@VitalikButerin) May 10, 2015
As of 2020, Ethereum's share price is strongly determined by DeFi, which stands for decentralized Finance, which is tantamount to a dApp. With DeFi, transactions are done directly between participants, mediated by smart contract programs. This eliminates the need for a centralized third party, such as a cryptocurrency exchange. These DeFi's became unprecedentedly popular in 2020, almost all of them running on Ethereum's network, which led to a sharp rise in Ethereum's share price.
Cardano is about to launch his biggest upgrade
Since 13 August we know when Cardano will launch its Alonzo upgrade, which will be on the 12th of September this year. This upgrade will make it possible to implement smart contracts on Cardano, making it possible to deploy a wide range of new DeFi applications for the first time. In addition, Alonzo is set to enable concepts such as tokenization and NFTs. Want to know more about the Alonzo update? Read our article about it here.
It's happening.

We're targeting 12 September 2021 for the 'Alonzo' upgrade, bringing smart contracts to Cardano via a hard fork combinator (HFC) event.

Find out more about the journey to a new era of smart contracts, DeFi and more for #Cardano $ADAhttps://t.co/59czSxrxFO

— Input Output (@InputOutputHK) August 13, 2021
Through this upgrade, it is entering into serious competition with Ethereum, which is currently seen as the leader in the decentralized financial world. But in addition to the technological competition, Cardano is also entering a serious competition in terms of market capitalization.
At the time of writing, according to Coinmarketcap´s measurements, Cardano has taken the third spot in terms of market capitalization, in favor of Binance Coin. With a market cap of over ninety billion dollars, Cardano has closed the gap with Ethereum to three hundred billion dollars. This gap seems unbridgeable in one year but both Bitcoin and Ethereum have shown in 2021 that this huge increase in market value is achievable.
A critical note
According to experts, Cardano's potential means it has a serious chance of overtaking Ethereum in terms of technology and market value in due course. Many people are extremely positive about the team and the organization. However, if we may sound a critical note, Cardano has repeatedly postponed a deadline.
Cardano is in the Goguen phase - the third of Cardano's five final upgrade phases. Originally, the idea was that the Alonzo upgrade would be carried out in April this year, but this has been moved to the 12th of September. The postponement of such upgrades is causing irritation among some fans of the currency. On the other hand, there are also plenty of fans who only encourage the postponement, because they like the fact that an upgrade is released when it is truly finished.
Cardano's future
Given Ethereum's past and the fact that Cardano often mimics them, its future looks bright, both technologically and economically. Nevertheless, there is a chance that Cardano's share price will tumble despite the implementation of smart contracts. It may happen that developers make limited use of Cardano's smart contracts (even though this is not expected). If that happens, it could have consequences for Cardano's price.
Furthermore, the crypto market is very unpredictable and volatile. If the market enters a bear market, upgrades, such as Alonzo's, will probably have much less impact on Cardano's price than they do now. However, at the moment Cardano is doing very well and we as crypto lovers can only appreciate that.