Ripple price prediction 2023 - 2030
- 5 minute read

The lawsuit between Ripple and the SEC is closed. Ripple is the big winner, but the SEC is not giving up yet. The entire crypto market seems to have reacted positively to the lawsuit. In our expectations of Ethereum, Cardano and Arbitrum, we have already discussed the future of relevant coins. Today we take a look at the Ripple price expectations for 2023 to 2030. Ripple has made an important step with winning the lawsuit, how will the price continue in the future?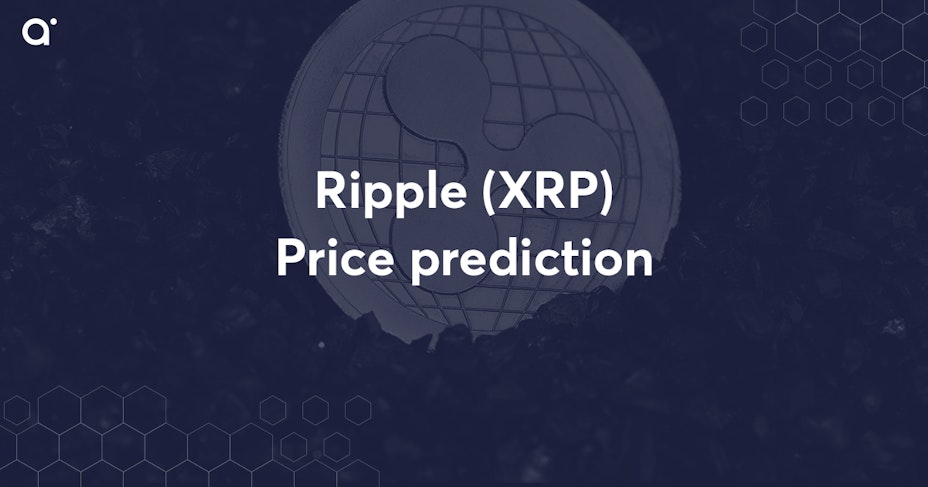 The price performane of Ripple price performance depends on:
✔️ The impact of Ripple's victory in the lawsuit against the SEC;
✔️ How the crypto market moves as a whole, is there a bull market or bear market;
✔️ How the global economy is moving as a whole.
Table of Contents
Ripple forecast 2023 - 2030
Making forecasts remains very risky in the cryptocurrency industry. Making a Ripple price forecast is therefore very difficult. The price of Ripple over the next few years is highly dependent on a number of factors:
The impact of the won lawsuit against the SEC;
Their continuous development of services;
The adoption of XRP by financial institutions;
The overall movement of the cryptocurrency market, whether it's in a bull or bear market;
The overall movement of the global economy, whether it experiences growth or recession.
Each of these factors can have an impact on the Ripple price. Despite the difficulty in making price predictions, there are agencies that provide a Ripple outlook for the coming years based on their proprietary algorithms. Digitalcoinprice is one of them. Below is the Ripple forecast 2023 - 2030 from Digitalcoinprice:
| Year | Minimum price | Average price | Maximum price |
| --- | --- | --- | --- |
| 2023 | $ 0.63 | $ 1.36 | $ 1.53 |
| 2024 | $ 1.50 | $ 1.74 | $ 1.76 |
| 2025 | $ 2.05 | $ 2.35 | $ 2.51 |
| 2026 | $ 2.67 | $ 2.88 | $ 3.18 |
| 2027 | $ 2.67 | $ 2.89 | $ 3.20 |
| 2028 | $ 3.30 | $ 3.67 | $ 3.81 |
| 2029 | $ 4.68 | $ 4.98 | $ 5.15 |
| 2030 | $ 6.75 | $ 7.05 | $ 7.23 |
What is Ripple? 
Ripple, better known as XRP, is a cryptocurrency and digital payment network built on top of distributed ledger technology. It enables instant transactions with low transaction costs between two parties without the need for a centralized third party. Ripple was founded in 2011 by former Bitcoin developer Jed McCaleb and venture capitalist Chris Larsen. Since then, it has grown into one of the largest cryptocurrencies in the world, with a market capitalization of more than $35 billion. It is used by banks, payment providers and digital exchanges to send money across borders quickly and cheaply. Ripple's technology allows users to make fast international payments at low cost and with guaranteed privacy. It has become one of the most popular forms of digital currency because of its scalability speed and security. Ripple's low transaction costs make it attractive to users who want to move money quickly and cheaply across borders. Its distributed ledger technology also makes it a secure platform for transactions, as there is no single point of failure. As the world continues to move toward the use of digital payments and currencies, Ripple will become an increasingly important part of the global financial system.
The Ripple company focuses on improving the global payments system. Several branches and solutions exist under the Ripple brand umbrella - RippleNet, the XRP Ledger, XRP-coin and RippleX.
RippleNet 
RippleNet is a global network that financial institutions can use to transfer money faster, with more transparency and at lower cost through a unified system, unlike the distributed traditional ecosystem that banks have historically worked with. 
XRP Ledger 
The XRP Ledger is an open-source blockchain on which the XRP coin runs. XRP is the original asset of the XRP Ledger. The XRP Ledger and the XRP coin run independently of the Ripple company, although Ripple uses both for different solutions.
RippleX 
RippleX serves as a platform that promotes blockchain-based solutions that interested parties can use for their various value transfer-based use cases.
Technical aspects of Ripple (XRP) 
Ripple can complete transactions within 3 to 5 seconds on the XRP Ledger. Compared to Bitcoin, this is extremely fast as transactions on the Bitcoin blockchain can take up to 10 minutes. This is because the Proof of Work consensus is slower (and more energy consuming) than Ripple's consensus.
Ripple has very authoritative node validators. Node validators are those who check whether a transaction is legally valid or not. Ripple validators include banks, individuals, private payment providers and cryptocurrency exchanges. The XRP ledger also has a system that prevents double spending. This prevents users from spending the same amount of XRP twice, as the system detects the double transaction and deletes the subsequent data.
XRP price
Ripple Price History
Ripple's price history is an important indicator of how the cryptocurrency has evolved over time. Ripple (XRP) was launched in 2012 and since then its value has fluctuated widely. Looking at the price of XRP, you can see that the cryptocurrency peaked during the bull run of 2017/2018. Indeed, Bitcoin received worldwide (media) attention starting in 2017, which caused a large group of new investors to join the crypto industry. The new investors' money flowed into altcoins. Ripple was one of the altcoins that rose the hardest in terms of value, because at the time they were already a stable cryptocurrency with a strong project behind it. In January 2018, the price of Ripple reached a record high of €3.31 per XRP. After the bull run of 2017, the price of XRP plummeted dramatically. At one point, the value had fallen more than 97% from its all-time high to €0.11.
As with all cryptocurrencies, Ripple's value is subject to market forces and there are no guarantees of future performance. However, a look at Ripple's price history indicates that it has weathered some major market declines and has shown signs of increasing stability in recent months. This could represent an opportunity for investors looking to capitalize on Ripple's potential growth as a cryptocurrency. By following Ripple's price history, investors can get an idea of the likely direction of value and make informed decisions about which cryptocurrencies to buy. In addition, understanding Ripple's past performance can provide an indication of how it will react to future market changes. With this information, investors can identify profitable trading opportunities and ensure that their investments are well placed. To put these price movements in perspective, we have a price overview for you of the highs and lows of recent years.
XRP price 2015: Lowest - € 0,0037 / Highest - € 0,0094
XRP price 2016: Lowest - €0.00404/ Highest - €0.02444
XRP price 2017: Lowest - € 0.003 / Highest - € 2.474
XRP price 2018: Lowest - € 0.245 / Highest - € 3.317
XRP price 2019: Lowest - € 0.193 / Highest - € 0.505
XRP price 2020: Lowest - €0.11 / Highest - €0.79
XRP price 2021: Lowest - € 0.20 / Highest - € 1.64
XRP price 2022: Lowest - € 0.30 / Highest - € 0.89
XRP price 2023 (so far): Lowest - €0.31 / Highest - €0.75
SEC vs XRP Lawsuit
The lawsuit between Ripple and the Securities and Exchange Commission (SEC) is one of the largest lawsuits today in the crypto industry. The SEC, founded in 1934, is the U.S. regulator of various (securities) exchanges.
In 2020, the SEC sued Ripple for selling unlicensed securities in the form of XRP tokens since 2013. Ripple objected to this because they do not consider XRP to be securities. The SEC subsequently said that Ripple had been able to find out through research that XRP tokens are indeed securities.
This soap opera has already sent the value of XRP plummeting several times. A court ruling is expected in 2023. Should the penny drop on Ripple's side, there is a good chance that this will have a positive effect on the value of XRP. Should the SEC win the case, this could have disastrous consequences for Ripple and the value of XRP, as fewer people are expected to trust the company. The outcome is also important for the rest of the crypto market. Not only has Ripple been sued, but coins like Polygon and Cardano are also facing the same charges. In short, the SEC is beating around the bush under the leadership of Gary Gensler, who openly shows he hates cryptocurrencies.
Ripple asks for internal information from the SEC
The soap opera between Ripple has been going on for some time. Meanwhile, the SEC, has recognized Bitcoin and Ethereum as cryptocurrencies and that has prompted Ripple, to file a motion. In the motion, they ask for internal information from the SEC about Ethereum. Ripple would like to know why Ethereum has been recognized as a cryptocurrency in the past. The court granted the motion and asked the SEC to hand over the information. The SEC disagreed and filed its own motion in April 2021, seeking that Ripple's motion still be denied.
Analisa Torres concluded that the SEC was only out to delay the process and, for the time being, indicated that the SEC should provide the requested information. The moment it was announced that the SEC's motion was rejected, XRP's price rose 15% to $0.84 per XRP within hours.
The Hinman files are disclosed
On June 13, 2023, the time had come. The Hinman files were made public on that day, after Ripple CEO Brad Garlinghouse indicated on May 25 that the lawsuit would end within weeks. What was in the Hinman files? The documents show internal communications between former SEC Director William Hinman and his colleagues, in which they discuss the draft text of his speech. Hinman's speech, delivered in 2018, indicated that the SEC "sees no need to regulate Ethereum as a security," meaning Ethereum would not be treated as a security under U.S. securities laws.
On June 13, 2023, the time had come. The Hinman files were made public on that day, after Ripple CEO Brad Garlinghouse indicated on May 25 that the lawsuit would end within weeks. What was in the Hinman files? The documents show internal communications between former SEC Director William Hinman and his colleagues, in which they discuss the draft text of his speech. Hinman's speech, delivered in 2018, indicated that the SEC "sees no need to regulate Ethereum as a security," meaning Ethereum would not be treated as a security under U.S. securities laws.
These rulings are significant because the classification of cryptocurrencies as securities under U.S. law has significant legal and regulatory implications. Ripple has long argued that XRP is not a security, and the Hinman documents may strengthen their case by showing that the SEC has been internally inconsistent in its classification of cryptocurrencies.
Ripple's main argument is that Hinmans statements on Ethereum suggest that the SEC recognizes that cryptocurrencies that are sufficiently decentralized and where there is no reasonable expectation of profit from the efforts of others should not be considered securities. Ripple claims that XRP meets these criteria and therefore should not be regulated as a security. The documents show that Hinman sought internal advice on his speech, including input from then-SEC Chairman Jay Clayton, which may undermine the SEC's credibility in its dispute with Ripple.
However, the Hinman documents also raise new questions and highlight the need for clearer regulation of cryptocurrencies. Some argue that U.S. securities laws are outdated and inappropriate for regulating the rapidly evolving world of cryptocurrencies. Paul Grewal, Chief Legal Officer of Coinbase, points to a "regulatory gap" and calls for new legislation specifically tailored to cryptocurrencies. The documents show that members of the SEC have been aware of this gap and that the SEC's regulatory approach can be inconsistent and confusing.
All in all, the Hinman documents have sparked discussion about the classification and regulation of cryptocurrencies.
Ripple wins lawsuit against SEC
Ripple triumphs in the crucial lawsuit against the U.S. Securities and Exchange Commission (SEC). The protracted legal dispute revolved around whether XRP, Ripple's cryptocurrency, should be considered a security. The SEC accused Ripple of this classification, but the recent ruling fell in Ripple's favor. According to the judge, XRP does not meet the criteria of a security as established by U.S. law. The ruling applies specifically to trading on exchanges between retail investors, where XRP is not considered a security. As a result, XRP has lost its status as a security, and this has a direct impact not only on Ripple, but also on the broader crypto market, which is now trending upward.
SEC doesn't give in
The SEC remains a major headache for the crypto sector. Among others, Ripple can't shake off the organization. After Ripple prevailed in the lawsuit in mid-July, the securities watchdog is now appealing. The SEC is resolute and wants to continue classifying XRP as a security. In response, Ripple could once again appeal against the SEC's request.
What developments can influence the XRP price?
Ripple continues to evolve and has grand plans. These plans could have an impact on the XRP price in the future.
Ripple Liquidity Hub
Outside of the lawsuits, Ripple is also developing and expanding its services. During 2022, Ripple will launch their Liquidity Hub service. This service will allow companies to easily and efficiently acquire digital assets from the crypto market.
Customers will be able to trade from a selection of cryptocurrencies, including  Bitcoin, Ethereum, Litecoin, Ethereum Classic, Bitcoin Cash and XRP. Ripple hopes to offer other digital assets such as NFTs in the future.
NFTs on the Ripple network
The Ripple community was in unanimous agreement. More than 91% of voters want to bring NFTs to the Ripple network. Voting began on 17 October 2022 and lasted for a fortnight. With this, Ripple follows in the footsteps of other major blockchains such as Solana, Avalanche, Polygon and, of course, Ethereum.
On October 31, it was official. NFTs are accepted on Ripple's network. Through an application called XLS-20, NFTs are integrated. Just a year earlier, another $250.- million fund was set up to invest in NFT innovation. This enabled NFTs on the platform a year later.
To date, the introduction has had little impact on the XRP price. This is primarily due to the sentiment surrounding the NFT market at the moment. If the NFT market picks up again, it is likely to have a positive effect on Ripple NFTs, which could in turn lead to a positive response in the XRP price
Ripple's CBDC Platform
The development of CBDCs by central banks and governments is in full swing. Among them, the European Central Bank (ECB) is actively engaged in the development of a CBDC, known as the 'digital euro.' This digital euro is intended to replace cash in the long term and become the currency of the future. Ripple has also taken notice of this development and is responding by developing its own CBDC platform. On their website, it states: "Ripple's Central Bank Digital Currency (CBDC) platform aims to serve as a platform for creating, managing, trading, and destroying stablecoins and CBDCs, and it has the potential to promote the adoption of XRP."
Want to follow the latest Ripple news?
On our news page, we share the latest Ripple news, but also share news about Bitcoin, Ethereum and the rest of the crypto market.
Is 2023 a good time to buy XRP?
You can never tell for sure when it's a good time to buy XRP or how much Ripple will be worth. At the time of writing, Ripple price is just above $44 cents. According to analysts, it would be a good time to buy because in their Ripple price expectation, they expect the price to be many times higher than this price. But we may be in a bear market, and these have proven to last for several years in which prices drop dramatically. A lower Ripple price expectation is therefore not inconceivable. This does link the Ripple price expectation only to the cryptomarket factor.
Looking at the intrinsic value of XRP, the coin is doing well compared to other crypto currencies. The coin has low transaction fees and is scalable in terms of transaction capabilities, with transactions executed every three to five seconds. XRP thus represents tremendous value, according to experts.
Finally, Ripple's success during the lawsuit against the SEC has left a good impact and will most likely continue that course into the future. The victory gives hope to many other lawsuits that the SEC has filed, thus other projects now have more hope of winning their own lawsuits from the SEC as well. This is also one of the reasons the entire crypto market has seen a positive upside in July 2023. Ripple's victory is just the beginning.
Could Ripple become 1,000 euros?
It seems very unlikely that the Ripple price will reach the 1,000 euro mark in the future. Currently, the value of Ripple is $0.47 per XRP, which is lower than its peak of $0.54 in March 2023.
In addition, price history and market analysis show no realistic scenario in which Ripple could cross the €1000 mark. The highest price value Ripple has ever reached was $3.84, which is only €3.52 per XRP. To reach €1000, Ripple would have to increase in value hundreds of times.
Moreover, there are no indications of a possible scenario where Ripple could increase in value exponentially in the near future.
In short, the chances of Ripple breaking the €1000 barrier in the future are extremely small and unrealistic. The facts and market analysis clearly point to an unlikely rise in the Ripple price in the future.
Will XRP rise?
It is possible that the price of Ripple (XRP) will rise in the next three to four months, said founder Thomas Kralow, the hedge fund manager at Kralow Capital in an interview. Of course, the victory of the lawsuit against the SEC has a big impact on this. Thus, the SEC is going to appeal, but adherents believe, on the contrary, that this will strengthen Ripple's victory. Should Ripple also win this lawsuit, it is not guaranteed that the price of Ripple will rise, but it is possible. If these factors turn out to be positive, the price of XRP could indeed go up significantly. However, it is still important to consider the risks of investing in cryptocurrencies, given their volatility.
Interested in XRP?
At Anycoin Direct you can  buy XRP quickly and easily.