Axie Infinity (AXS) coin - Price prediction 2023 - 2026
- 5 minute read

Games that run on the blockchain have become increasingly popular in recent years. One of the biggest blockchain and play-to-earn games is Axie Infinity. What is Axie Infinity and what can we expect from the AXS token in the upcoming years?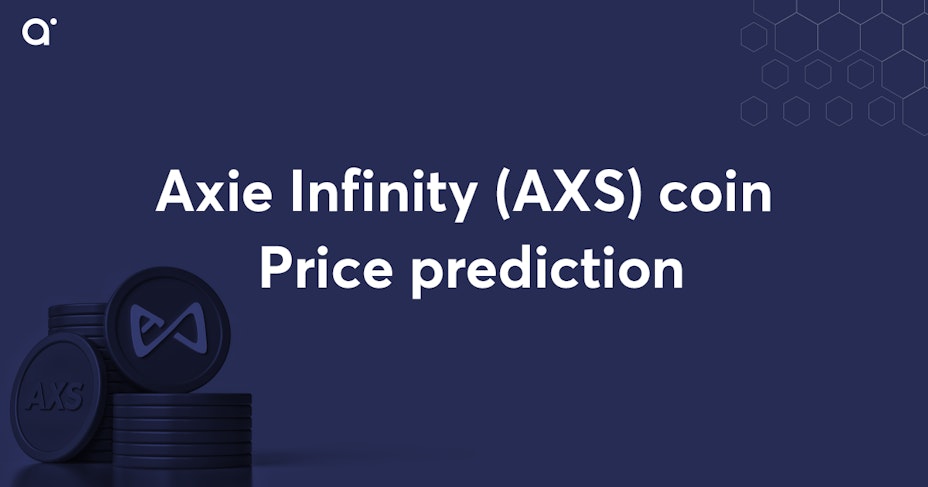 Table of Content
What is Axie Infinity? 
Axie Infinity is a play-to-earn game running on the Ethereum blockchain. Every day 2.8 million players play the game. By playing the game, you earn 'Axies' (monsters) that you can use in the game, but also to trade as NFTs on secondary markets. Besides earning, you can also breed Axies to use or sell as NFTs. In this way you can earn real money by playing the game or simply by trading Axies.  
In the game you can fight against other players in Arena Mode. Also, you can fight other monsters in Adventure Mode, where other monsters and tokens can be earned. In short. The game offers various possibilities to earn money in a fun way, where you will be rewarded if you play the game actively.  
Axie Infinity is a GameFi project. GameFi means that the game is run in a decentralised way and that data is stored on the blockchain. This means that a central party like a hosting company is not needed. This prevents others from accessing and using your data. You can access your data by connecting your wallet to the game. This way, only you have access to the data you generate. GameFi also means that money can be earned by playing the game. In Axie Infinity, you can earn AXS tokens and NFTs. These tokens and NFTs are stored in your wallet. 
What is the tokenomics of Axie Infinity? 
The token associated with Axie Infinity is AXS (Axie Infinity Shart). AXS is an ERC-20 token, which means that the token runs on the Ethereum network and is therefore tradable to users with an Ethereum wallet. The token primarily serves as a governance token, to run the network. AXS can also be used to trade in the Axie Marketplace. Here, in-game NFTs can be purchased with AXS tokens. AXS can also be used in combination with SLP (Smooth Love Potion) to breed new Axies. The cost of breeding is 4 AXS.
SLP is another token used in the game. Axie Infinity uses a dual-token structure. Like AXS, SLP is an ERC-20 token. As discussed earlier, SLP is used along with AXS to breed new Axies. Unlike the AXS token used, the game uses SLP as a burn token. This means that the tokens are burned at some point, to create scarcity, which the developers hope will increase the price in the future. SLP tokens are earned by winning battles and playing in adventure mode. 
Since 2021, it is possible to stake AXS. This means that you use your AXS to help the network. In return, you will be paid AXS tokens. Staking is therefore a way to generate passive income without having to play the game. 
Who founded Axie Infinity? 
The development of Axie Infinity began in 2017. That's when co-founder and CEO, Nguyen Thanh Trung, Tu Doan, Aleksander Larsen, Jeffrey Zirlin and Andre Ho began the development. In particular, Nguyen wanted to combine elements of CryptoKitties (which he had invested in) and elements of Neopets to build an improved blockchain-based game. The first combat system was launched in October 2018, followed by the real-time map combat system and application. Finally, the Alpha version was released in December 2019.  
In February 2021, the Ronin Wallet was launched by Sky Mavis. The Ronin Wallet is designed to increase transaction speed and reduce transaction costs. In addition to Axie Infinity, other dApps can also make use of the Ronin Wallet, by running their game on the Rhonin sidechain. 
Axie Infinity (AXS) price 
Axie Infinity coin prediction 2023 
Companies and website make price predictions for AXS in 2023. We want to emphasize that predicting is risky, because the price depends on aspects surrounding crypto, such as economic factors. However, there are companies that make predictions based on their own algorithms.  
For example, Digitalcoin expects AXS to reach a price of $24.90 per AXS token by 2023. Gov Capital expects the very unlikely. They think that AXS will rise by over 1000% to a price of up to $357.48 per AXS token. TradingBeasts, like Digitalcoin, is a lot more modest and expects the price to average $28.11 by 2023. 
| | | |
| --- | --- | --- |
| Digitalcoin | 2023: | $24,90 |
| TradingBeasts | 2023: | $28,11 |
| Gov Capital | 2023: | $357,48 |
Axie Infinity coin prediction 2024 – 2026 
Digitalcoin, Gov Capital and TradingBeasts have also issued price expectations for 2024 to 2026. Again: take the price expectations with a grain of salt, because the crypto market depends on economic factors, which websites cannot foresee at all. In the table below you can read the expectations. 
| | | | | | | |
| --- | --- | --- | --- | --- | --- | --- |
| Digitalcoin | 2024: | $33,48 | 2025: | $40,23 | 2026: | $36,55 |
| TradingBeasts | 2024: | $39,38 | 2025: | $45,79 | 2026: | - |
| Gov Capital | 2024: | $666,36 | 2025: | $1.059,82 | 2026: | $1.530,59 |