VeChain Price prediction 2023-2025
- 5 minute read

Since VeChain's rebranding in 2018, expectations of VeChain have been high. Especially in the bull run of 2020-2021, VeChain's price has been able to benefit. Since then, the price has fallen more than 94% from its all-time high. What is the VeChain price prediction for the coming years? Is buying VeChain in 2023 wise?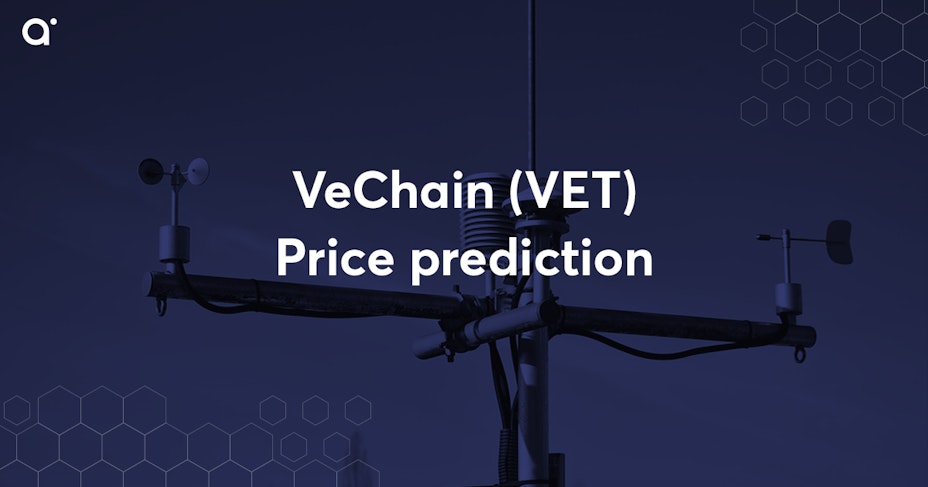 Table of Contents
About VeChain
In the 2021 bullrun, VeChain reached its all-time high of $0.25 per VET.
VEN became during the rebranding of 2018 VET.
VeChain uses the consensus Proof-of-Authority (PoA) algorithm. 
VTHO is the (gas) token of the VeChain network.  
VeChain price prediction overview
| | TradingBeasts | DigitalCoinPrice | Changelly |
| --- | --- | --- | --- |
| 2023 | $0.019 | $0.042 | |
| 2024 | | | |
| 2025 | | | $0,0699 |
Current VeChain price
What is VeChain?
VeChain is a crypto that focuses on supply chain management for businesses and individuals. Its supply chain management solutions are built on the VeChain blockchain to ensure the legitimacy of products.
The founder of VeChain is Sunny Lu. He was previously CIO of Louis Viutton China and noticed that the fashion industry was struggling with counterfeit products that were difficult to distinguish from products of original brands. He saw the potential of blockchain technology as a good solution to tackle this problem. Sunny Lu therefore developed VeChain as a smart contract on Ethereum's blockchain in 2015.
The release of VEN tokens
A total of 1 billion VEN tokens were created. VEN is the predecessor of VET. More on the rebranding later. The VEN tokens were distributed as follows:
410 million (41% of the total) of the tokens were offered through a crowdsale;
90 million VEN tokens were sold through a private sale;
Involved companies received 140.8 million (14%) VEN tokens;
VeChain developers received 50 million (5%) of the tokens;
Finally, the remaining 12% of the tokens were kept as reserves for ongoing developments.
During the crowdsale, not all the tokens on offer were sold. In fact, 133 million VEN tokens were not sold during the sale. The organisation decided to burn these tokens, reducing the total stock to 867 million tokens.
Rebranding from VEN token to VET coin
In 2018, a rebranding took place. VEN token became VET coin. The rebranding was accompanied by the introduction of a new blockchain project. VeChainThor was introduced and the entire network made the switch to the new blockchain. The total market supply was increased a hundredfold and holders of VEN tokens received 100 VET coins for every VEN token. Thus, the distribution of coins remained the same.
What impact did the rebranding have on the VeChain price?
The impact of the rebranding on the VeChain price was barely noticeable for VEN holders. As the number of coins was increased 100-fold, the VeChain price became worth 100x less, but the market cap remained the same. As mentioned earlier, for every VEN, each VEN holder received 100 VET coins, so the value in euros remained the same.
Proof-of-Authority
The VeChainThor blockchain uses the Proof-of-Authority (PoA) consensus algorithm. This way, the blockchain is secure and transactions can be processed and executed. Proof-of-Authority, like Proof-of-Stake, uses validators (or nodes) that are used to validate transactions on the network, without the need for heavy computers. The difference is in the authority Proof-of-Authority requires of its validators. To become a validator, you need to have a good reputation and this is determined by a number of conditions, which makes it very difficult to become a validator.
A validator is:
Verified by the network;
Trusted by the network;
And chosen by the network.
VET and VTHO
As a VeChain holder, you can earn tokens in the form of a kind of VeChain Staking. The difference with staking is that you don't have to tie up your coins, just keep them in a wallet. In fact, you earn VeChain Thor (or VeTHor) tokens when you store VET in a wallet. VTHO is a (gas) token added during the transition to the VeChainThor blockchain.
What is the difference between VET and VTHO?
VET is the coin that represents the value of VeChain. VTHO on the other hand is the token used to pay transaction fees on the network. The two different tokens make VeChain a dual-token infrastructure and cannot exist without each other. Without VET, no VTHO tokens can be generated and without VTHO, no transactions can be executed. Hence, you can say that VeChain staking is part of the network even though the network uses the PoA consensus algorithm.
How much VTHO do you pay per transaction?
The transaction fees (or gas fees) in VTHO vary per transaction. Performing a simple transaction such as a P2P transaction will cost you 50 VTHO, while performing a smart contract will quickly cost you 800 VTHO in gas fees.
VeChain price history
VeChain price 2018
After the rebranding in 2018, expectations were high for VeChain. The rebranding took place at the end of the bull run in 2018, so the VeChain coin price did not take full advantage. Still, the coin showed a nice rise in a few months. In one month, the price rose from €0.0067 to €0.0197. An increase of almost 300%. Then the market completely turned into a bear market. The price fell to a low of €0.0033 per VET.
VeChain price 2019
2019 was an 'in-between year' for VeChain. The crypto market faced a big sell off at the end of 2018, but in 2019 the VeChain price stabilised and the VET price saw a sideways move for almost the whole year due to a lack of volatility. From February, we saw the price return to a small uptrend and until June, the coin managed to rise to €0.0092 per VET. Then the price reached a new low on 25 September. A price of €0.003 was reached.
VeChain price 2020
In 2020, the crypto market was gearing up for another bull run. VeChain was seen as a new market cap gem. VET coin reached a new all-time high in 2020. At the end of 2020, the VET price reached €0.0291. The coin is making a rally of more than 1300%. After all, on 17 March, the coin was worth just €0.0022.
VeChain price 2021
2021 was the absolute best year for VeChain. The market was in a bull run in Q1 of 2021 and the VeChain price benefited. The rally VeChain experienced was unprecedented, as the coin went from €0.018 to €0.25 per VET. An increase of almost 1400%. Incidentally, this was at the height of the bull market. In Q2, a big sell of took place and the price fell sharply by almost 78% to €0.057 per VET.
VeChain price 2022
In 2022, the crypto market was bearish. Due to economic developments and liqidity issues among crypto providers, the market was bearish from early 2022 to late 2022. VeChain's price fell from January's €0.091 to €0.016 (82.4%) in December.
Want more information on the VeChain price? On our VeChain price page you can find more info on the VeChain price.
Overview of VET price history
VET price2018: Lowest - € 0,0033 / Highest - € 0,0197
VET price 2019: Lowest - € 0,003 / Highest - € 0,0092 
VET price 2020: Lowest - € 0,0022 / Highest - € 0,0291 
VET price2021: Lowest - € 0,057 / Highest - € 0,25 
VET price 2022: Lowest-  € 0,016 Highest - € 0,091
VeChain price prediction 2023
The VeChain price depends on many aspects. For instance, the status of the crypto market is essential for the VET price. Therefore, making price forecasts is very difficult. Nevertheless, there are companies that do price forecasting. For instance, TradingBeasts, DigitalCoinPrice and Changelly VeChain do price forecasts based on their own algorithms. Our advice is to take price forecasts with a grain of salt. Always base your choices on your own research!
TradingBeasts
TradingBeasts' VeChain price prediction for 2023 is interesting. For instance, they expect VeChain's price to rise to $0.021 per VET in early 2023. An increase of over 33% over the current VeChain price. However, they do think that the coin will subsequently fall again. For December 2023, they therefore arrive at a VeChain price prediction of $0.019. An 18% increase from the current VeChain price.
DigitalCoinPrice
DigitalCoinPrice is a lot more positive about VeChain's price in 2023. In DigitalCoinPrice's VeChain price prediction, we see a nice increase. They expect that the VeChain price could rise to $0.042 in 2023. According to them, buying VeChain is therefore wise.
Changelly
Changelly also fires off a VeChain prediction in their blog. In their VeChain forecast, they expect VeChain to rise in an upward trend in the year 2023. During the year, they expect the share price to grow from $0.021 in January to $0.032 in December. They see a growth potential of more than 83.3%. So, based on their forecast, buying VeChain is an interesting option.
VeChain price prediction 2024
As indicated in the VeChain prediction for 2023, the VeChain price depends on the entire crypto market. Therefore, predicting the VeChain price is very difficult. Again, take the predictions of TradingBeasts, DigitalCoinPrice and Changelly with a grain of salt and always do your own research!
TradingBeasts
The rise that started in 2023 will continue in 2024, according to TradingBeasts. According to them, the VeChain price could rise to a maximum of $0.035 by the end of 2024.
DigitalCoinPrice
DigitalCoinPrice also sees VeChain continuing to rise in 2024. They expect an increase to $0.058 per VET in 2024.
Changelly
Changelly sees growth potential of 172% from a year earlier. A VeChain of $0.048 per VET is expected.
VeChain price prediction 2025
TradingBeasts, DigitalCoinPrice and Changelly have also made price predictions for 2025.
TradingBeasts
As in 2023 and 2024, TradingBeasts' expectations are high. Relative to the current price, VeChain could rise 132.5%. They expect a VET price of $0.0379 in 2025.
DigitalCoinPrice
The VET price continues to rise in 2025, according to DigitalCoinPrice. A price increase to $0.0737 is expected.
Changelly
Changelly has also issued a VeChain price prediction for 2025. An ROI of more than 288% is expected. According to them, the price will rise to $0.0699 per VET.
Interested in VeChain?
At Anycoin Direct, you can buy VeChain quickly and easily.