Enjin coin (ENJ) – A price prediction 2022 - 2025
- 6 minute read

Last year, we saw NFTs and the metaverse play an increasingly important role in the crypto world, but we also see blockchain technology being used more frequently in the gaming industry. It is expected that these developments will play an increasingly important role within the gaming industry in the future and therefore it is important to highlight coins that can play a significant role in this. One such crypto coin is Enjin coin. In this article you can read what Enjin is and what the expectations of the coin are for 2022.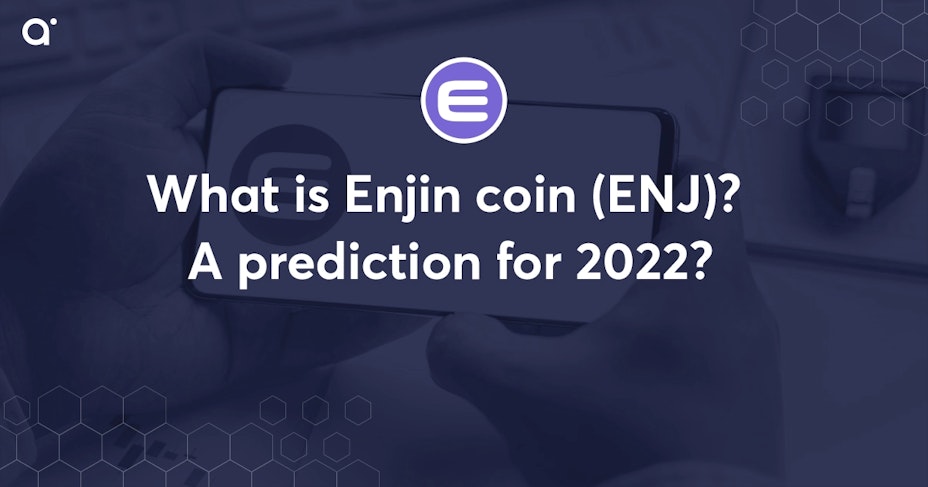 Table of Contents
What is Enjin (ENJ)?
Enjin coin is an ERC-20 token built on the Ethereum blockchain. This means it is an application that uses the facilities offered by Ethereum. Enjin coin which is ENJ for short, is linked to the company Enjin. Enjin was founded in 2009 by Maxim Blagov and Witek Radomski. The company is based in Singapore and is an information technology company mainly focused on the gaming industry.
Enjin started in 2009 as an Initial Coin Offering (ICO) and has launched several products that users of the Enjin platform can use. The products offered by the platform are focused on NFTs. An NFT (non-fungible token) is a token built on a blockchain and is unique and not replaceable. NFTs can also be used in games and can be traded using a smart contract. Enijn plays an important role in this. At Enijn, you can store your NFTs and other crypto on your own Enjin wallet. The Enjin Wallet is an app that can be downloaded from the Google Play Store or the App Store. You will also be able to trade NFTs using Enjin's marketplace, which will be available in the future.
Game developers can use Enjin to run their own games on the blockchain technology. Minting NFTs that can be used in your own game is also made possible with Enjin. Enjin realises this through the Enjin API that developers can integrate. Adding NFTs to a game ensures that the participants of the game can store and trade their earned attributes on the blockchain. The advantage of this is that in many cases users can integrate their attributes into other games, making the use of NFTs more widely applicable.
In short, Enjin is a platform that individuals and developers can both use and is suitable for investors, collectors and developers.
Enjin coin price
The value of ENJ has risen significantly since its launch in 2009 and one ENJ coin is worth $1.35 per coin at the time of writing. This is an increase of 8573.79% compared to November 2, 2017. However, the price is currently far from its all-time high measured on November 25 last year. Back then, the value of one Enjin coin was $4.85 per coin. The total stock of ENJ contains exactly 1 billion Enjin coins. Of these, 87% are currently in circulation.
ENJ current price
Enjin coin roadmap for 2022 
The developers of Enjin plan to make several updates and launch new features in 2022. The most important developments at a glance: 
Efinity 
Enjin is continuously developing their service and has shared a roadmap on their website. In 2021, they rolled out a new service called Efinity Platform. This is a platform that has its own coin attached to it called Efinity Token. Efinity is a parachain and makes it possible to link one blockchain to another. Efinity uses the cross-chain technology of Polkadot. This makes it possible for Enjin to offer their services to users of Polkadot's blockchain in the future.  
NFTs 2.0 (NFT.io) 
An important update that Enjin will be implementing in 2022 is 'NFTs: 2.0'. This will be an NFT marketplace that is said to be smarter and more scalable than the existing NFT marketplaces. Enjin expects NFTs: 2.0 to offer free transactions and improved tokenomics. Well-known Youtubers such as Coin Bureau expect the use of cross-chains to be applied to NFTs: 2.0 in the future as well, enabling the mining and trading of NFTs from different blockchains in one place.  
Wallet 
Enjin's network is constantly maintaining their platform and adding new features.  WalletConnect, for instance, enables an safe connection of dApps to blockchain wallets. Also, an integration with PancakeSwap is being made to make it possible to perform in-app DeFi swaps on the Binance Smart Chain. 
Platform 
The platform will be updated to support Efinity and will first be released to a select group as an Alpha version. The Alpha version will be open source like the rest of Enjin, meaning the build will be visible to everyone. Furthermore Efinity Wallet Daemon will be added to the network. The Efinity Wallet Daemon can connect to the Enjin API and will allow Efinity users to set up a wallet without the need to buy crypto. 
Enjin coin price prediction 
What the price of Enjin coin will do in the future is hard to say and depends on the current developments that strongly influence the crypto market. Nevertheless, there are analysts who make price predictions for Enjin coin: 
Tradingbeasts's Enjin coin price prediction for 2022 to 2024 
TradingBeasts makes its price prediction based on its own algorithm. They also have a price prediction for Enjin coin: 
| | | |
| --- | --- | --- |
| 2022 | $3,44 | per ENJ coin |
| 2023 | $3,09 | per ENJ coin |
| 2024 | $3,63 | per ENJ coin |
Digitalcoin's price prediction for Enjin coin 2022 - 2025 
Like Tradingbeasts, Digitalcoin uses its own algorithm. They are even more positive about the expected price development of Enjin coin and have a price forecast until 2025: 
| | | |
| --- | --- | --- |
| 2022 | $4,99 | per ENJ coin |
| 2023 | $6,26 | per ENJ coin |
| 2024 | $7,49 | per ENJ coin |
| 2025 | $8,60 | per ENJ coin |
Cryptocurrency Price Prediction's price prediction up to 2030 
Based on fundamental analysis, Cryptocurrency Price Prediction makes price forecasts for ENJ coin until 2030: 
| | | |
| --- | --- | --- |
| 2022 | $9,12 | per ENJ coin |
| 2025 | $36,84 | per ENJ coin |
| 2030 | $72,92 | per ENJ coin |
We share the forecasts to show you what others think about the future of Enjin. We do not advise you to cling to the expectations, because nobody knows what the price will do in the future.
Conclusion 
Enjin is an information technology company that allows developers to run games on the blockchain and add NFTs to their game. Users can use and trade these NFTs. Enjin fans will be looking forward to NFTs: 2.0, which can add to Enjin. What impact NFTs: 2.0 will have on the price of Enjin depends on its implementation and on the market development of the entire crypto market at that time. Therefore, it is difficult to say what the price development will be in the future. Nevertheless, there are analysts who share expectations going up to 2030. These are predictions based on algorithms and fundamental analyses. The expectations differ enormously. For example, Digitalcoin expects a value of $4.99 per ENJ coin in 2022, while Tradingbeasts expects a value of $3.44 per ENJ coin. Final conclusion is that ENJ coin is far from its all-time high at the time of writing, but Enjin's future plans for 2022 are promising.  
Interested in Enjin?
At Anycoin Direct you can buy Enjin in a matter of seconds after logging into our website.