Binance Coin (BNB) price prediction 2022 - 2025
- 6 minute read

After a tumultuous crypto year, the first quarter of a relatively calm 2022 has also come to an end. The Binance Coin price has stabilised reasonably well after the severe correction and seems to have slowly found its way up again. But what else can we expect from Binance Coin in 2022? This answer is almost impossible to predict. Especially since it is a cryptocurrency which is known for its unpredictability in terms of price. Nevertheless, looking at the past of Binance Coin, there are analysts who dare to venture into the infamous price predictions.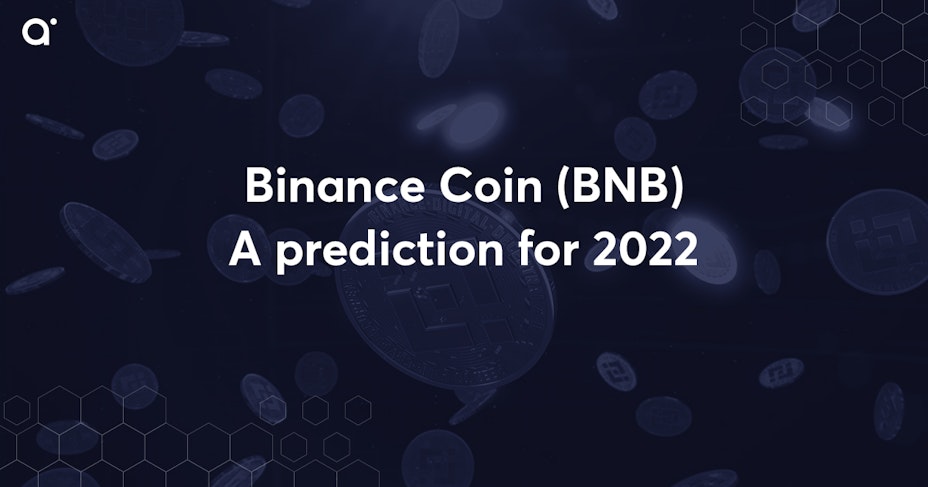 Table of Contents
What is Binance Coin?
Binance Coin (BNB), founded by Changpeng Zhao and He Yi, is a cryptocurrency that launched in the summer of 2017 and is the native token of Binance. The coin has been specifically designed and developed as the one to use within the Binance ecosystem. This ecosystem of Binance includes the Binance Chain (BC), Binance Smart Chain (BSC), Binance Academy, Trust Wallet, Binance Research, and many other smaller projects. Worth mentioning; the Binance Chain and Binance Smart Chain fall under a single label, namely the BNB Chain, as of 2022. Because of this ecosystem, the Binance Coin is designed to be very versatile and supports various utilities, such as trading fees, exchange fees, and transaction fees.
In the past, Binance Coin ran on the Ethereum blockchain as an ERC-20 token, however, since 2019 it has been running as a native token on their own blockchain, namely the Binance Chain. This blockchain is secured by the Tendermint byzantine-fault-tolerant (BFT) consensus mechanism. In this mechanism, different nodes, such as validator nodes, witness nodes and accelerator nodes work with each other in transactions, validations and verification processes.
Binance Chain launch
The launch of the Binance Chain took place in 2017, during an ICO (Initial Coin Offering). An ICO involves raising money from investors to give a financial boost to an (upcoming) project. Subsequently, it is customary for these investors to receive a portion of tokens as a reward. Binance allocated almost half of the ICO revenue to branding and 1/3 to making major updates to the Binance ecosystem.
Binance Coin Burning
Binance Coin initially started with a total of 200 million coins, distributed across various groups. Shortly after the launch, Binance decided to use 20% of the profits on Binance Coins to buy up BNB at the market price and "burn", or destroy, them.
This token burn process occurs every three months. The purpose of token burning is to increase the price of BNB in the long term, as BNB becomes deflationary as fewer and fewer tokens are in circulation. At the moment Binance has already burned millions of tokens. From the original 200 million, there are "only" 165 million tokens left.
Binance Price
Binance Coin price history
The crypto market is a volatile one where certain coins can experience tremendous price increases or huge price decreases. This has also been the case with Binance Coin. Partly due to its launch in 2017, BNB partly hitchhiked on the bull run of that year. At the beginning of 2018, a bear market of several years followed in which BNB also dropped significantly in value.
Ironically, this price fall came to an end at the start of the pandemic in 2020. From the crash in which BNB hit a price of $6.50, the price of BNB rose steadily. By the end of 2020, BNB reached a value of $40. This turned out to be only the beginning of the upswing because in 2021, Binance Coin registered a value of $690 per BNB. A price increase of more than 1400%, achieved in the first months of 2021. To look at the whole perspective, the price developments of Binance Coin over the years have been compared. We do this by comparing the all-time highs and all-time lows of these years.
Binance Coin price 2017: Lowest - $0.00 / Highest - $11.40
Binance Coin price 2018: Lowest - $4.10 / Highest - $26.50
Binance Coin price 2019: Lowest - $5.30 / Highest - $43.20
Binance Coin price 2020: Lowest - $6.50 / Highest - $49.00
Binance Coin price 2021: Lowest - $ 32.40 / Highest - $ 704.60
Binance Coin price 2022 (so far): Lowest - $ 323.70 / Highest - $ 541.30
Binance Coin price predictions 2022
Two things are certain in life, one is that you will die one day and the other is that 99.9% of people get cryptocurrency price predictions wrong. This is because the crypto market is incredibly volatile cause of several reasons and heavily dependent on Bitcoin's price movements. So, despite the fact that most "experts" are wrong in their predictions, plenty of analysts and forecasting firms dare to make a price prediction for Binance Coin.
Coinpedia
The first BNB price forecast for 2022 we are discussing comes from Coinpedia. They call themselves a crypto encyclopedia that posts crypto related information, news and events on in website.
Coinpedia expects that if Binance continues to invest in NFT projects, builders and partners to develop the largest NFT ecosystem, BNB can experience a huge positive price development in 2022. When all goes well, Coinpedia predicts a price of $1300 per BNB. If everything goes wrong, Coinpedia predicts that BNB will not drop below $550 this year.
Wallet Investor
Wallet Investor is a price forecasting tool for various assets. They expect the price of Binance Coin to reach a maximum of $928.29. At a minimum, BNB should reach a price of $782.11, according to the price forecasting firm.
DigitalCoinPrice
DigitalCoinPrice is another price forecasting firm. They expect BNB to reach a price near $664 by the end of 2022.
Tradingbeasts
The analysts at Tradingbeasts are less enthusiastic than their fellow price forecasters. They expect BNB to reach a maximum price of $565. The minimum price is $384 in their forecast.
Binance Coin price predictions 2023 – 2025
The price predictions for the coming years are unanimously higher for all price forecasters.
Tradingbeasts still has a relatively conservative prediction. They expect the Binance Coin price to reach a maximum of $886 and a minimum of $602 in 2025.
Coinpedia is a lot more optimistic and believes the price of BNB could be close to $2800 by 2025.
Wallet Investor is also betting high and expects a maximum price of around $2450 and a minimum price of $2160 by 2015.
Finally, there is DigitalCoinPrice, which is again a little more cautious and expects a price of up to $1058 in 2025.
Conclusion
The Binance Coin (BNB) has experienced unprecedented financial growth since its launch. In particular, at the beginning of 2021, BNB experienced huge price increases that increased its value by billions. In addition, the Binance Coin is an integral part of the Binance ecosystem. This offers many advantages for users and developers within that system. If Binance Coin is successful in terms of technological and economic development and macro-factors, analysts expect that Binance Coin could reach unprecedented heights. But be warned; price predictions are difficult to make due to the volatility and therefore rarely work out exactly.