Arbitrum (ARB) - Price prediction 2023-2030
- 5 minute read

With a daily trading volume of over $500 million, Arbitrum is currently the second largest DeFi platform after Ethereum. After the airdop, we saw a big sell-off. Within just one day, the ARB price fell 90% from 10.90 euro to 1.02 euro. What is Arbitrum and what is the expectation for ARB token?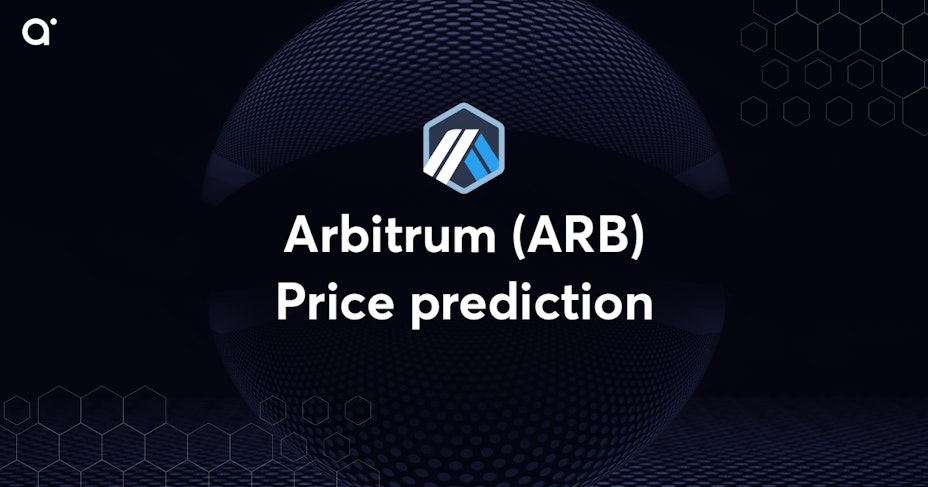 Table of Contents
What is Arbitrum?
Arbitrum One is a layer-2 solution on the Ethereum blockchain and is a scalable solution ( rollup), allowing you to execute transactions faster and cheaper than directly on the Ethereum network. A rollup and thus Arbitrum is secured by the Ethereum blockchain and transactions are also performed on the Ethereum network. This means that with Arbitrum, you have to pay Ethereum gas fees to execute a transaction. The gas fees are a lot cheaper, because rollups allow to execute transactions outside the layer-1 of the Ethereum blockchain, but still store the data on-chain at layer-1. The protocol is a DeFi platform with a daily trading volume of more than $500 million. This gives Arbitrum over 12.8% of the daily trading volume what makes it the second largest DeFi platform after Ethereum at the moment.
Many well-known DeFi platforms use Arbitrum One, such as Uniswap, Aave, Ankr and OpenSea. This indicates that other parties within the cryptospace see a future in the protocol. In addition to Arbitrum One, Arbitrum launched Arbitrum Nova in August 2022. Nova is a new chain built with AnyTrust technology and is designed to scale the Ethereum blockchain even further. Arbitrum Nova reduces costs even further and is one of the most cost-efficient blockchains today. The chain focuses primarily on high-throughput dApps, making it particularly suitable for gaming-focused apps, as well as NFTs, tools, nodes and bridges.
Arbitrum price prediction 2023
Making price predictions so soon after a listing is difficult. Nevertheless, there is a lot of speculation about ARB's price since the Arbitrum network is very popular in the DeFi sector, sentiment around the ARB token is therefore very positive. There is a lot of speculation on Twitter about what the coin will do in the short term. Twitter user Foodfarmer.eth is very optimistic about the price. The account expects Arbitrum to reach $20 per ARB token within a month of launch. S4mmy.eth can reasonably agree with the statement. He compares the ARB launch to the MATIC launch and expects the price to rise to $14 based on supply and demand.
There are also ARB price predictions based on algorithmic calculations. One example is DigitalCoinPrice. They expect the ARB price to reach a maximum of $2.77 in 2023. That is an increase of 118% from the current price.
Arbitrum price prediction 2024-2030
Long-term price expectations are made for the ARB token based on algorithmic calculations. The price predictions are based on market sentiment and technical analysis. We want to underline that you should take the expectations with a grain of salt. Sentiment can change at any time and so can expectations. Below are DigitalCoinPrice's forecasts up till 2030:
| | | | |
| --- | --- | --- | --- |
| Year | Minimum price | Average price | Maximum price |
| 2024 | €2.50 | €2.94 | €3.02 |
| 2025 | €3.44 | €4.10 | €4.24 |
| 2026 | €4.49 | €5.24 | €5.31 |
| 2027 | €4.51 | €5.24 | €5.32 |
| 2028 | €5.54 | €5.96 | €6.35 |
| 2029 | €7.88 | €8.36 | €8.71 |
| 2030 | €11.38 | €11.96 | €12.18 |
Current ARB price
What is ARB?
ARB is Arbitrum's governance token. The token enables decentralized governance by giving token holders voting rights for important decisions that may affect the protocol in the future. As mentioned earlier, transaction fees are paid with ETH. So these two cryptocurrencies have different functions within the Arbitrum ecosystem, but both have crucial roles in the operation of the protocol.
The Arbitrum airdrop
On 23 March 2023, the Arbitrum airdrop took place. During the airdrop, 635,000 of the platform's users were rewarded with ARB tokens. This is about 1 in 3 users of the platform. During the airdrop, 11.5% of the total supply is awarded to loyal users. 1.1% of the total airdrop will be owned by DAOs actively participating in the Arbitrum ecosystem. In total, there will be 10 billion ARB tokens in circulation, 56% of which will be owned by the community. So initially 12.6% will be put into circulation, and the rest of the tokens will be put into circulation at least a year later.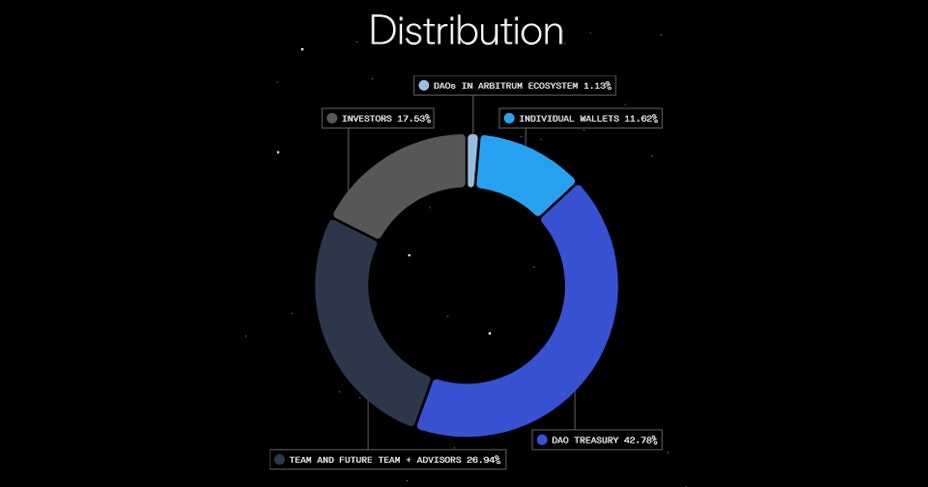 Arbitrum price after airdrop
Before the ARB token was launched, there was a lot of speculation about the ARB price. Expectations were high because the platform has very high trading volumes, which can create a lot of volatility for the ARB token. There was a lot of speculation based on expected market capitalisation, hype and Arbitrum's Total Value Locked (TVL).Abitrum's airdrop is similar to Optimism's. Then, the OP token was launched using an airdrop. The total stock of OP tokens is 4.3 billion, of which about 315 million are currently in circulation. Twitter account 'hkm.eth' compares the airdrops and, based on the total supply, he expects the listing price to be between $0.5 and $1.
After the airdrop, ARB was immediately listed on major exchanges such as Binance, Kucoin and Kraken. In the first hour, the coin traded at a price of 10.90 euro. After that, we saw a big sell-off. Probably wallets that airdropped ARB tokens (partially) sold on exchanges and DEXs. The same day, a bottom of 1.02 euros per ARB was reached. A drop of about 90%.
Why is Arbitrum so popular?
There are several reasons why Arbitrum has become so popular in such a short amount of time since its launch in 2020. One reason is that it provides users with an improved experience when using Ethereum due to its faster transaction speeds and lower costs compared to what is available on the mainnet right now.
Additionally, it also offers increased privacy for those who want their transactions kept private since they are processed off-chain rather than being visible on the public ledger like most other cryptocurrencies out there today. Another reason why people have been drawn towards Arbitrum is because it helps reduce congestion on the Ethereum network which can lead to slower transaction times and higher fees during periods of high usage or when certain applications become popular overnight (such as DeFi). By utilizing off-chain technology, Arbitrum helps alleviate some of this congestion by allowing users to make transactions quickly without having them clog up the mainnet itself which can lead to better overall performance for everyone involved in using Ethereum's network. Finally, one last reason why people have been drawn towards Arbitrum is because it offers an easy way for developers and businesses alike to build applications that utilize its features without having them worry about dealing with complex coding languages or other technical issues associated with developing applications directly onto Ethereum's blockchain itself (which can be quite difficult). This makes it much easier for developers and businesses alike who want access all of its features but don't necessarily have all of the technical know-how required in order do so successfully without running into any major issues along the way.
Interested in Arbitrum?
At Anycoin Direct you can  buy ARB quickly and easily.