Shiba Inu - Price prediction 2023 - 2026
- 5 minute read

Shiba Inu is a much-discussed coin that has received a lot of attention in recent years. The crypto has been heavily hyped up and criticised in recent years. The coin has faced big peaks and troughs. What does the future look like for Shiba Inu and what do analysts expect from SHIB's price in the coming years?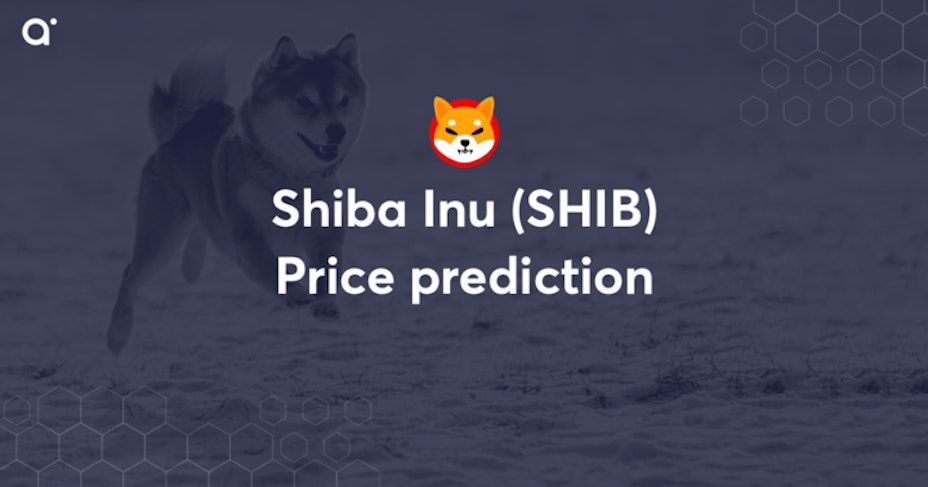 Table of Contents
What is Shiba Inu?
Shiba Inu (SHIB) is a coin that corresponds to the name of the Japanese dog breed Shiba Inu. Shiba Inu is called a coin, but it is actually a token. The difference between a coin and a token is that a coin helps the blockchain to function, while a token is only created on a blockchain, but don't help the blockchain function. They run on someone else's blockchain and use the facilities that the blockchain provides. Shiba Inu was created on Ethereum's blockchain. Therefore, it is a Shiba Inu token rather than a Shiba Inu coin.
Shiba Inu was founded in 2020 by an anonymous developer named Ryochi. He set up Shiba Inu as an joke and experiment, where the governance is done by the community. This means that users can democratically decide what should happen to Shiba Inu. Ryochi placed the token on a decentralised exchange (DEX) called Uniswap and invested 10 Ethereum on the ETH/SHIB trading exchange to provide liquidity. The liquidity enables mutual trading on the trading pair.
Shiba Inu is also known as the Dogecoin killer and is very similar to Dogecoin. Like Shiba Inu, Dogecoin started as a joke but has grown into a successful community driven token. Dogecoin, unlike Shiba Inu, is a coin, as they have their own blockchain. Both cryptocurrencies are also known as 'memecoins'. A memecoin is a coin which is based on a humorous image, video or thought and is mainly promoted on social media channels such as Twitter, Instagram, Reddit and Telegram. The reach is enormous, making such a coin quickly community driven.
Shiba Inu price prediction 2023
What will the crypto Shiba Inu be worth in 2023? The price of Shiba Inu depends on the number of coins in circulation and the market cap. In 2023, the burning of SHIB tokens will continue. Burning tokens often has a positive effect on the price, as supply becomes less while demand remains the same. By burning SHIB tokens, Shiba Inu is trying to create scarcity. They hope this will cause the price to rise in the future. Several updates are also planned, such as Shiba Inu Metaverse, Shibarium and ShibaSwap 2.0. However, it is not yet clear when these updates to the platform will take place.
Among other things, analysts take this aspect into account when making a Shiba Inu price prediction. Still, it is important to note that Shiba Inu's price is mainly driven by external developments. The past has also shown that Shiba Inu has risen notably thanks to Elon Musk. In general, altcoins like Shiba Inu follow Bitcoin's trend. When Bitcoin rises, altcoins often rise with it. Should Shiba Inu start making one of the promised updates is 2023, this could start to create a bullish effect.
Despite the Shiba Inu price is difficult to predict, there are parties that try to predict the Shiba Inu price based on agorithms. We want to share these forecasts with you. Below, we summarise the different experts' predictions:
Shiba Inu price prediction 2023 - DigitalCoinPrice
| Month | 2023 |
| --- | --- |
| January | $0.0000103 |
| February | $0.0000132 |
| March | $0.0000129 |
| April | $0.0000207 |
| May | $0.0000140 |
| June | $0.0000136 |
| July | $0.0000229 |
| August | $0.0000103 |
| September | $0.0000142 |
| October | $0.0000130 |
| November | $0.0000167 |
| December | $0.000023 |
Shiba Inu price prediction 2023 - TradingBeasts
| Month | 2023 |
| --- | --- |
| April | $0.0000150 |
| May | $0.0000151 |
| June | $0.0000152 |
| July | $0.00001539 |
| August | $0.00001541 |
| September | $0.0000156 |
| October | $0.0000160 |
| November | $0.0000162 |
| December | $0.0000163 |
Shiba Inu price prediction 2024 – 2026 
Should you buy Shiba Inu for the long term? Looking into the future is difficult. However, analysts are trying and are doing a Shiba Inu forecast through 2026. Below, we share the views of Digitalcoin and TradingBeasts who have done their analyses based on technical analysis. Again, we would like to stress that price movements are mainly due to external factors over which Shiba Inu itself has little influence. Therefore, take the expectations with a grain of salt.
Shiba Inu price prediction - DigitalCoinPrice
| | | | |
| --- | --- | --- | --- |
| Month | 2024 | 2025 | 2026 |
| January | $0.0000249 | $0.0000338 | $0.000045 |
| February | $0.0000255 | $0.0000359 | $0.0000443 |
| March | $0.0000252 | $0.0000382 | $0.0000439 |
| April | $0.0000251 | $0.0000341 | $0.0000499 |
| May | $0.0000248 | $0.0000359 | $0.0000474 |
| June | $0.0000257 | $0.0000353 | $0.0000496 |
| July | $0.0000242 | $0.0000344 | $0.0000441 |
| August | $0.0000266 | $0.0000345 | $0.0000472 |
| September | $0.0000262 | $0.0000367 | $0.0000454 |
| October | $0.0000245 | $0.0000346 | $0.0000444 |
| November | $0.0000245 | $0.0000370 | $0.0000447 |
| December | $0.0000291 | $0.0000338 | $0.000048 |
Shiba Inu price prediction - TradingBeasts
Maand
2024
2025
2026
January

$ 0.0000163

$0.0000201

$0.0000303

February
$

0.0000165

$0.0000205
$0.0000308
March

$ 0.0000168

$0.0000262
$0.0000311
April
$0.0000173
$0.0000213
$0.0000315
May

$0.0000176

$0.0000215
$0.0000319
June
$0.0000179
$0.000022
$0.0000322
July
$0.0000183
$0.0000279
$0.0000326
August
$0.0000184
$0.0000283
$0.0000327
September
$0.0000189
$0.0000288
$0.0000333
October
$0.0000191
$0.0000292
$0.0000336
November
$0.0000196

$0.0000296

$0.000034
December
$0.0000198
$0.00003
$0.0000343
Current Shiba Inu price
What are the advantages of Shiba Inu over Dogecoin?
Dogecoin is almost an identical copy of the Bitcoin blockchain. This also means that Dogecoin has adopted the limitations of the Bitcoin blockchain. Dogecoin is a blockchain created solely for trading coins. With Shiba Inu, however, you can do more, as the token is built on the Ethereum blockchain. An important difference is that Shiba Inu can also be used to set up and finalise a smart contract. A smart contract is an agreement between parties. This is an important reason for its 'Dogecoin killer' status, as you can simply do more with Shiba Inu.
Shiba Inu Roadmap
As mentioned earlier in the blog, Shiba Inu started in 2020 as a joke and experiment. Since then, a lot has happened around the token. In 2021, for example, Shibaswap was launched. Shibaswap is a decentralised exchange (DEX) where you can buy and trade SHIB tokens, generate passive income and trade NFTs. In addition, many SHIB tokens were burnt in 2022. Token burning is a process where developers send SHIB tokens to a dead wallet. A dead wallet is a wallet address that remains unused, causing the tokens to go out of circulation. One reason for burning tokens may be to bring down transaction costs. Another reason cryptocurrencies burn tokens may be to create scarcity.
The developers are far from finished, showing that Shiba Inu is a serious project. As such, there are plenty of updates planned. Recently, Shibarium Intake was launched. Intake concerns an intake system for anyone who wants to start using Shibarium and its function is to search for hopeful projects, ensuring the proffesionality of the platform.
What is Shibarium?
Currently, Shiba Inu runs entirely on the Ethereum network. With that, they benefit from all the advantages, but also the disadvantages. In particular, the low transaction speed and high transaction costs that Ethereum currently suffers from are reasons for tokens to seek solutions. The community has strongly expressed its desire for a solution, hence the development of Shibarium. Shibarium is a layer-2 solution. This means that Shibarium will operate on the secondary chain of the Ethereum network. A layer-2 ensures that less traffic has to go over the mainnet, reducing the load on the network. Shibarium will ensure that transactions are processed within the Shibarium ecosystem. Transactions will be able to be processed faster and transaction costs will be lower than on the current Ethereum network. In addition, developers can start building apps or tokens within the Shibarium ecosystem.
ShibaSwap 2.0
Besides Shibarium, an upgrade of the existing ShibaSwap is also planned. The update 'ShibaSwap 2.0' should make ShibaSwap a crypto portal. Currently, ShibaSwap is a typical DEX, but that is about to change, according to developer Eric M. When the launch is and what exactly the upgrade entails is all still pretty vague.
Shiba Inu Metaverse
Like many other cryptocurrencies, the Shiba Inu community sees a future in the Metaverse. SHIB Metaverse is a virtual world that is still under development. In the virtual world, participants have the opportunity to own pieces of land. As far as currently known, holders of LEASH tokens are given priority to purchase pieces of land within the virtual world. LEASH was originally intended to be a rebase token linked to the price of Dogecoin, but that eventually fell through. The virtual world will consist of different districts based on the races within the SHIB team. A launch date has not yet been announced, nor what the world will look like.
Conclusion
Shiba Inu is a token that was founded as a joke, but has developed into a serious player within the crypto market by 2021. What the price expectation is for Shiba Inu in 2022 is hard to say. In the past, the price has risen mainly due to statements made by Elon Musk, which gave the token a lot of publicity. Still, Shiba Inu's developers have not been idle and have already launched several products. Several updates are planned for the future. We can count on the Shiba Inu Metaverse, Shibaswap 2.0 and Shibarium in the future. These updates could be bullish for Shiba Inu's price. However, it is not known when the updates will take place. Nevertheless, developers will continue to burn Shiba Inu in 2023. Shiba Inu hopes that burning tokens will lead to a share price rise in 2023. What the price of Shiba Inu will be in 2023 is difficult to predict. Nevertheless, some parties are making a Shiba Inu price prediction. For Shiba Inu, they expect the price of Shiba Inu to continue to rise steadily over the next few years, but at least $0.000048. This is a fourfold increase from the current Shiba Inu price.
Are you interested in SHIB?
At Anycoin Direct you can  buy SHIB quickly and easily.