This is how millions in crypto-donations are used to help Ukraine
- 5 minute read

The war between Ukraine and Russia is stirring up many emotions. We sympathise with the people of Ukraine and fortunately there are initiatives to help the population. The crypto community also seems to want to help and at the time of writing, a total of over $20 million in cryptocurrencies has already been donated to initiatives which want to assist the Ukrainian people and their army.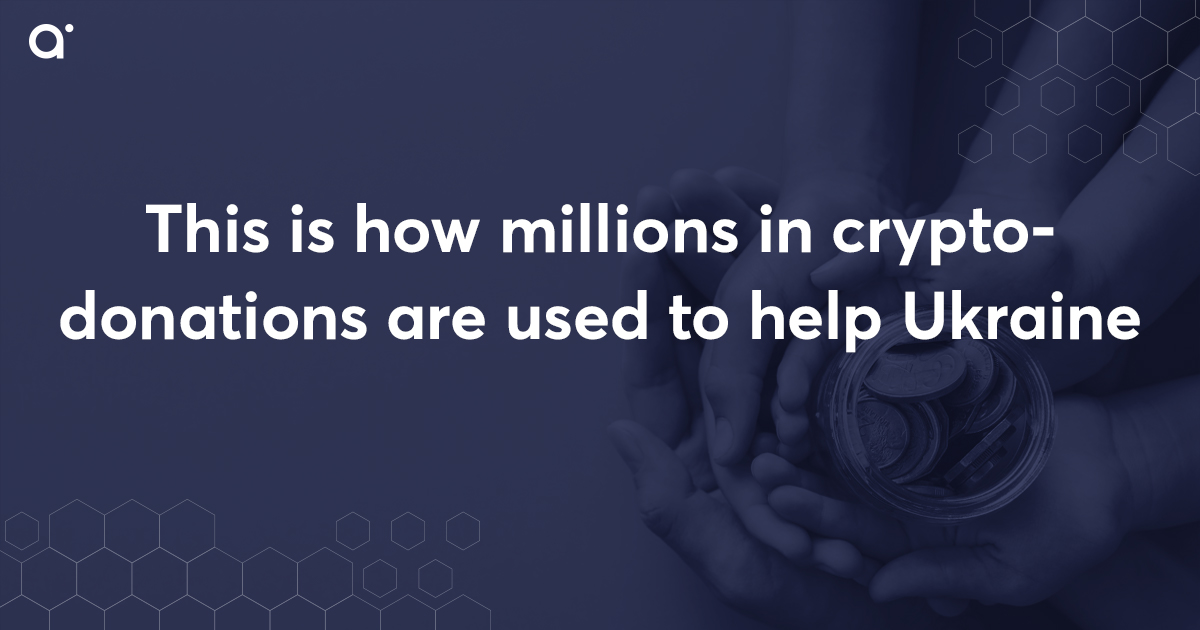 Transferring funds quickly with crypto
Cryptocurrencies are increasingly used as an alternative crowdfunding method. Especially the speed and anonymity of conducting transactions are advantages. Cryptocurrencies make it possible to perform transactions without the need for a third party. Third parties have the power to block transactions if necessary.
Donations are requested by the Ukrainian government, but also by NGOs. The Ukrainian government accepts Bitcoin, Ethereum and USD Tether and has shared wallet addresses where you can transfer crypto to. Meanwhile, the Twitter accountants of the Ukrainian government and the Deputy Prime Minister have posted messages where the wallet addresses can be found. A popular NGO that supports the Ukrainian army is 'Come Back Alive'. One way to donate to Come Back Alive is through a decentralised organisation called UkraineDAO. Through the website of UkraineDAO, you can transfer Ethereum to a crypto wallet which will make sure that the money reaches Come Back Alive.
Crypto-donations are done with BTC in more than half of the cases. After BTC, Ether is a popular coin and stablecoins, such as Tether, are also used to donate.
Stand with the people of Ukraine. Now accepting cryptocurrency donations. Bitcoin, Ethereum and USDT.

BTC - 357a3So9CbsNfBBgFYACGvxxS6tMaDoa1P

ETH and USDT (ERC-20) - 0x165CD37b4C644C2921454429E7F9358d18A45e14

— Ukraine / Україна (@Ukraine) February 26, 2022
To donate to the Come Back Alive: https://t.co/vz8ycvI6Mu

— Setapp (@Setapp) February 24, 2022
A crypto token that aids Ukraine
A crypto project that emerged only at the time of the invasion is 'HUKR' and is the abbreviation of Help Ukraine. HUKR is a crypto project that has found a combination between investing and donating. The project has set up their tokenomics so that when someone buys or sells HUKR, a portion is donated to Ukraine. They do this with a buy and sell tax. When you buy HUKR you pay 6% tax while when you sell you pay 8% tax. HUKR is created on the Ethereum blockchain and can only be traded on the DEX (Decentralised Exchange) called Uniswap.
The donated money is sent by 'Help Ukraine' to Support Ukrainian Sovereignty. They then distribute the money to various NGOs in the country.
Invest to donate $HUKR @HelpUkraineEth pic.twitter.com/B2hWyesYNF

— Inverse chart ser (@inversechartser) February 28, 2022
Russians may also be paid in Bitcoin
According to a Ukrainian television presenter named Masha Efrosinina, Russian soldiers will be paid in Bitcoin by the Ukrainian Ministry when they surrender. If true, the deal is tempting, as the soldiers will be paid 5 million Russian roubles in Bitcoin. At the time of writing, this is €43603 converted into euros. Since the sanctions imposed by the European Union have caused the Russian ruble to fall by 30% against the US dollar, this is tempting for the Russian military. Also, the Ukrainian Ministry is said to have promised that if Russian soldiers surrender, they will be given amnesty. This means that they can return to Russia without any punishment from Ukraine.
Whether these reports are true remains to be seen, as both countries use psychological warfare on social media to paint a picture of the situation.