Crypto market - May 2023, is it a bear or a bull?
- 5 minute read

For a while now the crypto market seems to be in crisis. It feels like a bear market, where the prices keep falling, your coins become worth less and you hope for better times. Today I decided to do a little research on past rates and price movements by looking at them in CoinGecko.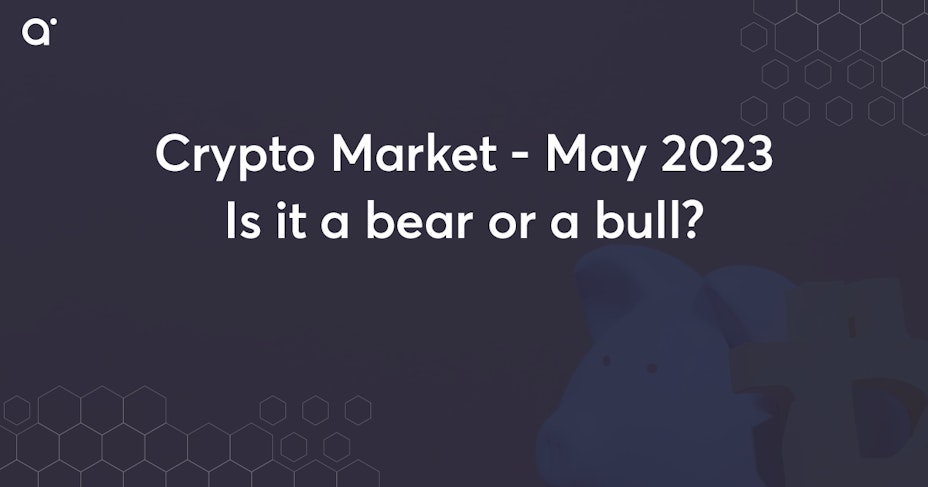 Table of Contents
Brief summary
✔️ Analysis of the crypto market in May 2023
✔️ Bitcoin price analysis
✔️ Analysis price Tezos, EOS, Litecoin, Bitcoin Cash
✔️ Status of crypto market in May 2023
✔️ Forecast bull run 2025
Analysis of the crypto market in May 2023
I took a closer look at the following coins in CoinGecko by studying the max chart:
Bitcoin
Tezos
EOS
Litecoin
Bitcoin Cash
I chose these five because they have been around long enough to paint a reasonable picture of what is going on.
Bitcoin price analysis past to present
Looking at Bitcoin I note that we are in the bull market! Really? Yes, Bitcoin has risen from €15,000 at the end of 2022 to €25,000 now. Surely that is bullish.
It is impossible to say that cycles behave exactly the same, but after the previous bull run of 2018, in which Bitcoin rose to €16,000, it took a year and a half before Bitcoin hit its next high of around €12,000 in July 2019.
In February 2020, it stood at €9,500 once more, before reaching €4,500 by March. From March 2020, Bitcoin went crescendo and had two highs of around €55,000 to €60,000 in April and November 2021.
After this, it went down fairly steeply with a slight intermediate spike until the bottom in late 2022, where Bitcoin was worth about €15,000.
Let me draw the line, taking movements of Bitcoin in the past as a blueprint for the future (always dangerous, no cycle is the same).
In the summer of 2023, the top will then be reached and Bitcoin will record an intermediate high. I will not venture into prices, as this cannot be predicted.
This will be followed by a period of consolidation to a new low, during which Bitcoin will drop, after which the next bull run will occur, reaching a new all-time high in 2025.
Bitcoin halving
These cycles are the result of Bitcoin halving. Every four years or so, you only get half as many Bitcoins for solving a difficult puzzle (mining). If Bitcoin would be worth the same amount, many miners would stop as the costs no longer outweigh the benefits.
So far, because of this mechanism, Bitcoin rose every time. Of course, this may stop one day, but it has happened every time since 2009. So this cycle has proven reliable in the past.
This is a very brief explanation, but fortunately we have written an entire article about it in our Academy.
Tezos chart
Tezos was worth between three and four euros each time in Bitcoin's interim upward moves.
At the 2021 bull run, it was worth between 6 and 7 euros at its peak.
After this bull run, Tezos stood around 67 euro cents for a very short time, then rebounded and hit a very brief peak of around €1.35.
However, it is mostly much lower, without falling through the bottom. This makes it feel like Tezos is in a bear market, while Bitcoin is doing quite well. Tezos thus lingers in relatively low price regions and seems to drop a lot when Bitcoin drops and rise little when Bitcoin rises. It is not the only coin suffering from this.
EOS chart
EOS became worth between 8 and 5 euros in 2019 and 2020.
In 2021, it approached 12 euros.
After the bull run, like Tezos, it dropped fiercely, bottoming around 85 cents, where it now is at also.
Litecoin chart
Litecoin was still worth around 120 euros in 2019. In Bitcoin's next peak, it gained around 75 euros in 2020.
In 2021, it reached its all-time high of over 300.
It dropped to about 40 euros after the bull run. Since then it has more or less followed Bitcoin's patterns. It has already rebounded to just under 75 euros.
Bitcoin Cash chart
In 2019, Bitcoin Cash achieved a price of just over 400 euros. This pattern repeated itself in 2020.
Peaking at around 1250 euros in 2021, it did not come close to its all time high of 3000 euros.
Since then it has dropped a lot, stabilizing around 110 euros.
Status of the crypto market in May 2023
So what can we all infer from that?
It seems Bitcoin is getting relatively stronger compared to the older coins. Except for Litecoin, which is holding its own, the altcoins cannot maintain their price, making it feel like being in a bear market.
The bull market is defined by the market leader and that is still Bitcoin. And it has risen from 15K to 25K.
Historically, a continuation of the bull market would be on the menu, with Bitcoin showing higher prices this summer. Whether altcoins follow Bitcoin remains to be seen.
According to past cycles, an intermediate period then follows, during which we prepare for the next bull run, after the halving of 2024. During that period, Bitcoin will start to drop some more to the tipping point.
Forecast bull run of 2025
Obviously you can't give numbers on this, but if the cycles repeat themselves, which has happened so far, we should expect a higher price than the last bull run.
We are all waiting for green numbers and they will surely come again.
It is true, however, that the curves are flattening. So one can imagine that a bull run gives lots of green numbers, but lighter rise than before. The insane days of early 2018 are unlikely to return. Back then, everyone was brilliant who threw 100 euros into something and took out a few thousand.
I fear we will have to settle for lower earnings than before. Perhaps this is a sign that the markets are maturing and becoming more like stock markets.
Disclaimer:
This is no financial advice. Always do your own research before investing in a cryptocurrency. Keep your portfolio diverse and only invest money you don't need.