Is Litecoin underrated? – An analysis
- 7 minute read

For years Litecoin has been known as Bitcoin's little brother. Generally Litecoin is referred to as the 'silver' as opposed to the 'gold' of Bitcoin. Despite the many comparisons to Bitcoin, Litecoin is a coin that stands alone and operates differently in a number of areas. But in terms of market cap Litecoin has not been in 2nd place for some time now. Nevertheless, the coin continues to develop. Therefore we ask the question: is Litecoin underrated?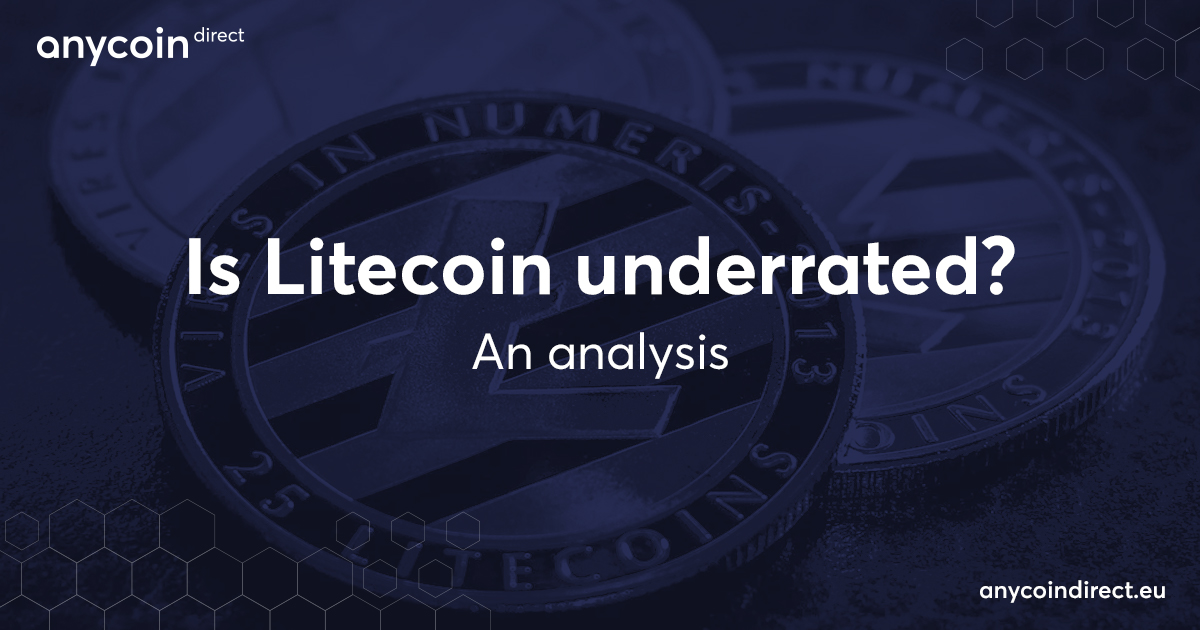 Table of contents
What is Litecoin?
Litecoin was created by Charlie Lee in 2011. The initial goal was to be a lighter version of the Bitcoin created in 2009, hence the "Lite" in the name. Litecoin is designed as a decentralized peer-to-peer network, which allows payments to be made through its own coin called LTC.
For Litecoin users, having their own currency means that they can send LTC to each other all over the world, without the need for a central authority such as a bank to validate the payments. This revolution of decentralized payments was started by Bitcoin, thanks to the development of the blockchain.
Litecoin vs. Bitcoin
Bitcoin and Litecoin are both used as means of payment and therefore have many similarities. Still, BTC is worth many times more than LTC. But is this justified? Here is a comparison between the two crypto currencies.
Transaction times
Transaction times for payments are highly important. You don't want to wait hours for your transaction to be verified. When paying with Bitcoin, you can expect to wait 10 minutes for your payment to go through. This is because Bitcoin takes 10 minutes to generate new blocks on their network. Litecoin does this four times faster, generating new blocks on their network after 2.5 minutes.
Furthermore, Bitcoin's network can handle 5 transactions per second. Litecoin in contrast, thanks to the Lightning Network, can reach 54 transactions per second, which makes the network ten times faster. Bitcoin is of course also working on the Lightning Network, although it has not yet been implemented on the same scale.
Litecoin's value proposition:
- High liquidity & on every exchange
- #2 supported on ATMs
- 350m @PayPal users
- $104m @Grayscale LTCN trust
- 99% Scrypt hashrate dominance
- MWEB fungibility/privacy
- Low fees & fast txns
- $500b+ value transferred
- 9+ years w/ zero downtime
🚀 pic.twitter.com/YSCwxA57Lb

— Charlie Lee (@SatoshiLite) December 21, 2020
However the transaction speeds of Litecoin and Bitcoin still lag far behind when compared to financial companies such as VISA and Maestro. Parties of this size can process thousands of transactions per second.
Lightning Network
Litecoin was the first cryptocurrency to use the Lightning Network. The Lightning Network is a Layer-2 network built on top of Litecoin's original blockchain. This has resulted in transactions being sent between two parties almost instantly and practically free of charge. In time, the Lightning Network can be scaled, allowing the network to support millions of transactions per second, making them serious competition to traditional financial actors.
Transaction fees
Having low transaction fees is essential when carrying out transactions. In the crypto world, some currencies have more trouble keeping down transaction fees than others. This difference in transaction fee is also visible in Bitcoin and Litecoin.
Bitcoin is currently struggling with transaction fees between $2 and $10. When you want to make small purchases - at the supermarket, for example - this can be quite inconvenient.
Litecoin, on the other hand, has significantly lower transaction fees. Currently, these fees vary between $0.01 and $0.02 USD making the additional costs when paying with LTC almost zero.
Bitcoin transaction fee is 500X of litecoin's. Think about it! #Litecoin #LitecoinFam

— Xinxi Wang, PhD (@TheRealXinxi) April 3, 2021
Engaged founder
Another advantage that is often underplayed is the fact that Litecoin's founder is still very much involved in the project, unlike Bitcoin's founder (Satoshi), who seems to have disappeared off the face of the earth.
Litecoin price
Whilst Litecoin appears to be technologically ahead of Bitcoin, this is not reflected in its market cap. Bitcoin has a market capitalization of over $1.1 trillion(!) at the time of writing. Litecoin's market capitalization pales into insignificance compared to that amount, at a modest 12 Billion dollar.
This is due to the fact that people have come to see Bitcoin as a "store of value". The scarcity of Bitcoin – 21 million at most – is expected by the "experts" to increase the value of the coin.
Litecoin all-time-high (ATH)
In the bull run of 2017 and early 2018, the situation was quite different. During this time, Litecoin reached a value of approximately 19 billion dollars. The difference with Bitcoin was relatively much lower at the time because Bitcoin had achieved a market cap of approximately 300 billion.
In 2021 the difference between BTC and LTC is much greater and the digital silver seems to be losing out to digital gold in terms of market cap. The idea that Litecoin should surpass Bitcoin has also faded away for some time. People see Litecoin as complementary to Bitcoin rather than a competitor.
Litecoin price prediction (2021)
It is impossible to predict exactly what the price of a cryptocurrency will do. Thanks to technical analysis (TA), professional investors try to determine the direction of the market as much as possible, but TA remains a guideline and is not something you can simply take for granted.
Here's my 2021 End Year Price Prediction for:#BTC = $85,000#Ethereum = $10,000#BNB = $1,000#Litecoin = $600#ADA =$17#XRP = $3#Dogecoin = $1#TRON = $0.5

How about yours guys? Comment your prediction

— Rich Dad (@Rich__Daddy) October 11, 2021
Litecoin has become one of the most widely used cryptocurrencies in the field of payments. Worldwide there are more than 15,000 ATMs where Litecoins can be withdrawn. Some of which can even be exchanged for cash. These developments have led crypto-experts to be enthusiastic about Litecoin's price prospects.
Litecoin's most recent all-time-high from May stands at roughly $410 dollars per 1 LTC. After this, Litecoin's price fell sharply, partly due to a general crypto correction. Currently, the price of LTC is moving around $180 USD. That is less than half of its ATH. Bitcoin, on the other hand, is once again approaching its ATH.
Litecoin, like most cryptocurrencies, tends to follow the trend of Bitcoin. Should Bitcoin break through its ATH again, there is a chance Litecoin will follow suit.
Conclusion
Litecoin seems to be surpassing Bitcoin in terms of technology at the moment. Nevertheless, in the eyes of crypto fanatics it will remain the digital silver. According to many, it is also unfair to compare Litecoin to Bitcoin as both have different use cases. One is a means of payment. The other, is currently considered more of a store of value.