Non-Fungible Tokens in the music industry-These big artists already use them
- 5 minute read

In the last months, Non-Fungible Tokens (NFT) have become more popular. The use of NFT's is also noticed in the music industry. Over the past weeks more and more artists have started to use NFT's even selling albums via the innovative way. Curious which artists have started NFT's and why they want to use it? Let's talk about it today!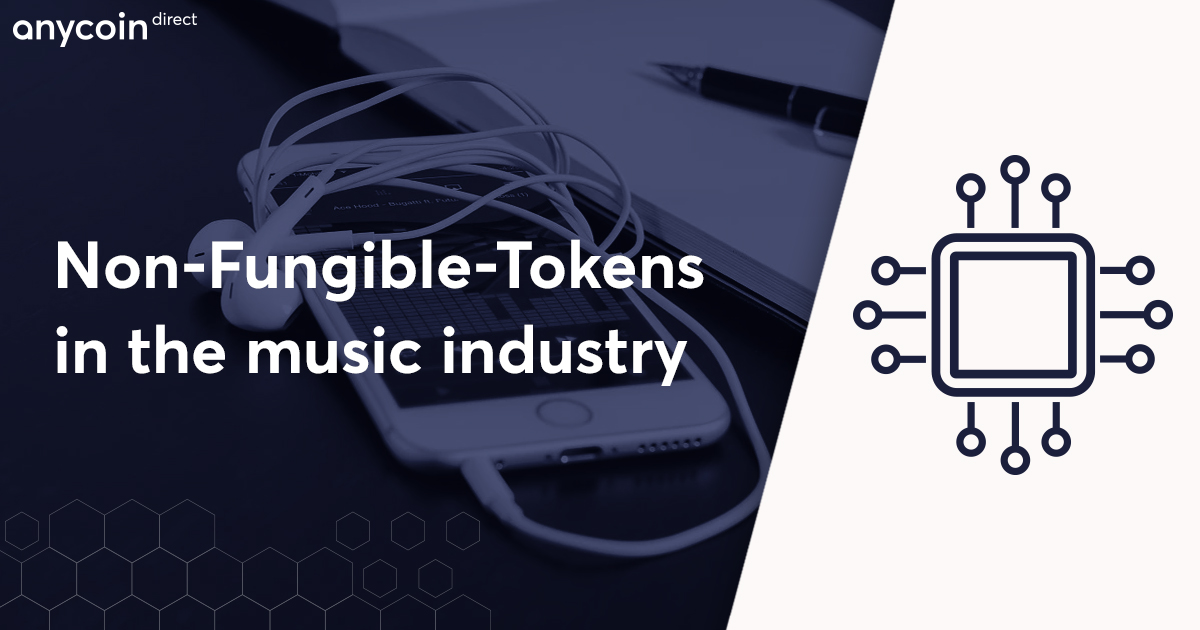 What are Non Fungible Tokens?
We have already written about NFTs before. Have you not read this blog yet? Check out our blog here. Let's shortly repeat the explanation of Non-Fungible Tokens. NFT are unique, not replicable, and not dividable tokens. Besides the possibility of identifying items through NFTs, people now also have the power to claim the property of such items.
Why use NFT's in the music industry?
Since the rise of Covid 19, NFTs have become increasingly popular in the music industry. Additionally, a lot of concerts have been canceled since the pandemic. This leads to the fact that artists had to look for a new kind of revenue stream. More artists started to use NFTs. How do these artists earn money? It allows artists to publish collector's items. Fans can bid on these items, and the highest bidder gets the item. A smart contract makes it possible that there is a resell condition. What does this mean? It means that when a fan resells this NFT, the artists will still get a percentage over the selling price. In this way, the artist will get a passive revenue stream.
I'm selling this song about NFTs as an NFT pic.twitter.com/B4EZLlesPx

— Elon Musk (@elonmusk) March 15, 2021
Artists that already use NFT's
There are already some artists that have announced that they are going to use NFT's. Wondering which artists? Let's have a look at some.
Eminem
On 25 April 2021, the collectibles created by Eminem were released on Nifty Gateway. On what is this collection based? This collection is based on the collectible items from the youth of the rapper. For example he collected items such as comic books, baseball cards, and toys. All these collectibles from the artist are redesigned and named the Shady Con collection. The Shady Con collection allows fans to own a Shady-approved Non-Fungible Token collectible. This collection has three types of Non-Fungible Tokens: the first one is "Tools of the trade" the second one is "Still D.G.A.F", and the last one is "Stan's Revenge". The first two types have fifty editions, and each copy costs 5000 dollars. Only the collectible item Stan's Revenge will be sold to the highest bidder.
What the hells an NFT? Guide to the @niftygateway drop on the site - https://t.co/aVekoOLBKl pic.twitter.com/EGMl0FPQsY

— Marshall Mathers (@Eminem) April 25, 2021
Kings of Leon
The first band that has sold their album as an NFT is Kings of Leon. Last March the band released their new album "When you See Yourself". You can also listen to this new album on Spotify or Itunes. However, people buying the album through NFT's will have special benefits. The band has created three different types of tokens. The first token contains a deluxe version of the album which has a price of 50 dollars. The second token is more of a collector's item in the form of golden tickets. What can you do with these golden tickets? These tickets give you front row access with three other people for a lifetime at a concert. In total only six golden tickets were auctioned. Finally, the third token is a form of audiovisual art. All these benefits are stored and recorded in the blockchain forever.
3LAU
Recently, electronic musician 3LAU earned 11.6 million dollars by selling albums as NFT's. Altogether 33 unique items were auctioned. The reason why he did this? The auction was a celebration of the third anniversary of the album Ultraviolet. The highest bidder won a platinum vinyl album that was redeemable for a custom song by 3LAU. Additionally, it gave access to music that never had been published before.
Dj Steve Aoki
Famous Dj Steve Aoki also has earned millions with NFT's. In collaboration with Antoni Tudisco, he launched the Dream Catcher collection on Nifty Gateway. Altogether the sale ranked 4.25 million dollars. The highest winning bid was 888,888 dollars for a single piece.
Nft 🚀 future. You'll regret not getting in now. pic.twitter.com/qKRK2ZnxpB

— Steve Aoki (@steveaoki) March 25, 2021
Conclusion
More and more artists are starting to use Non-Fungible Tokens. Especially since the corona pandemic, artists have found an alternative way to still make revenue. Non Fungible Tokens allow artists to be creative since they can use them in many ways. We have seen some artists have selling their album as an NFT while other artists made their items exclusive and collectible. A first for the music industry.
Always do your own research!
The above mentioned strategies are for educational purposes only. Anycoin Direct never gives financial advice. You should always do your own research before investing!