Pepe price surges 75% in 14 days - Is a new memecoin rally coming?
- 5 minute read

The Pepe price has risen over 75% in the past 14 days. This makes memecoin the second-largest riser within the top 100. Is a new memecoin rally coming?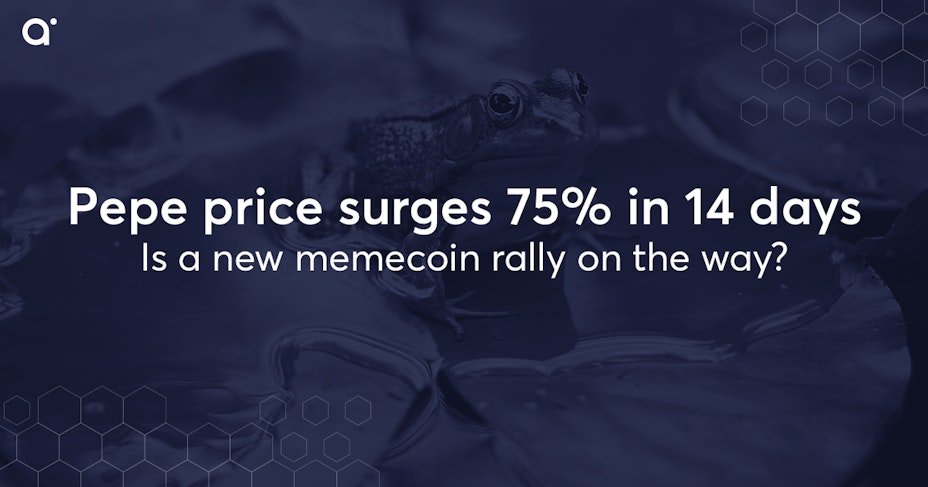 Table of Content
Is PEPE ushering in a new memecoin rally?
What caused the increase?
The PEPE price has skyrocketed in recent weeks, leading to a 75% increase in the past 14 days, making it one of the biggest risers within the top 100. What is the reason for this?
News surrounding Blackrock's Bitcoin Spot ETF
The PEPE stock price has benefited from news about Blackrock's Bitcoin Spot ETF . The entire crypto market rebounded after the DTCC added the Bitcoin ETF to their website. The Bitcoin price rose 18% in 7 days, from which the rest of the market also benefited.
Token burn
A large token burn is another development that most likely contributed to the price increase in conjunction with the news about the Bitcoin ETF. The development team announced that they conducted a massive token burn, burning 6.9 trillion tokens, with an equivalent of $6 million. This represents 1.64% of the total supply of 420.69 trillion PEPE tokens.
At the end of August, PEPE hit discredited after developers transferred 16 trillion PEPE tokens to various exchanges. There was extensive speculation on social media about a dump of PEPE tokens by developers on the market, resulting in a 25% price drop within one day. Later confirmed by a developer that 16 million tokens had indeed been stolen by developers who are now out of business.
Is PEPE ushering in a new memecoin rally?
Not only PEPE has risen as memecoin. Dogecoin (14%), Shiba Inu (10%) and Floki (88.3%) are also in the plus. Is a new memecoin rally in the making? Pepe was introduced early this year and immediately seen as the new Dogecoin and Shiba Inu. The memecoin rose over 2085% within a month, reaching its all-time high in April this year. In fact, within a month, the coin dropped over 80%.
In particular, a large community caused the price increase
The token was purchased by a mass of small investors, causing the community to grow immensely in a short period of time. Remarkable, considering that the website consists of only 1 page, has a vague roadmap and the token has no intrinsic value. Still, many investors bit into the project. Many variants of the frog meme emerged, such as Pepecash, Pepe 2.0 and McPepe's. These memecoins briefly moved along with the hype, so early investors made money from these as well, but many fortune seekers in particular lost money.
A new memcoin rally?
Whether the rise creates new hype is currently impossible to say and depends mainly on the level of publicity. We have seen this before with Dogecoin and Shiba Inu. These rose in the past mainly due to Elon Musk, who with his Twitter behavior created a lot of hype around memecoins. Even these increases were short-lived and caused many imitations. An example is Floki, which thus also rose sharply by 88.3% in the past 14 days.
Thus, we can conclude that memecoins particularly thrive on hype created by news from influential figures or mass acceptance by the masses. Memecoin hype is often short-lived and creates winners, but also a lot of losers. It is therefore important to be mindful of high volatility. Pay out profits on time when investing in memecoins and only trade with money you can afford to lose. To help you get started, in a previous blog we explained the most common mistakes made by crypto traders listed for you.
Conclusion
Pepe's share price is up 75% over the past 14 days, which may indicate a new memecoin rally. This rise is due in part to news of Blackrock's Bitcoin Spot ETF and a significant token burn. Nevertheless, the history of memecoins is fraught with volatility and rapid price fluctuations, as we have seen with Pepe, Dogecoin, Shiba Inu, and other similar cryptocurrencies Other memecoins, such as Dogecoin and Shiba Inu, have previously risen due to influential figures and mass acceptance, particularly thanks to Elon Musk and his Twitter activity. However, these rises were often short-lived and led to numerous imitations. Given the volatility, it is crucial for investors to take profits in time and invest only what they can spare.
Interested in PEPE?
At Anycoin Direct, you can quickly and easily buy Pepe .