The Bitcoin Surge: What drove the recent price increase?
- 5 minute read

Bitcoin (BTC) has surged in value in recent days. After a long time of stability, we have finally seen volatility again in the crypto market. What is the reason for the rise of over 18% in 7 days, and has the new bull run finally begun?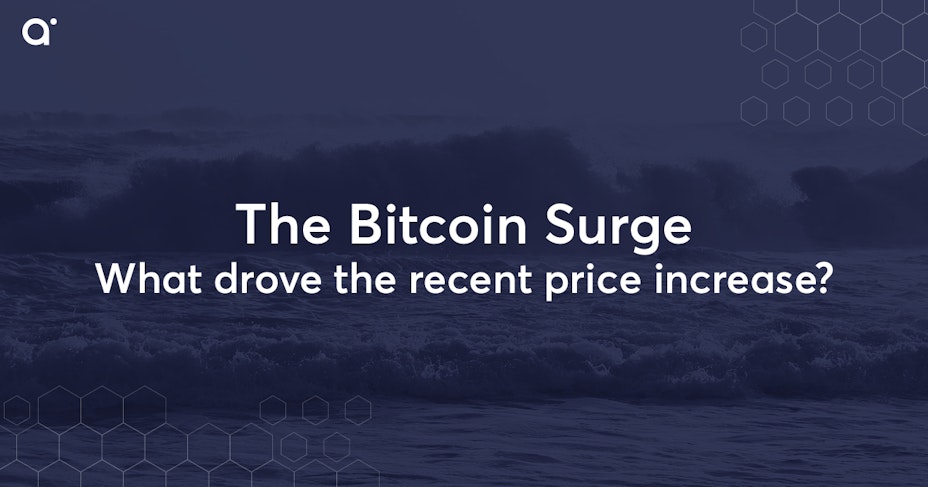 Table of Content
What has caused Bitcoin's recent rise?
The Bitcoin price suddenly rose 12% within 24 hours this week to over $34k. The exact reason for Bitcoin's rise is difficult to determine. However, there are two developments that may have caused the rise.
News regarding BlackRock's Bitcoin ETF
Recently, there has been a lot of news surrounding Bitcoin and Ethereum ETFs. Several asset managers, such as BlackRock, Grayscale and Ark Invest, have filed applications with the U.S. SEC for approval. Approval of ETFs means more adoption and is therefore seen as very bullish for Bitcoin and the rest of the crypto market. More information on ETFs can be read here . To date, all applications have been rejected or delayed, mainly because of opposition from Gary Gensler, the head of the authority. Yet it appears to be a stay of execution, as there are strong calls for clarity both in U.S. politics and within the SEC. Therefore, there is a good chance that an application will be approved.
On Aug. 23, it became clear how bullish good news about Bitcoin ETFs can be. BlackRock's iShares Bitcoin Trust (Bitcoin ETF) was visible on the website of the Depository Trust & Clearing Corporation, a company that handles trading for Nasdaq and others. This news is seen as part of the introduction of the ETF. The Bitcoin price rose instantly after it was announced that the ETF was visible on the website.
The war in Ukraine
A day after the price hike, some are questioning whether the news about the Bitcoin ETF caused the price increase. According to blockchain pioneer and founder of BitMex, Arthur Hayes, the rise created by a speech by U.S. President Joe Biden . In the speech, he indicated a desire to set aside more money for military support to Ukraine. To accomplish this, the United States will have to borrow money, which means that long-term government bonds offer less security for investors. This causes them to look for alternatives. Assets such as gold and Bitcoin seem to offer more security, as both assets respond positively to rising global inflation.
Has the bull market begun?
The crypto sector is yearning for a new bull market and therefore hoping it has now begun. This is a question that is difficult to answer. A bull market traditionally depends on major events, such as the Bitcoin halving . In the past, the halving has always been at the base of a new bull market. The next Bitcoin halving is scheduled for 2024 and is an event that the crypto sector is eagerly looking forward to. However, we know that the past does not always guarantee the future.
Therefore, it is interesting to speculate whether other events, such as the adoption of Bitcoin ETFs, could usher in a new bull market. Whether the current news has ushered in a new bull market, we cannot answer now. We can only conclude that in a few months based on price action. What we can do is look at indicators. Analysts and traders around the world draw many conclusions based on indicators.
So does an analyst known on X (Twitter) as Dave the Wave. He shared his technical analysis on X, which shows that following the price action, Bitcoin now has a bullish score based on the Moving Average Convergence Divergence (MACD). With this, he concludes that the price action has caused Bitcoin to start an uptrend. Again, we won't be able to say more about this for several months.
Conclusion
Bitcoin's recent rise has attracted much attention, and there are several possible explanations, including news of Bitcoin ETF approval and U.S. President Joe Biden's speech on support for Ukraine. Whether these events actually marked the beginning of a new bull market remains uncertain. Traditionally, bull markets are often linked to events such as the Bitcoin rally, but the past does not guarantee the future. Analysts, including Dave the Wave, base their conclusions on indicators such as the Moving Average Convergence Divergence (MACD), which currently appears to provide a bullish signal. Ultimately, future price action will determine if we are in a new bull market, but we cannot say anything about this at this time.