Successful Free Mint NFTs - And which ones to watch out for
- 5 minute read

NFTs are popular at the moment. We see new NFT projects being launched every day.  The Ethereum blockchain has been the most widely used platform when it comes to NFTs. NFT project developers are doing everything they can to get noticed and have different ways of promoting their project in the hope that all digital works of art will be 'minted' by people. Creating hype with a roadmap is a common way to ensure that people are willing to pay the mint cost of sometimes 0.25 ETH. These mint costs then go to the creators of the project. On top of this come the network costs, which can reach over $100 per transaction during busy periods on Ethereum's network. So the costs for mining an NFT can be high. Especially for small and novice investors, the threshold can be very high.
However, a new NFT trend is now emerging. On the well-known NFT trading platform OpenSea, you see more and more 'free to mint' projects being launched. A free to mint project is an NFT project that does not ask for mint costs. So you only have to pay the network costs. Very interesting for small investors. In this blog, we list successful free to mint NFT projects on the Ethereum network.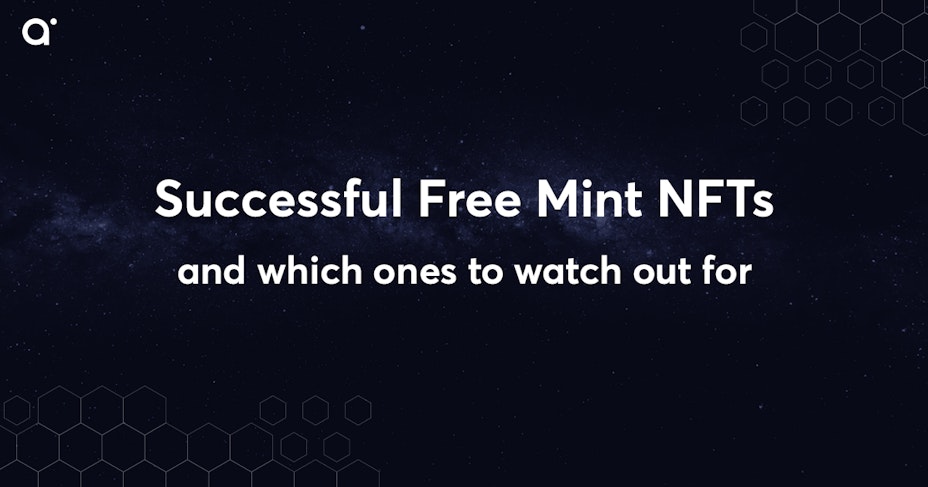 Table of Content
Goblintown.wtf 
Goblintown is a popular free to mint NFT project at the time of writing. Goblintown has been very successful with their approach. The project appeals to the general public so well that they have reached a floor price of 7.64 ETH. Currently the project has a trading volume of 46.8k ETH. For each transaction, the developer(s) called 'kingofthegoblin' receives 7.5% of the transaction. This means that they have collected 3510 ETH. This converts to over $6.6 million at the time of writing. What are they doing with the money? Goblintown continues to launch new projects like Mcgoblin.wtf. Like Goblintown, Mcgoblin is on its way to becoming successful too with currently a trading volume of 7.2k.
The secret of Goblintown? Promising nothing and a website which is graphically good but only contains nonsense. Only 'goblin language' is used in the social media statements. This in combination with the free mint has led to great success. 
For The Culture 
One month after the launch of Goblintown, FTC (For The Culture) launched a free mint in June that reached a floor price of 0.4 ETH. The project was especially successful in the beginning. This has helped ensure that the project currently has a trading volume of 2.3k ETH. The developer(s) called 'ForTheCultureCreator' receives a 10% royalty on each transaction. This means that the developer(s) has raised 230 ETH so far. That translates to more than $434k. FTC seems to have followed Goblintown's example. They too promise nothing and have no roadmap. The website is simple and contains only 1 page. With a Discord channel with 81k users and a Twitter page with 72k followers, they seem to have gained a lot of popularity by creating a community. They were able to do this by doing something unique. The project paid 0.01 ETH as a thank you to the wallets that minted. Since there are a total of 7000 NFTs, the developer(s) paid out 70 ETH. 
We Are All Going To Die 
With its NFT project, 'We Are All Going To Die', developer Wagdie has a very striking slogan: There is no map, only dead. Like FTC, We Are All Going To Die was launched in June. The project has proven to be very successful, as a trading volume of 11.6K ETH was achieved in 2 months. This makes the project 5 times more successful than FTC with 'only' 6.7k NFTs.  
Like Goblintown, the project has no roadmap. What is very remarkable is that there is not even a working website. They do have a unique Wagdie trading platform where you can trade NFTs from the project.   
To gain publicity, the project does some unique things. For example, they regularly post creepy animation videos on Twitter. In addition, they have bought a MAYC NFT (a successful project) in order to burn it. With a floor price of 15.6 ETH, that's over $28k thrown away. All this led to the developers raising 661.2 ETH. That's more than $1.2 million converted.   
Free to mint NFT projects to keep an eye on 
At the moment, free to mint NFT projects are springing up like mushrooms. The projects are mainly promoted on Twitter. Which ones should you keep an eye on? 
People Need Privacy 
This project has 34.8k followers on Twitter and the community is active. They get a lot of reactions to their messages that are posted daily. It seems that they want to communicate with the world, that they want to get back their privacy that they feel they lack. The mint is on the18th of August and a total of 5066 NFTs can be minted. The project does not have a website, but the NFTs can be minted at Premint.xyz 
UsedToilets.wtf 
UsedToilets is a project with artwork similar to Goblintown. The colours and drawing style are similar, and both projects emphasise filth. The communication is clear: If it smells like shit, it's probably shit... No roadmap, no discord, only hype and shitty vibes! Just like People Need Privacy, UsedToilets has no website and no Discord channel. Still, they have a large Twitter community with 35.2k followers. These followers also seem to be very active, because a post from the 9th of August has already generated more than 7k retweets and likes. It is not yet clear when the mint will take place. What is clear is how many NFTs can be minted, namely 5555 NFTs. Considering the number of reactions on Twitter, the NFTs will be minted quickly. The NFTs can be minted on Premint.xyz 
Conclusion
The emergence of free-to-mint NFT projects is particularly interesting for small investors. We see that these projects have a different approach than NFT projects that charge mint fees. Free to mint projects often have no roadmap, a poor (or no) website and promise nothing. They mainly try to create hype by standing out. Goblintown in particular has set the tone and ensured that free to mint projects are mushrooming. Twitter is the platform where developers try to create a community. People Need Privacy and UsedToilets are free-to-mint projects with a large community on Twitter, where you may be able to mine a free NFT in the future.