Which crypto should I buy in 2022? These tips will help you invest in cryptocurrencies
- 5 minute read

Bitcoin has broken through its all-time high. The crypto sentiment is very bullish which makes people enthusiastic about investing in various cryptocurrencies. However, investing in cryptocurrencies has its risks, so it may happen that the value of your investment decreases significantly. Therefore it isn't strange if you are in doubt about which crypto to buy. For this reason we have given a number of tips on what to pay attention to before investing in cryptocurrencies, and we have named a number of crypto's which have lived up to expectations in recent years.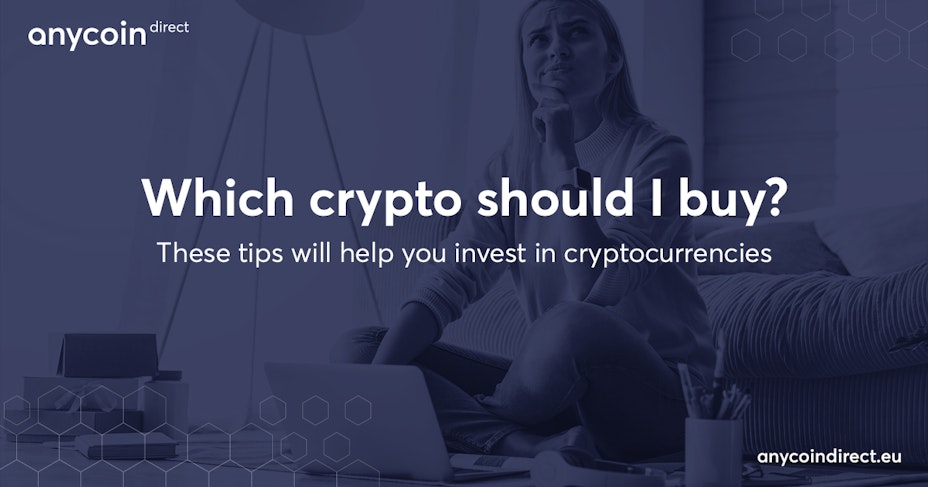 Table of Content
What are cryptocurrencies?
The simple definition is that cryptocurrencies are a form of payment that can be exchanged for goods and services. You exchange real currency for cryptocurrency so that you can buy and sell things online.
Cryptocurrencies have become incredibly popular in recent years. One of the most important reasons is the fact that many cryptocurrencies run on a decentralized network which runs on a peer-to-peer system.
Simply put, this means that traditional financial institutions such as central banks and governments are not involved in cryptocurrency transactions between one person and another.
Without the interference of banks and governments, it is (almost) impossible for them to follow your cryptocurrency transactions. In addition, investing in crypto is theoretically cheaper and faster because there is no third party involved.
Another reason that we cannot deny (fortunately) is that cryptocurrencies can increase in value enormously. In some cases, a crypto rises by more than hundreds of percent per day. This usually occurs in the - by crypto world so beloved term - " Bull run ".
Why should I buy cryptocurrencies?
There are several reasons why you might buy cryptocurrencies. Some people are enthusiasts or have confidence in a specific crypto. Others find the technology behind various crypto's extremely interesting and therefore support them through thick and thin. However, many will buy cryptocurrencies because of the financial aspect.
With good research (and a bit of luck), you can invest in a crypto at the right time, which can bring you a huge return on your investment. This return differs strongly per coin and it is not guaranteed that a coin will flip over several times.
Which coins should I keep an eye on?
Due to the many people who lost their money during the ICO bubble of 2017, crypto was labelled "unreliable" and "unsafe". Nevertheless, there are a lot of coins that, partly thanks to an ICO, have become relatively reliable projects. For this reason, we have compiled a selection of projects that can be seen as relatively reliable investments due to their use case and potential.
Ethereum (ETH)
The best known altcoin is Ethereum, the second largest coin in terms of market value, behind Bitcoin . Ethereum is a decentralized software platform. Because Ethereum has smart contracts, decentralized applications ( dApps ) can be built on Ethereum's network.
The cryptocurrency was founded in 2014 and 7 years later, many diverse cryptocurrencies are running on the network. This year, Ethereum is transitioning from a Proof-of-Work consensus to a Proof-of-Stake consensus. This could lead to a more sustainable and faster blockchain.
Ethereum price
The many possibilities that  Ethereum  brings make it the second highest valued cryptocurrency. Ethereum's coin, ETH, broke through its all-time-high last year and is currently tradable around $4 thousand dollars each.
Cardano (ADA)
Another reliable coin with a huge community is Cardano . It is not surprising that Cardano has grown enormously in recent years. No one less than Charles Hoskinson, one of the five founders of Ethereum, set up the crypto. Cardano's blockchain essentially has the same purpose as Ethereum, to allow dApps to run on the network.
Cardano is already using the Proof-of-Stake consensus and fans claim that Cardano is potentially better than Ethereum. Especially after the completion of the  Alonzo hardfork , there is a lot of enthusiasm around Cardano. Because of the many possibilities of Cardano, its community is also calling it the "Ethereum killer".
Cardano price
In terms of market value, Cardano's coin, ADA, ranks fourth, with a value of around $70 billion, according to CoinMarketCap.  ADA  has increased in value by more than 1000% since the beginning of 2021. Due to the many developments the coin is undergoing, its future prospects are interesting to say the least.
Chainlink (LINK)
Chainlink is a decentralized oracle network that has become a real hype since 2020. Thanks to its  oracles , it bridges the gap between smart contracts, such as those on Ethereum or Cardano, and data outside of them.
Here's the thing: blockchains cannot connect to outside applications on their own. Chainlink's oracles make it possible for the smart contracts of a blockchain to communicate with data from an application. As a result, the smart contracts are simply executed without the need for, let's say Ethereum's network, to connect to the application.
Chainlink price
Because blockchains, thanks to Chainlink, can now easily run and execute applications with smart contracts, the value of Chainlink has skyrocketed. Currently, Chainlink's coin, called  LINK , is worth more than $25 each. The entire market value of LINK is well over $10 billion.
Bitcoin (BTC)
The Godfather of cryptocurrencies, Bitcoin, should not be missing from this list. Bitcoin was created in 2009 by the pseudonymous Satoshi Nakamoto. In its early years, it was mostly criticized but is now seen as the digital equivalent of gold.
Despite Bitcoin receiving a lot of criticism in the past year for its energy consumption, people continue to trust Bitcoin as a store of value.
Bitcoin price
Last week, Bitcoin broke through its all-time high from May. BTC has reached the $66 thousand mark and now has a market value of over $1.2 billion. Anyone who has ever bought Bitcoin in their life (and not sold or traded it again) has made a profit at the moment. Professional crypto investors therefore always recommend to invest a substantial part of your crypto portfolio in  Bitcoin  .
Blockchain technology
These mentioned cryptocurrencies are considered to be reliable and all of them have a huge market value. But you can always look and invest in a small cryptocurrency with a unique blockchain technology. In fact, there are many blockchains that work on different techniques. and you as an investor may have a preference for a particular type of blockchain.
A blockchain is a kind of database on which transactions are stored. Usually transactions consist of payments of a digital currency, but the transactions can also be exchanges of contracts, documents or certificates of ownership.
There are many different consensus algorithms, but the most common are the Proof-of-Work consensus and Proof-of-Stake consensus. As described earlier, these are found on the Bitcoin and Cardano networks.
Sometimes, crypto currencies with a unique consensus try to make the execution of transactions extremely fast. Often, this is a difficult process that requires many developers. Solana managed to create a hybrid consensus algorithm from the Proof-of-Stake consensus and  Proof-of-History  consensus.
Thanks to this unique consensus, Solana can process many times more transactions than, for example, Bitcoin. This is why Solana has grown so much in popularity and market value over the past year.
Scams to look out for
You do not have to be a rocket scientist to make a profit during a bull run. However, if you want to make a profit over a longer period, it is important that you do your own research and use a stable strategy. You hear many stories about huge profits from investments in unknown projects, but be wary. If you don't do your research properly, your investment can be completely evaporated within moments.
For this reason, we have listed for you a number of things that you should pay attention to before investing in a crypto currency, so that the risk of losing your investment is minimized.
Giveaway scams
In this case, the fraudsters try to get you to transfer money to them. In return, you will later receive a doubling of that amount in return.
This "promotion" is usually presented as a giveaway from a project, influencer or famous person. This type of scam is most common on popular social media platforms.
Giveaway scams
Phishing scams have been around since the Internet went mainstream. Scammers try to get sensitive data from you so they can access your crypto or wallet accounts.
Fraudsters use fake e-mails, which are often indistinguishable from real e-mails, to ask for your password, bank details or PIN number. In the email they may also ask you to click on a link so that you are taken to the website of the so-called authority that is emailing you. Once you have clicked on the link you are on the website of the scammer who can use certain systems to get hold of all your codes in a short period of time.
Hackers are so sophisticated that they can even use adwords to make sure they are at the top of the Google search engine. So always be extra careful before you click on a link from a website you don't know. A reliable website can be recognized by the HTTPS certificate or, in other words, by the padlock on the left of the URL.
ICO Exit Scam & Rug Pull
In 2017, there was a real ICO (Initial Coin Offerings) hype. An ICO was used to raise additional funds for the project. Investors were given x number of coins in exchange, which they could sell when the crypto currency became tradable.
An ICO could go up to 100 times in a few weeks, and many investors wanted to gamble on a project with the chance of making incredible profits in a very short time.
Unfortunately for many, not all ICOs were a reliable project and had to deal with a so-called back pull. A back pull means that investors can buy crypto coins at a very low purchase price. When the price of the coin picks up, the scammers immediately dump the coins, so that they can take all the money and the investor is left with coins that are worth many times less than the buying price.
Nowadays, footballers, rappers,  influencers  and the like are used (usually without even realizing they are supporting a bad project) to win you over.
Therefore, always pay attention when investing in crypto. Check the LinkedIn profile of employees who work for a crypto company. See if there are reliable people supporting the project and look at the white paper of the project, to see if they are working on a realistic and reliable roadmap and are actually implementing it.
We (Anycoin Direct) can and will never give advice directly. However, these signals may help beginners get started with investing.
Conclusion
The crypto market is more booming than ever. Both Bitcoin and Ethereum have broken through their all-time highs and many other crypto currencies have also increased in value in recent months. You can never predict what the market will do, so make sure you have a plan for different scenarios. After all, there is nothing better than buying the perfect coin at the right time.