The dangers of influencers in the crypto world
- 5 minute read

Crypto has been on an impressive upswing over the past few years. In terms of media attention, popularity and market value, the crypto market has grown tremendously. Where there is a lot of money to be made, criminals and scammers try to take advantage of it. One of these methods is promoting cryptocurrencies by using influencers. In this article I will tell you how these criminals work, how they use influencers and how you can identify such threats in the future.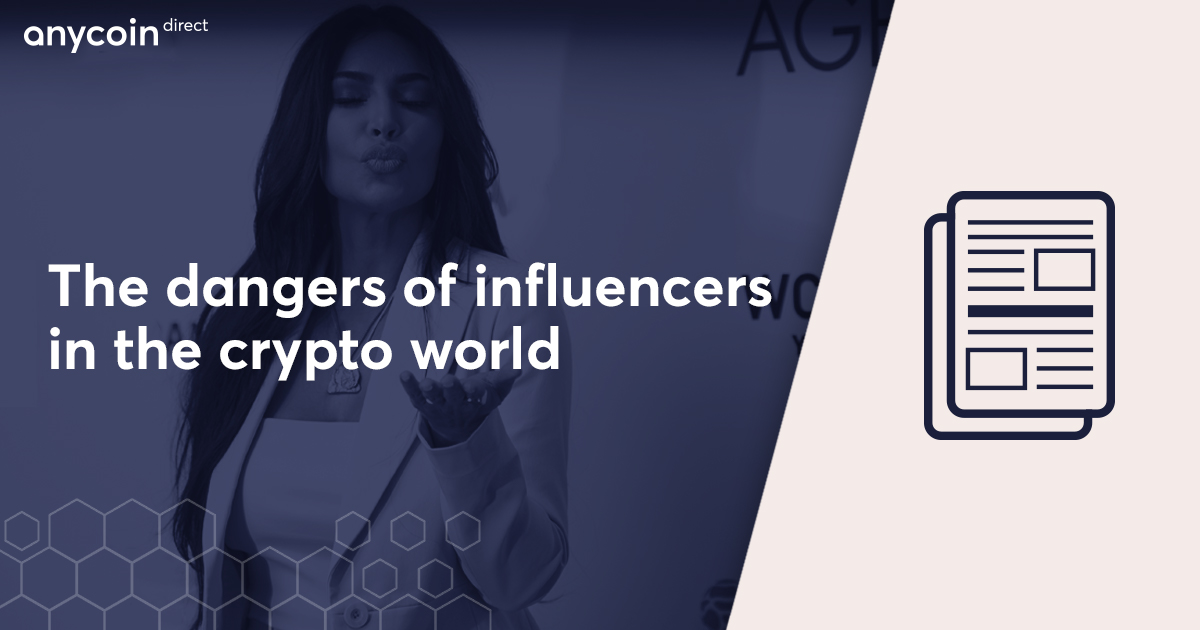 Back in the days
Social media, like crypto, has grown rapidly and is an integral part of modern life. Almost everyone in the world uses at least some form of social media for various purposes, such as buying and selling products. Wherever buying and selling takes place, marketing generally plays a significant role. Research by The Financial Conduct Authority (FCA) has shown that 40% of the people who invested in crypto (in the UK) did so after seeing social media related content.
Criminals and swindlers have found out in recent years how they can make a lot of money from crypto through social media. Cryptocurrencies are unregulated and therefore anyone can set up their own currency or website to try and make money with it. In 2016 and 2017, it was a kind of Wild West for scammers in terms of advertising on social media. Many social media platforms had no regulations regarding the promotion of cryptocurrencies. Tens of thousands of people fell for fake ads, causing millions of euros to be lost to scammers. These criminals were rarely caught due to a lack of traceability.
In 2018, Facebook banned this form of advertising. As a result, we - Anycoin Direct - among others - could no longer actively advertise on social media. Scammers had to think of new ways of making money. And they succeeded, thanks to the 'legal' use of influencers.
Ethereum Max scam
It is a well-known phenomenon nowadays. An influencer with millions of followers advertising a product. This way, influencers are able to earn extra money and the advertiser can advertise his product to the desired target group. Due to the increasing popularity of crypto, the question was not if, but when influencers would use cryptocurrency as an advertising product. This has obviously happened and many famous personalities have done some form of promotion about crypto. Kim Kardashian and Floyd Mayweather (235 million and 27 million followers, respectively) are among them. They have promoted the cryptocurrency Ethereum Max.
First Floyd Mayweather, and now Kim Kardashian are shilling the Ethereum Max ponzi scam.... and some of you throught that the bull market was over, we have barely even begun!

— Lark Davis (@TheCryptoLark) June 14, 2021
Ethereum Max (EMAX) is a project that was launched in May this year and is an ERC-20 token on the Ethereum network. Apart from running on the Ethereum network and having almost the same name, the tokens have no connection to each other. The E-Max website contains only vague descriptions of how exactly the project works. E-Max talks about ''community perks'', an upcoming non-fungible token (NFT) marketplace and ''revenue rewards of 3%'' . However, nowhere on the website is it stated how this actually works.
Despite many signs of a scam, the E-Max project raised millions of dollars. After the launch on obscure platforms, such as HotBit and decentralized exchanges like Uniswap and Sushiswap, the price dropped by more than 90% in the following weeks. As a result, many people saw their investment evaporate.
However, despite missing fundamental values, it has been promoted by celebrities such as Kim Kardashian, Floyd Mayweather and several other influencers. Kardashian posted a message on Instagram promoting E-Max. Their followers know nothing about the product and take the influencer's word for it.
E-Max could also be used to buy tickets for the practice fight between the famous boxer Floyd Mayweather Jr. and YouTuber Logan Paul. After the press release of this fight, the value of E-Max rose by more than 19,500%. In addition, Mayweather wore a t-shirt with the E-Max logo on stage during the Bitcoin conference in Miami early June.
Save the Kids scam
Another scam that has been in the news recently is the crypto scam concerning Save the Kids. This so-called charity token would give away $1 million on June 5, 2021 to people in need of money. Well-known members of the Faze clan (eSports gaming) and other various influencers hyped the project on social media as ambassadors for Save the Kids.
In return for hyping up the coin, the influencers received numerous charity tokens. As soon as the coin went live on 5 June, its value plummeted immediately. Within 9 days, the coin had fallen by more than 75% in value. Most of the influencers were the first to sell their coins, making money at the expense of naive and uninformed investors.
The scam resulted in huge losses for the investor. The Faze clan members who participated in the scam have since been fired or suspended.
How to identify a crypto scam
The crypto industry is unfortunately still riddled with scams, fraud and bad projects. There are usually signals that can prevent you from falling into some kind of scam. These are the things you should pay attention to for the future:
Promises of guaranteed or high returns: Is the offer too good to be true? Then it often is. Scammers often try to lure you into investing money by making false promises.
Exaggerated marketing and promotional offers: Scammers use many (exaggerated) marketing tricks to persuade customers to invest. So pay attention when you see frequent, over the top advertisements of a cryptocurrency.
Unnamed or non-existent team members: Team members without a name, picture or non-existent team members tend to be code red and mean that you should take extra care before investing in such coin.
Check the whitepaper: Every reputable crypto company has a (well constructed) whitepaper. This whitepaper explains how the company plans to grow and make money. If the whitepaper is not logically constructed, or it is completely missing, then there is a chance that scammers are involved with the coin.
DYOR: The saying 'Do your own Research' is a commonly used phrase in the cryptos scene, and for a reason. Don't have enough technical and/or fundamental knowledge? Then do further research online. Do not hesitate to ask questions.
Interested in Bitcoin?
Click on the button and start investing.
Buy Bitcoin