The Ethereum Merge – What to expect
- 5 minute read

In the upcoming days, the Ethereum Merge will take place. During the merge Ethereum will transition from Proof-of-Work to Proof-of-Stake, marking an important milestone in crypto history. In this article we will shortly explain what Ethereum's Merge entails and what actions you can expect from Anycoin Direct during this event.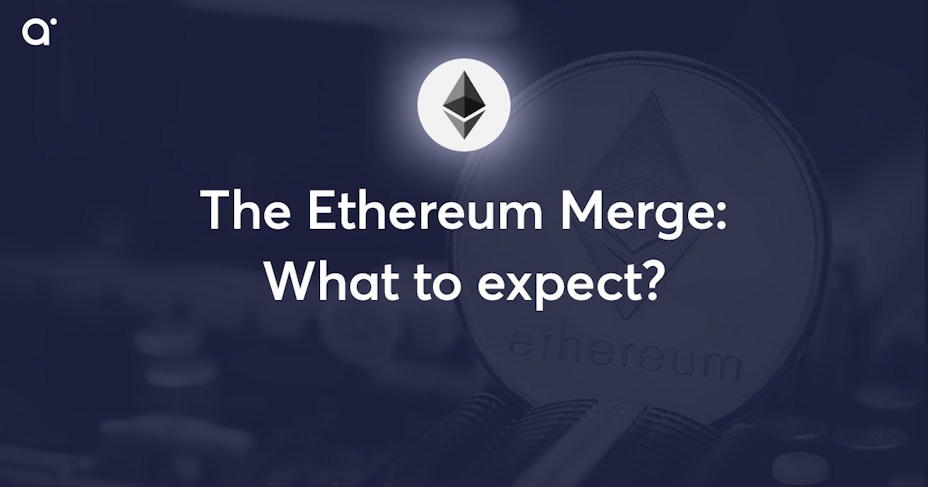 Quick reminder: What is the Merge?
The Ethereum Merge (formerly known as Ethereum 2.0) is an update to the Ethereum network that will improve the scalability and sustainability. Most importantly, it also marks the transition from Proof-of-Work consensus algorithm to a Proof-of-Stake consensus algorithm, which reduces Ethereum's environmental impact and increases the network's scalability. The Ethereum 2.0 project has consisted of multiple smaller updates that have been implemented in the previous two years. The largest and most impactful one, The Merge, will occur later this week.
When will the Merge take place?
The Merge will take place between 13 and 16 September. The exact moment cannot be pinpointed, but multiple websites like Google and whenmerge have countdown's that give an indication.
What does it mean for me?
If you have any ETH (or other ERC-20 tokens) in your Vault, you do not have to do anything. Your tokens will remain safe in your Vault. We do want to remind everyone that the Merge is an important moment in crypto-history and volatility can be extremely high during the process.
All ETH buy, sell and swap orders will be disabled during the Merge. This also applies to all ERC-20 tokens!
In case the Merge is successfully implemented:
If the Merge is implemented successfully, the Ethereum network will transition to Proof-of-Stake. Once the network is stable, buy, sell and swap orders for Ethereum (and other ERC-20 tokens) will be enabled.
In case the Ethereum network hard forks into two separate chains
There is a possibility that after the Merge two separate chains (PoW and PoS) will co-exist. Due to the uncertainty around, we can't guarantee that Anycoin Direct will support this hypothetical Ethereum fork. Anycoin Direct will wait the outcome of the Merge and will evaluate both chains.
Should any unexpected scenario take place, we will evaluate and act accordingly. We will keep you updated on this page and on our social media channels.