This is the state of the crypto market
- 5 minute read

In the crypto world, there is never a dull moment. Rapid price rises are offset by huge market corrections and vice versa. But for those who keep an eye on the crypto market, it might be confusing which phase we are currently in. This is because the highs and lows of the crypto market have changed compared to previous years/cycles. Let's use the past and present to determine how the crypto market is doing right now.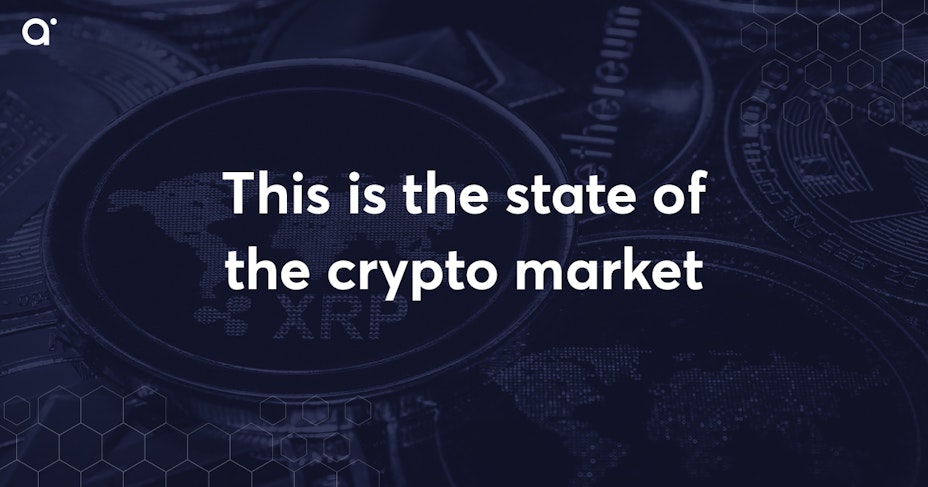 Table of Contents
Tremendous growth in the crypto market
In order to measure growth and popularity of cryptocurrencies, the market cap is usually looked at. This metric can also be applied to the success indicator of the entire crypto market. The market cap is the total value of a cryptocurrency. This value is calculated by multiplying all coins in circulation by the current market price of a single coin.
At the time of writing, Bitcoin's market cap is around EUR 800 billion, and the market cap of the entire crypto market is around EUR 2 trillion, or EUR 2,000 billion. These are bizarrely high numbers when you look at what the figures were a few years ago. At its peak in late 2017/early 2018, Bitcoin reached a market cap of 270+ billion euros and the entire crypto market over 750 billion euros. Compared to then, the prices have risen almost times four now.
At its peak in 2013, prices were many times lower than in 2017. In a few months, the market cap of the entire crypto market grew from €1 billion to almost €15 billion. As you can conclude, the crypto market has grown astronomically in 9 years. From €1 billion in mid-2013 to a market cap of around €2 trillion in 2022. Not to mention the fact that the entire crypto market was worth 2.5 trillion euros in November 2021.
Current state of affairs
The all-time high of 2.5 trillion euros was reached over four months ago. Looking at the bull run of 2013 and 2017, a huge price rise should lead to a huge correction. However, with a current market cap of almost two trillion euros, we are currently talking about a percentage price drop of around 30%, which is not very much by crypto standards. So it seems very likely that the crypto market is breaking its cycle. By cycle, we mean the traditional bull run followed by a multi-year bear market.
And that is not surprising. The entire crypto market is maturing. Bitcoin is increasingly seen as digital gold and various altcoins are making strong progress in their technical developments and use cases.
However, due to the slow breaking of the cycle, it is now more difficult to define what position the crypto market is in. In previous cycles, it became clear after a few months whether the bull run or bear market had begun.
In this cycle, the designation for bull market or bear market is difficult to define. In May 2021, many thought that the bear market had begun. The crypto market crashed with 40% within a week. In the following weeks, some altcoins dropped even further and some cryptocurrencies saw 90% of their value plummet. An unprecedented correction, even by cryptocurrency standards, but the market largely recovered from July of that year. November 2021 looked like a copy of May 2021 with another major market correction, but the current crypto market seems to be recovering from that as well.
Since cryptocurrencies recover quickly from such market corrections, one can conclude that the market is slowly maturing. Nevertheless, the crypto market is still immature. Do not forget that Bitcoin was only traded for the first time in 2010. The current prices may certainly make you optimistic, but remain wary of any negative price fluctuations.
Crypto market still very reliant on Bitcoin
Looking at the development of the crypto market, we can clearly see that it is still heavily dependent on Bitcoin. In the graph below, you will notice that Bitcoin's orange line is synchronised with the crypto market's blue line. The lines indicate the market cap of Bitcoin and the total crypto market respectively. There is no cryptocurrency that is as synchronized with the crypto market over a longer period of time as Bitcoin. When Bitcoin experiences strong growth, the crypto market experiences strong growth. When the price of Bitcoin falls, the price of the crypto market as a whole also falls.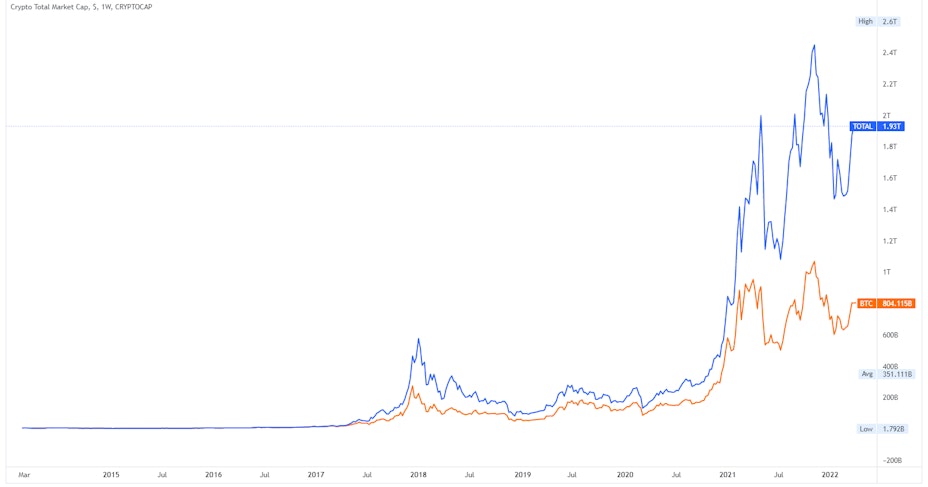 Nevertheless, Bitcoin's influence is slowly (perhaps too slowly) waning. Looking at the Bitcoin dominance, which indicates how much of the entire crypto market is made up of Bitcoin, it is dropping significantly. Currently, BTC dominance is 41%, which is nearly the lowest percentage ever. Only in the bull run of 2017 was BTC dominance briefly lower. So looking at the dominance, you might conclude that this bull run never stopped, but simply moved slower than previous bull runs.
Also, low BTC dominance means that more and more money in the crypto market is flowing into altcoins. Especially the diversification of money into altcoins is a striking statistic compared to the previous bull run. In 2017, the money was mainly in the cryptocurrencies Bitcoin, Ethereum and Ripple. Since the crash in 2018, much more money has flowed into altcoins. This can now also be seen nicely in the overview of CoinMarketCap, which shows the percentages of the largest cryptocurrencies in terms of market cap. At the moment of writing, 19 cryptocurrencies have a market cap of over 10 billion euro.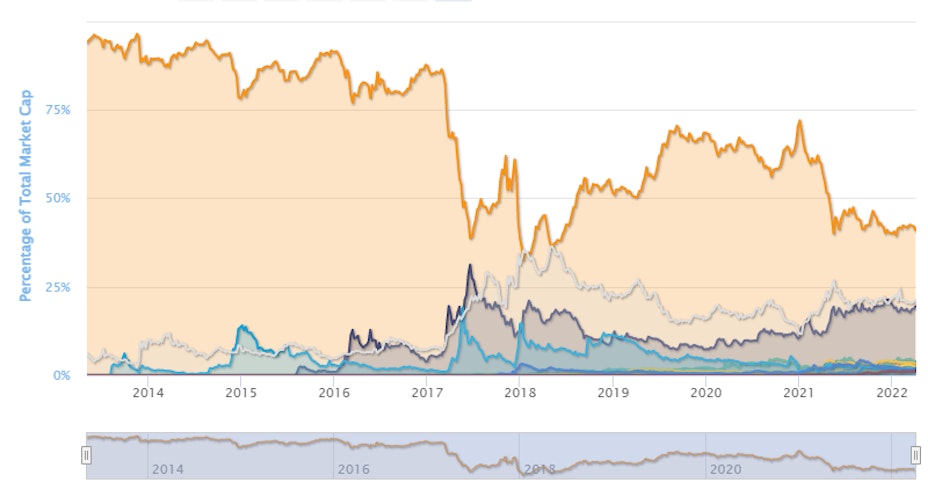 Adoption of crypto worldwide
The fact that the market cap has grown so massively in recent years is no coincidence. The American cryptocurrency exchange, Gemini, conducted a survey among more than 29,000 respondents between November 2021 and February 2022. A report was compiled from this.
An important finding from the report is that almost half of the investors who manage cryptocurrencies purchased this crypto for the first time in 2021. From here, one can conclude that the market has doubled in terms of users last year.
In addition, a large percentage (41%) of respondents are "crypto-curious". These people do not own a crypto yet, but are considering investing in cryptocurrencies in the coming years. Europe in particular has many people who are curious about cryptocurrencies.
The more assurance there is on the regulation and stability of cryptocurrencies, the more likely future investors will be to jump on board. 40% of the respondents indicate that more educational resources would help them to invest in crypto.
Closing thoughts
The crypto market seems to be in a proverbial split. Things are not going as fast in terms of price that we can talk about a bull run. On the other hand, the prices are not dropping drastically enough to be considered a bear market. A crypto stalemate, something which has not occurred on this scale before. Our advice? Make your own decisions and keep a close eye on developments!
Want to know more about our cryptocurrencies?
Check out our cryptocurrencies overview page