What is Cronos (CRO) and what caused the crash?
- 4 minute read

Cronos (CRO) is the newest token by Crypto.com, separate from their original token, MCO, both of which are based on Ethereum's ERC-20 protocol. CRO was introduced in early 2020 and was meant to complement the ecosystem by allowing individuals to opt into a variety of different tiers of benefits within the Crypto.com ecosystem.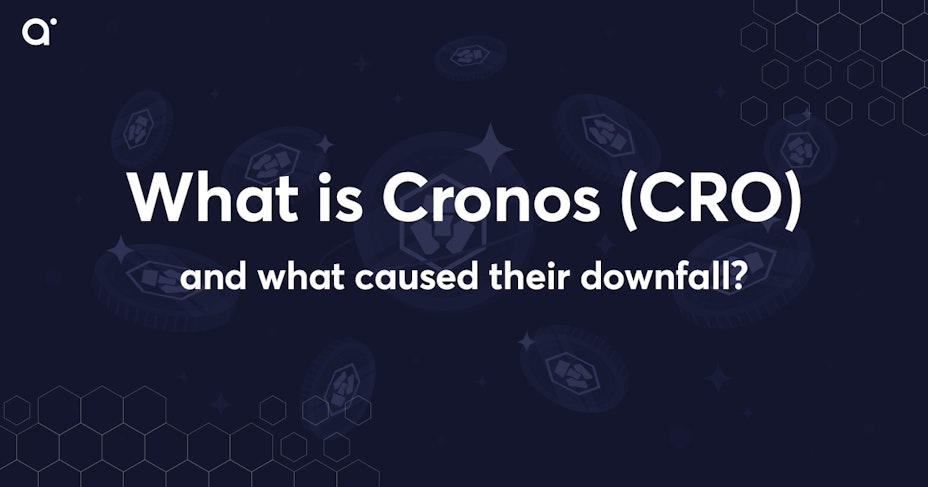 Table of Contents
What is Cronos (CRO)?
Cronos (CRO) is the native token of Crypto.com. Cronos is an Ethereum -compatible blockchain network that has been built using the Cosmos SDK technology. The entire blockchain is open source, and scalable for web3, DeFi and GameFi applications. The chain offers fast transactions and low fees, making it faster than the current Ethereum blockchain.
What's the difference between Cronos and CMO?
The main differences are very straight forward. The main purpose of Crypto.com was to make transactions really fast and cheap. The Cronos blockchain, however, uses the Cosmos SDK in combination with Ethereum. These two combined allow users to bridge their NFTs and dApps over to the CRO chain. This way the networks quality will be enhanced through other projects.
What makes Cronos unique?
The Cronos blockchain has been centered around providing useful applications for the users of Crypto.com. Cronos holders can use their tokens for payments, trading, DeFi, GameFi and all crypto.com services available.
CRO owners can deploy their tokens on the Crypto.com Chain to act as validators and earn fees for processing transactions on the network. In addition, CRO tokens can be used to pay transaction fees on the Crypto.com Chain.
Under the Crypto.com Pay payment app, users can get up to 20% cashback by paying merchants with CRO and up to 10% by buying gift cards and making peer-to-peer transfers to other users. The Crypto.com app allows users to earn token rewards for selected CRO tokens. Users can earn up to 8% interest per year on their Crypto.com tokens by wagering them on the Crypto.com exchange app or Crypto.com's metal Visa card.
Overall, CRO acts as a tool that drives Crypto.com's efforts to promote the adoption of cryptocurrencies on a global scale. As such, the company is constantly finding and developing new use cases that allow users to use cryptocurrencies to increase the control they have over their money, data, and identities.
What happend to Cronos (CRO) price?
Crypto exchange Crypto.com set itself up to become one of the biggest players in the game after some big marketing stunts and promises about extreme staking returns for its users. However, in May 2022 the exchange announced that they would reduce the staking rewards significantly. Most customers (that had already locked their tokens) didn't like the way this was handled. As a result, a massive and hot-headed online crowd started to sell their CRO tokens. The token crashed with almost 30% after the news, and from there it didn't get any better. In the blogpost that announced the changes to the Visa Card staking rewards Crypto.com stated that CRO card rewards would be reduced, the monthly reward cap would be introduced and that staking rewards would be changed for every staking tier.
These are significant changes and for Crypto.com payment card users this news comes as a stab in the back. Analysts and investors took a hard line at Crypto.com on social media, calling the decision a huge mistake. The CEO Kris Marszalek even responded with the following Tweet.
Conclusion
Of course, it's not exactly surprising that CRO's price did not react positively to the news that came out this weekend. The community is outraged and the confidence in Crypto.com has been hit hard. Cronos still has great potential when it comes to utility, however, the trust in Crypto.com's ecosystem has taken a big hit. Despite everything, CRO has experienced a huge growth spurt, the Crypto.com ecosystem is working well, and the question is how this will develop in the future. In short, Cronos is a fast blockchain, with many possibilities.