Anycoin Direct Survey
- 4 minute read

A lot has happened since the launch of our new platform and we felt that it was time to give you a recap. With constant updates and upgrades, these last four months have flown by. Combined with the long-awaited BTC-halving, multiple alts taking off and exciting news in the market, we fondly look back at a hectic (but fun) period. In this newsletter we are going to briefly recap the upgrades of the last few months, but more importantly, we are going to focus on the future with the help of your feedback!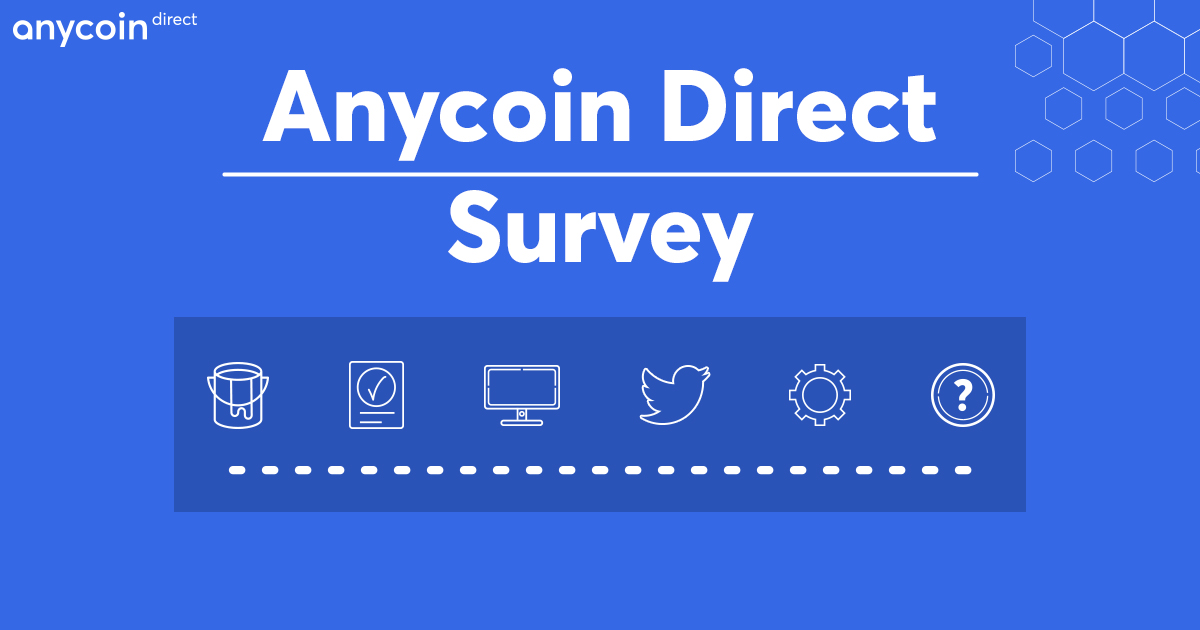 Launching the new Anycoin Direct was a two-year project and introduced brand-new features such as our interactive (and beginner-friendly) order flow, in-depth coin info pages, weekly blog articles and an innovative support assistant. But we didn't stop there. Since the initial launch, our developers have been constantly tinkering, updating and upgrading the back end of our website. You may not notice it, but we implement new features every week. For example, we took a closer look at our limit system, have added an enormous number of guides (and other content), made the website more mobile-friendly and have increased the overall website speed. But what's on the horizon?
Now that most kinks are out of the cable, we want to focus on bigger quality-of-life upgrades. That's where we could really use your help!

We have created a post-launch survey, where you can give your honest opinion. Don't worry, we won't ask a lot of your time as it will only take 2-3 minutes. What are we going to ask? We will mainly focus on the current website and the aspects that you would like to see different. What new features would you like to see added? Do you like to see more content on our website? Are there any coins you want to see added to our portfolio? Anything goes! But enough talk, you can help us out by filling in this survey:
All questions are written in English, but you can answer them in your preferred language. After two weeks, we will collect all survey answers and check whether your desired additions are in line with our future plans. With your honest feedback, we can build the most user-friendly cryptocurrency platform.
Want to learn more about IOTA?
Read all you need to know in our 'What is IOTA?' info page!