We added new coins to our platform!
- 4 minute read

To celebrate our latest Vault feature we have added new coins to our portfolio. With Solana (SOL), Polkadot (DOT), Polygon (MATIC), Enjin (ENJ) and Fantom (FTM) we listed much requested projects to our platform. And to be honest, we are just getting started, as we will be adding new coins on a regular basis from now on. But what are these new cryptocurrencies all about? Let's take a look, shall we?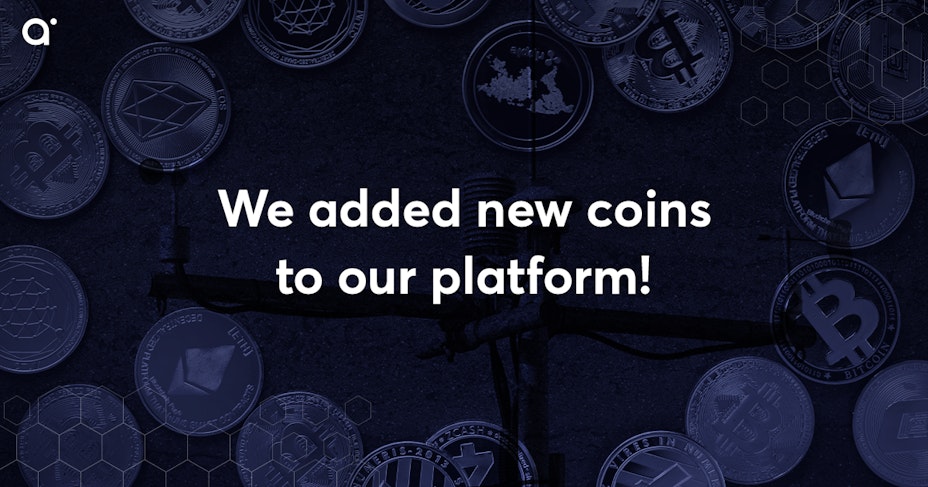 Table of Contents
About Solana (SOL)
Solana is a cryptocurrency which its inventors refer to as the blockchain of the new generation. The platform is known for its speed as it is a very fast network that can process up to 700,000 transactions per second. This makes Solana one of the fastest blockchains. The block time is also very fast on the Solana blockchain. The block time is the average time between the tracing of blocks. The blockchain is capable of tracing the next block within 400 milliseconds. Compared to Ethereum (every 10 seconds) and Bitcoin (every 10 minutes), this is extremely fast. Solana is therefore seen by many as a formidable competitor to Ethereum. In addition, at the time of writing Ethereum's transaction fees are hardly interesting for small transactions due to the high prices. At the time of writing, transaction fees for executing a DeFi transaction are between $50 and $100 per transaction and executing an NFT transaction can have costs be as high as $150 per transaction.
About Polygon (MATIC)
When you look up Polygon , you will often see Matic. In addition, the abbreviation of the coin is also Matic. This can be confusing for someone who is new to crypto (or does not know the coin very well). Polygon was previously called the Matic Network and has been rebranded to the Polygon Network in the past. Polygon is a layer 2 scalability solution which aims on solving scalability problems on other blockchains. In addition, Polygon's network can process an incredible 65,000 transactions per second. These figures are comparable to those of VISA, for example.
About Polkadot (DOT)
The Polkadot protocol was created to allow unrelated blockchains, such as those from Bitcoin and Ethereum, to talk securely with each other. It's also designed for speed and scalability by using many parallel chains called "parachains" which take much of the processing demand off the main blockchain. The Polkadot DOT token is quite interesting, as it both functions as a governance and staking token (which verifies transactions on the network).
About Enjin (ENJ)
Game developers can use Enjin to run their own games on the blockchain technology. Minting NFTs that can be used in your own game is also made possible with Enjin. Enjin realizes this through the Enjin API that developers can integrate. Adding NFTs to a game ensures that the participants of the game can store and trade their earned attributes on the blockchain. The advantage of this is that in many cases users can integrate their attributes into other games, making the use of NFTs more widely applicable.
About Fantom (FTM)
Fantom (FTM) is a high-performance, scalable smart contract platform that has been created with the intention of overcoming limitations in the previous generations. The platform allows developers to create dApps on the FTM ecosystem. The blockchain uses an aBFT consensus mechanism which allows the blockchain to run much faster and cheaper than older technologies while remaining very secure.
As we mentioned before, we are just getting started. With our latest Vault update, we will be able to rapidly integrate new tokens to our platform. Keep an eye on our social media channels for the latest listings and drop a comment if you want to see certain projects added!
Want to know more about our cryptocurrencies?
Check out our cryptocurrency overview !