Anycoin Direct: This is how we keep your funds safe
- 5 minute read

Recently, there has been a lot of unease regarding the security of assets at crypto exchanges. The bankruptcy filings of exchanges FTX, BlockFi and liquidity problems at Digital Currency Group (DCG) cause much turmoil amongst investors. Do the circumstances surrounding DCG, FTX and BlockFi affect Anycoin Direct and how do we secure your coins? Below you can read more about how Anycoin Direct ensures your crypto is safe.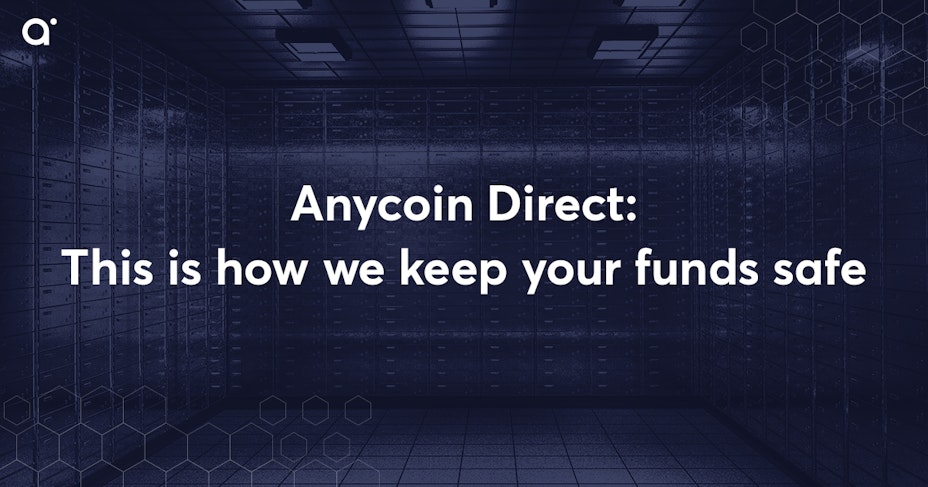 Does the situation regarding DCG, FTX and BlockFi affect customers of Anycoin Direct? 
Anycoin Direct has no involvement or exposure to any of these parties. All new services and potential collaborations are always subject to extensive risk analysis and due diligence. In addition, your funds are not sent to any third parties. We feel this is not just risk averse, but an obvious promise to our customers. Therefore, Anycoin Direct can 100% confidently state that there is no exposure to any of the parties DCG, FTX and BlockFi.
How do we keep your funds safe in the Anycoin Vault?
Customer funds are held in a trust foundation (third parties' account) with the sole purpose of keeping customer funds safe. Due to these safety measures, Anycoin Direct can guarantee you that balances are optimally segregated and secured from certain risks. In addition to the Anycoin Direct Vault, we always offer customers the option to send crypto to a personal wallet during the purchase. You can read more about this in our Terms and Conditions where we further explain our operating procedures.
Anycoin Direct is based in the Netherlands and registered with De Nederlandsche Bank
We were founded in 2013, making us one of the oldest crypto brokers in Europe. Risk aversion and openness are an integral part of our business operations. Because of this:
Anycoin Direct will celebrate its 10th anniversary in April 2023; 
Anycoin Direct was one of the first parties to register with De Nederlandsche Bank;
An official registration with the Austrian FMA was added in 2022. 
In conclusion
The recent news shows the importance of security and regulation. Anycoin Direct has always chosen to operate within the correct framework of regulations. If you have further questions about the security of Anycoin Direct, please contact us. Our support team is ready to answer all your questions.