Crypto in the sports industry - Rise of the Fan Tokens
- 5 minute read

Now that Anycoin Direct is official sponsor of PSV, we thought it would be a good idea to have a closer look at crypto and sports. Like most sports fans know, Lionel Messi caused a true sensation with his move to Paris Saint-Germain (PSG). PSG's Fan Token took a taste of Messi's arrival and was already flourishing in the days prior to the official announcement of the switch. These Fan Tokens are recently becoming popular among more and more sports organizations. In this blog, you will find out what Fan Tokens are, what effect they can have on a transfer (like Messi) and which parties make these Fan Tokens possible.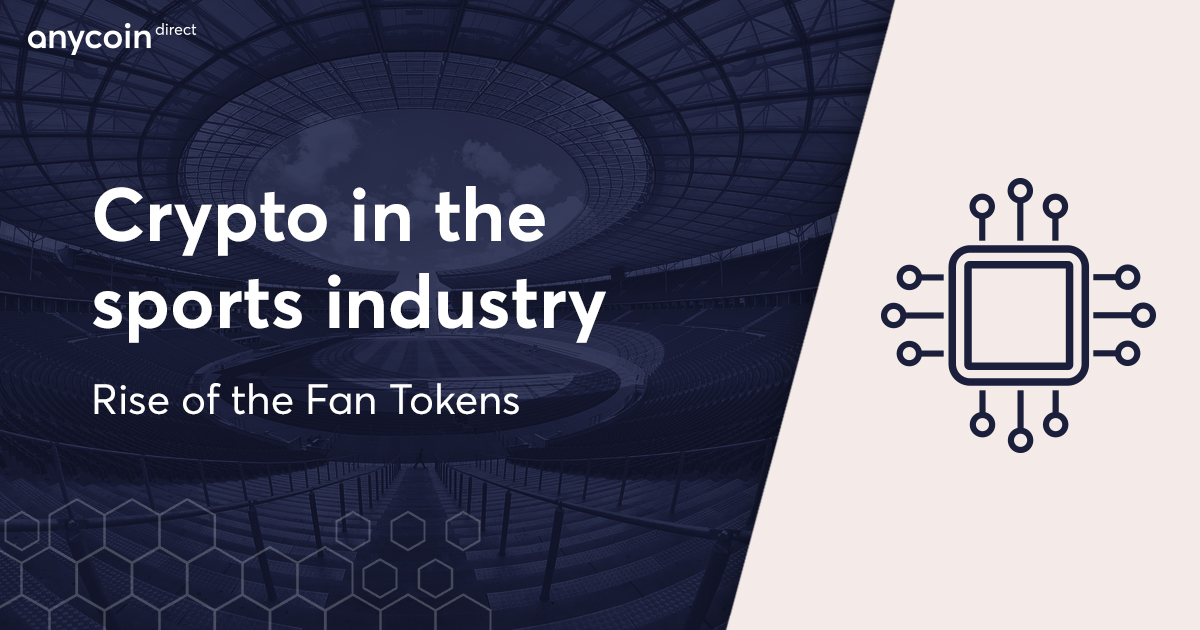 What are Fan Tokens?
Various sports clubs, such as Paris Saint-Germain, have created Fan Tokens (digital assets) through Socios.com. Established by the company of the same name, Socios.com is a blockchain provider for the global sports and entertainment industry. Socios has expressed its intention to expand globally in the coming years and focus on many more Fan Token launches.
Many clubs involve supporters, who are in possession of their Fan Token, in a variety of decisions concerning the club. These decisions may include what music is played before a match, what images are used on social media or the design of the players' bus.
In addition, Fan Tokens often give you the chance to win special prizes. For example, at some clubs it is possible to win a VIP tour or a meet & greet, you have the chance to win collectibles and merchandise, or you can be invited to certain events. Perhaps in the future there will be scenarios where supporters can use Fan Tokens to purchase beer in stadiums, or determine the new away shirt.
𝐁𝐑𝐄𝐀𝐊𝐈𝐍𝐆: Lionel Messi becomes first player in the world to receive Fan Tokens as part of signing package with @PSG_inside.$PSG ⚡️ $CHZhttps://t.co/4Fzm6HGTFG

— Socios.com (@socios) August 12, 2021
Messi and the PSG token price
The transfer of Lionel Messi from FC Barcelona to Paris Saint-Germain demonstrates that Fan Tokens are more than just a collector's item or a commodity. PSG was founded in 1970 and has been competing in the highest division of the French football league since 1972. Since 2011, PSG has been owned by the ambitious Qatar Sports Investments (QSI), which has provided a capital injection. With the help of acquired stars, PSG has won 7 championships in 9 years.
Similar to other digital currencies, such as Bitcoin and Ethereum, Fan Tokens are also traded on exchanges. When rumours emerged that Messi would be leaving FC Barcelona for PSG, the value of the PSG Fan Token rose by more than 130% within five days. On 9 August, one day before the official arrival of one of the best footballers ever, the price of a PSG Fan Token reached $50, which was 280% higher than the previous month.
The explosive rise in price meant fortunate news for Messi as he was paid a (yet unknown) share of the PSG Fan Tokens as part of his signing fee. If PSG were to win the Champions League (Europe's biggest club football competition) in the future, for example, the value of the PSG Fan Tokens could rise further, literally giving Messi influence over his own salary.
Which organizations also have fan tokens and how they use them
Along with other major football organisations such as Atlético Madrid and Juventus, PSG was one of the first major sports organizations to introduce its own Fan Token in 2020. After the successful launch, other major football organizations such as Manchester City and AC Milan followed. On the Socios website, it is already announced that clubs such as Inter Milan, Aston Villa and Everton want to create Fan Tokens.
In 2021, other large sports organisations started to develop their own Fan Token. Examples include the Formula 1 world (Aston Martin) and combat sports (UFC).
💪Power to the fans.

The official Fan Token of @UFC is coming to the @socios App this summer.$UFC ⚡️ $CHZ pic.twitter.com/4eUXX2rdV6

— Socios Fighting (@SociosFighting) May 4, 2021
Conclusion
As of last year, sports organizations have the possibility to create Fan Tokens. These Fan Tokens make it possible for supporters to participate in certain decisions. PSG even demonstrated last week that it is possible to attract football players by paying them (partially) in Fan Tokens.
The fact that supporters can connect with their favourite clubs through Fan Tokens is proving to be a success. This ensures that other sport organizations also want to connect to platforms, such as Socios. How this will develop in the coming years remains to be seen. But that the Fan Tokens have the potential to become a standard term in the sports industry, seems to be beyond dispute with the arrival of Messi at PSG.