Dogecoin part of Twitter's future after Elon Musk takeover
- 4 minute read

After several failed attempts by Tesla chief Elon Musk, the multi-billionaire has managed to take over social media company Twitter for $44 billion. The takeover will officially be completed in the coming months, where some major changes are expected to take place around the platform. In particular, the integration of Dogecoin will be one to keep an eye out for.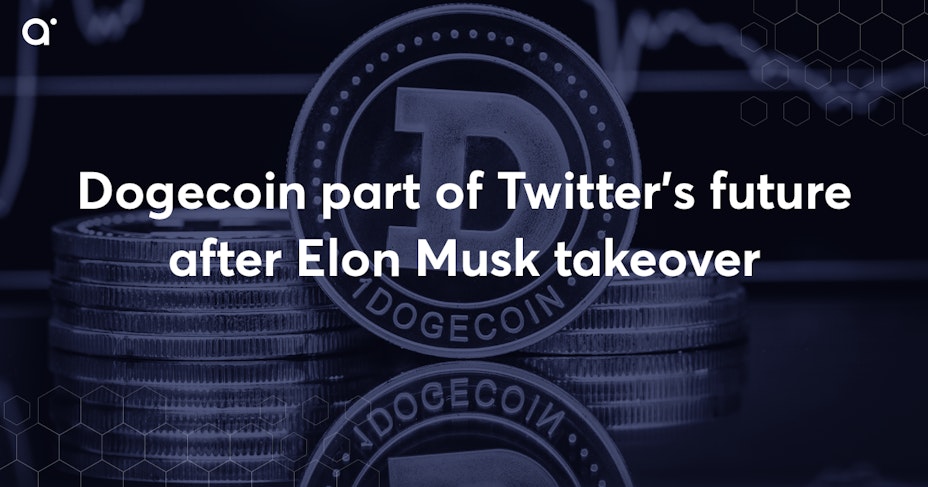 Table of Contents
Elon Musk buys Twitter
Jack Dorsley, co-founder of Twitter, could not reject an offer of $44 billion. After 16 years, the social media platform has been sold to the richest man in the world, who already owned 9% of Twitter's shares. Shareholders will receive $54.20 per share.
Elon Musk has already hinted that he will make some changes once he has officially taken over Twitter. One of his critics is that Twitter has not done enough to respect freedom of speech in recent times. Elon Musk drew this conclusion after he created a poll for people to vote on whether "they feel they can speak freely on Twitter." 70% of the hundreds of thousands of voters answered "no" to the poll. 
When Elon Musk was asked why he thinks freedom of speech is so important, he replied with: "Free speech is the bedrock of a functioning democracy, and Twitter is the digital town square where matters vital to the future of humanity are debated," after which he continued, "I also want to make Twitter better than ever by enhancing the product with new features, making the algorithms open source to increase trust, defeating the spam bots, and authenticating all humans. Twitter has tremendous potential -- I look forward to working with the company and the community of users to unlock it."
The statements about defeating spam bots and authenticating everyone are particularly noteworthy. After all, it is no secret that Elon Musk is very bothered by the fact that there are many fake profiles of him on Twitter. By developing software to detect spam bots and by having everybody authenticate their account, Musk tries to overcome these problems. 
Dogecoin as future payment method of Twitter platform
In addition to his fame as the top man at Tesla, Space X and the richest man in the world, Elon Musk is known as the "Dogefather". For several years now, he has been a fervent supporter of the memecoin called Dogecoin. 
Dogecoin's token, DOGE, is set to play a role on the Twitter platform. An integration of DOGE would allow users to use the DOGE token as a means of payment, for example, to give tips or to take out subscriptions.
Dogecoin price continues to be heavily impacted by Elon Musk
Elon Musk has proven many times in the past that tweets or statements from him about Dogecoin can lead to huge price fluctuations. With almost 90 million Twitter followers and the title of "richest man on earth", it is not surprising that a single tweet can influence the price of Dogecoin.
 After the announcement of Elon Musk's takeover on Twitter, Dogecoin's share price rose 28% within 24 hours. As quickly as the price rose, it fell again and since then the price of Dogecoin has been at the same level as before the takeover. 
The saga between Elon Musk and Dogecoin seems to be continuing after Musk's takeover of Twitter. In the coming months, even more details will emerge about Twitter's future direction. If these announcements are significant enough or related to Dogecoin, there is a chance that this will have an impact on the price of Dogecoin and potentially for other cryptocurrencies as well.  
Interested in Dogecoin?
At Anycoin Direct you can purchase Dogecoin in just a matter of seconds after logging in.