El Salvador, the first country in the world that makes Bitcoin a legal tender
- 4 minute read

The president of El Salvador, Nayib Bukele Ortez, wanted to make Bitcoin legal tender in his country. On June 9, the congress of El Salvador accepted the proposal. A historic moment for the crypto industry, since El Salvador is now the first country to officially accept Bitcoin as a way of payment.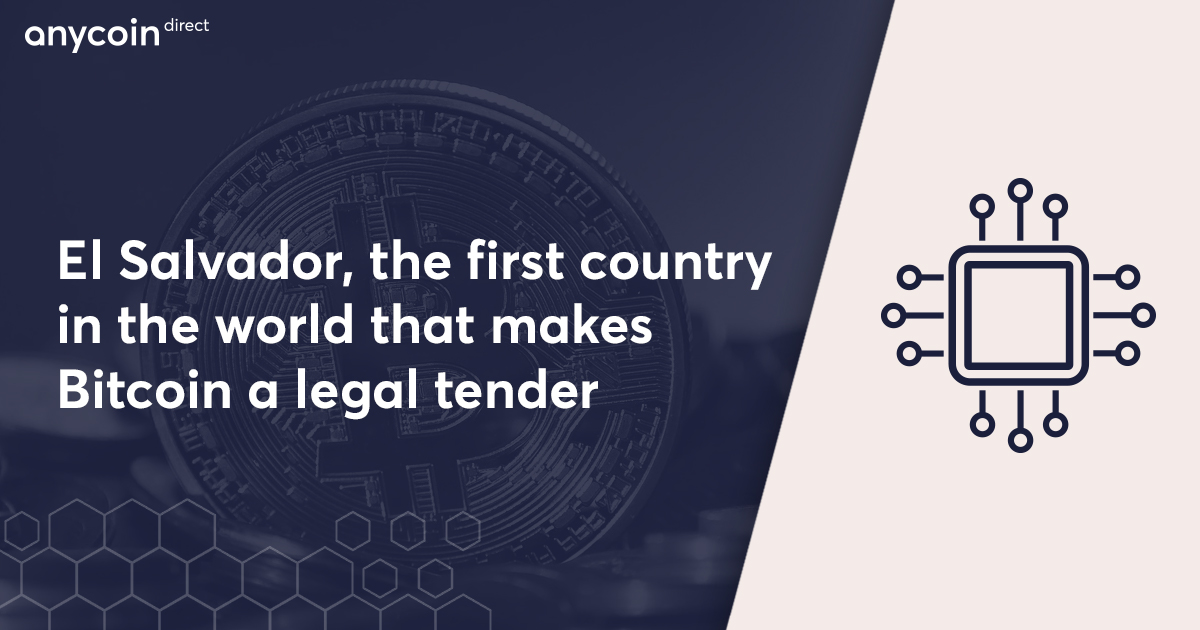 Legal tender
Before Bitcoin was officially recognized, the only currency used in El Salvador was the US dollar. The American country, counting a population of almost 7 million people, did not have its own currency. So what makes it beneficial for inhabitants of El Salvador to pay with bitcoin? According to president Nayib Bukele Ortez, approximately six billion US dollars are transferred to residents of El Salvador every year.
#Bitcoin has a market cap of $680 billion dollars.

If 1% of it is invested in El Salvador, that would increase our GDP by 25%.

On the other side, #Bitcoin will have 10 million potential new users and the fastest growing way to transfer 6 billion dollars a year in remittances.

— Nayib Bukele 🇸🇻 (@nayibbukele) June 6, 2021
These transfers are mostly done by family (that live abroad) to give financial support. However, these international bank transfers are inconsistent and ask an additional transfer fee. The advantage of Bitcoin is that people have to pay less in terms of transaction fees, saving money in the process. Furthermore, most residents do not have a bank account in El Salvador. One research even states that 70% of the population is unbanked! The use of Bitcoin does not require a bank account, a huge advantage for the population. Additionally, making Bitcoin a legal tender makes the country less dependent on the US Dollar. In the corona pandemic, the US printed a lot of extra dollars to uphold the economy, resulting in inflation where El Salvador is now suffering from.
20,000 people in El Salvador 🇸🇻 recently transacted on the #Bitcoin Lightning Network, using the @Bitcoinbeach wallet.

All together, their total fees were $4.98. Yes, 𝗮𝗹𝗹 𝘁𝗼𝗴𝗲𝘁𝗵𝗲𝗿.

— Documenting Bitcoin 📄 (@DocumentingBTC) June 20, 2021
There are, of course, also some downsides. First of all, one of the characteristics of Bitcoin is the volatility of the price. In just a few hours the price could fluctuate immensely, not very handy when you want to buy groceries. In that case, a fiat valuta such as the US dollar is more stable. It makes one wonder why the country did not choose a more stable currency as legal tender. Nevertheless, it is not very likely that inhabitants will pay their daily groceries with Bitcoin. The currency will probably be used a store of value. In addition, the country will have more insight due to the blockchain's transparency.
Our engineers just informed me that they dug a new well, that will provide approximately 95MW of 100% clean, 0 emissions geothermal energy from our volcanos 🌋

Starting to design a full #Bitcoin mining hub around it.

What you see coming out of the well is pure water vapor 🇸🇻 pic.twitter.com/SVph4BEW1L

— Nayib Bukele 🇸🇻 (@nayibbukele) June 9, 2021
Other countries
Other countries across the ocean react positively to the news from El Salvador, as they are starting to use Bitcoin more frequently. Venezuela is one of the countries where residents are getting more involved with digital currencies. This way, people can avoid hyperinflation from their native currency. Digital currencies such as Bitcoin can help solve these problems in the economy. If comparable countries see the project in El Salvador works then they might follow as well.