Hardware and external wallets vs crypto platform - Which is most secure?
- 5 minute read

The problems surrounding FTX have brought negative news. A lack of transparency at major exchanges has caused a lot of unrest, leading many people to pull their crypto from exchanges and send it to external wallets or hardware wallets. The reason? Crypto managed by yourself is visibly safer, than having crypto managed.  
The 'Be Your Own Bank' principle is something we also like to emphasise, which is why we always give our customers the choice to send coins to their own wallets . Hence, in this blog, we want to focus on the safe use of (hardware) wallets.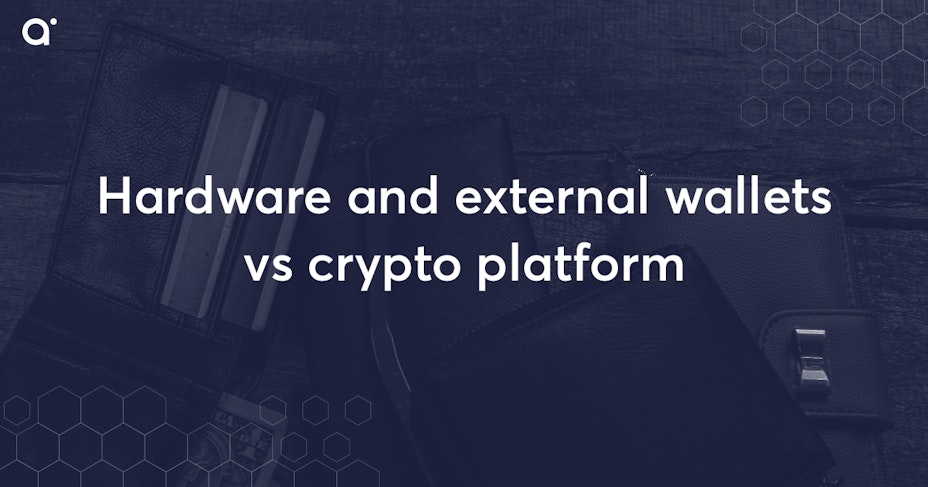 Table of Contents
What is the best way to store crypto? 
There are several ways to store crypto. They all have their own advantages and disadvantages. At Anycoin Direct, we give you two options. You can choose to store your purchases in the Anycoin Vault, or you can have your order sent to an external wallet such as an exchange address or hardware wallet. 
Anycoin Vault 
At Anycoin Direct, it is possible to securely store crypto in our Anycoin Vault . Only you yourself have access to your personal vault. The advantage of the Anycoin Vault is that buying, selling and swapping is done within seconds and you can see all your assets in one easy overview.    
External wallets and hardware wallets 
By external wallets, we mean wallets that you manage in an online environment, such as web browser extensions and dApps. Metamask and Trust wallet are examples. These wallets allow you to manage public and private keys using their software. Your assets are stored on the blockchain, making it secure. The disadvantage of online cryptocurrency wallets is that it is stored in an online environment, making it susceptible to pishing. On the other hand, online cryptocurrency wallets are a cheap option as they are free to use. 
Why are hardware wallets the safest? 
Storing crypto on a hardware wallet is the most secure option. This is because you manage the assets completely yourself and offline, making the loss of your assets due to a crypto provider's bankruptcy is impossible. Moreover, a hardware wallet is resistant to malicious hackers because the crypto is stored offline.   
Your hardware wallet consists of wallet addresses that are created during the installation of your hardware wallet. When a wallet address is created, a Private Key and a Public Key are generated. You can think of the private key as a bank account number that you share with people when you want to receive money from them. The private key is similar to the password that gives access to your bank account. You should therefore never share your private key with others! Without one of these keys, it is impossible to store or send crypto.   
When installing your hardware wallet, you will be presented with a 'seed phrase'. The seed phrase is a set of usually 12-24 words, giving access to your hardware wallet and private keys associated with the wallet addresses. The seed phrase is a backup, when you need to access your wallet, when you can no longer access the hardware wallet. In addition, you choose a PIN to unlock the hardware wallet. The advice is to keep the seed phrase and PIN offline. So write it down somewhere, but don't lose it, otherwise you will never be able to access your hardware wallet again. Like the private key, you should never share the seed phrase and PIN with others. 
Types of hardware wallets 
There are several hardware wallets on the market from different providers. They all have their own advantages and all work slightly differently.   
Ledger Nano S 
The Ledger Nano S is the most well-known hardware wallet on the market. With more than two million users worldwide, it is the most widely used hardware wallet today. The Ledger Nano S is especially popular with beginners because it is easy to understand and use. In addition, the Ledger Nano S is very secure. Setting up the Nano Ledger S is easy with the Ledger Live app. You set up your hardware wallet securely by following the instructions.   
Software 
The software used by the Ledger Nano S is Ledger Live. The software is praised for its user-friendliness, thanks to its interface. Therefore, newcomers to the crypto market can use the hardware wallet without any problems. The Ledger Nano S allows multiple wallets to be created, making it possible to store Bitcoin and various altcoins on one Ledger. In total, the Nano S has a storage capacity of 1 GB. This is enough for 3-6 coins. This is immediately the disadvantage of the Nano S, as expansion is thus not possible and if you still want to do so, you have to buy an additional Ledger.
Offering cryptocurrencies 
The Ledger Nano S supports more than 1,500 cryptocurrencies and also offers the option to strike your crypto. Users can also use the Compound platform to engage in yield farming. 
Ledger Nano X 
The Ledger Nano X is the more extensive variant of the Nano S. On the Ledger, you can store 100 different cryptocurrencies at once. In addition, the Nano X has Bluetooth integration, allowing you to use the Ledger on the go. 
Software 
The software is the same as that of the Nano S, namely Ledger Live. What makes the Nano X unique compared to the Nano S is its storage capacity and Bluetooth function. Thus, the Nano X can be used without a USB-C connection. In addition, you can use the Nano X not only via the desktop version, but also via a mobile app, allowing you to sign transactions on the go. The Nano X's display has a higher resolution than its predecessor, making it all just a bit easier to read.  
Offering cryptocurrencies 
The Nano X supports 1,500 cryptocurrencies. Users can store up to 100 coins on the device at a time. 
Trezor Model T 
Another well-known hardware wallet is the Trezor Model T. The Trezor Model T was developed in 2018 by Czech hardware wallet manufacturer Trezor. Compared to the Ledgers, the hardware wallet is larger. More attention has clearly been paid to the visual side. With a touch screen, colour screen and node integration, Trezor tries to stand out. Setting up the Model T is easy thanks to clear instructions on Trezor's site. You need the site to set up the wallet. You pair your wallet with your computer using a USB-C connection.  
Software 
The software that Trezor Model T uses is Trezor Bridge. It is needed to pair the wallet with your PC. The disadvantage of Trezor compared to Ledger is that storing Ethereum or ERC-20 tokens is only possible if you link the Model T to a third-party wallet, such as MyEtherWallet. Trezor has several features. For instance, outgoing addresses can also be scanned as QR codes. The touchscreen makes using the Trezor Model T faster, than Ledger. 
Offering cryptocurrencies 
With the Trezor Model T, you can store as many as 1,600 cryptocurrencies. This is more than on a Ledger. In addition, the Model T has another advantage over its competitor. Namely, there is no storage limit, allowing you to store an unlimited number of cryptocurrencies.   
Conclusion 
Storing crypto securely has become a hot topic in recent weeks. Therefore, it is important to think carefully about what risk you are willing to take. Storing crypto on a hardware wallet is the most hassle, but the safest option. On the other hand, trading crypto is easier if you store it with a broker or exchange, such as the Anycoin Vault. This is also a secure option, but it is important to mention that the risk is higher.