Tether USDT (ERC-20) has arrived on Anycoin Direct
- 5 minute read

The stablecoin Tether, also known by its ticker USDT, has been added to the Anycoin Direct portfolio. USDT can be bought and transferred to any Tether wallet running on the ERC20 (Ethereum) network. For those of you who are unaware, Tether (USDT) is a so-called stablecoin, a coin that is backed by traditional fiat currencies (for example dollars or euro's). The USDT is pegged to the American dollar, meaning that one USDT will always be equal to one dollar. Stablecoins were created to be stable and function as a cryptocurrency at the same time. They provide stability in an otherwise volatile market.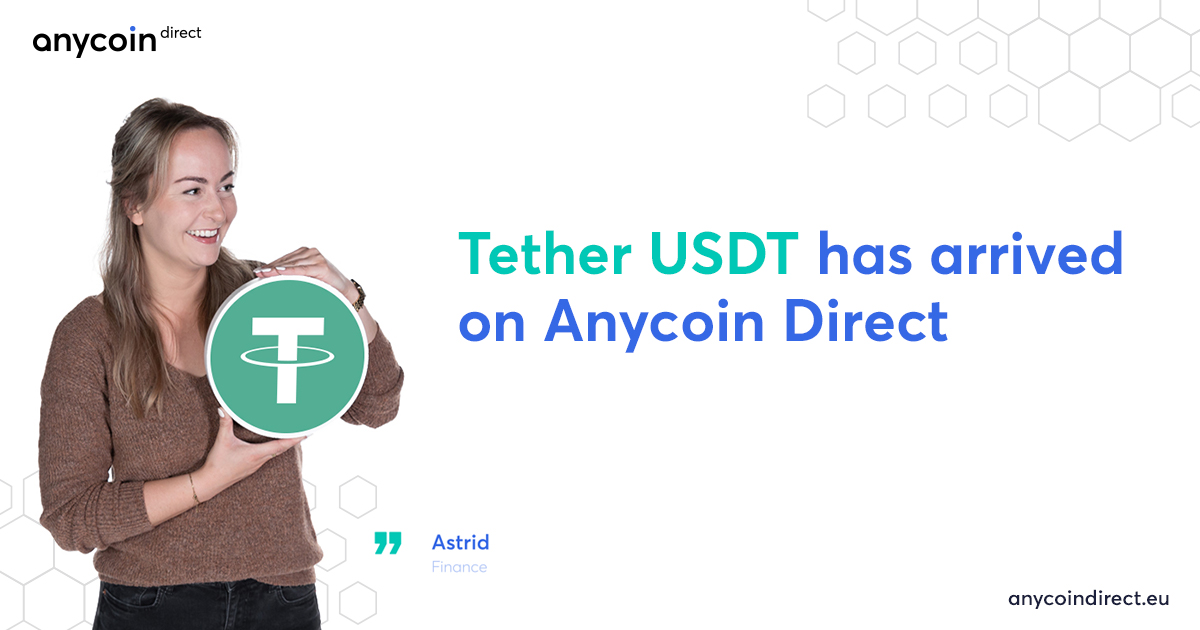 Efficient and Quick
With the recent developments of certain exchanges suspending commonly used payment methods, Tether has become an interesting trading pair. Due to the Bitcoin and Ethereum fees constantly fluctuating, Tether provides an efficient and quick way of transferring funds to an exchange or wallet. During the last half-year, Tether has become more popular amongst exchanges where approximately 67% of all stablecoin transactions consisted of Tether USDT swaps. The company behind the coin reacted, saying that USDT is currently cheaper and faster than fiat wire payments or credit card transactions.
ERC20
Be aware: we offer Tether USDT on the ERC20 Ethereum network. Any USDT's that are sent to a USDT Omni-wallet (Bitcoin) or TRC-20 wallet (TRON) will be lost.
🎉 Tether has just surpassed $50B market cap!
🚀Tether's market cap is growing fast, with a monthly increase of $10B. Will we reach $100B before 2022?

Stay up to date on our official Telegram channel ⬇️https://t.co/137b5oOauU pic.twitter.com/VMV4C52U5t

— Tether (@Tether_to) April 26, 2021
Tether (USDT) can be bought, sold and traded via the Anycoin Direct exchange bar. With constantly fast-moving developments in the crypto market, stability can sometimes be a welcoming change. We will stay on the lookout for projects and adjustments that greatly benefit our customers. Keep an eye on all of our channels for the latest updates.