What is Euro Coin (EUROC)? – A Euro based stablecoin
- 8 minute read

Be honest, how many of you have been thinking in dollars since you started with cryptocurrency? Most people follow the Bitcoin price in dollars and the most commonly known stablecoins are also pegged to the US Dollar. Time for some change because the company behind USDC (a well-known stablecoin) has now released an official euro pair. Euro Coin, known by the ticker EUROC, is a euro-backed stablecoin that is always pegged 1:1 to €1. In today's article we are going to take a look at the company behind EUROC and the future potential of euro-backed stablecoins.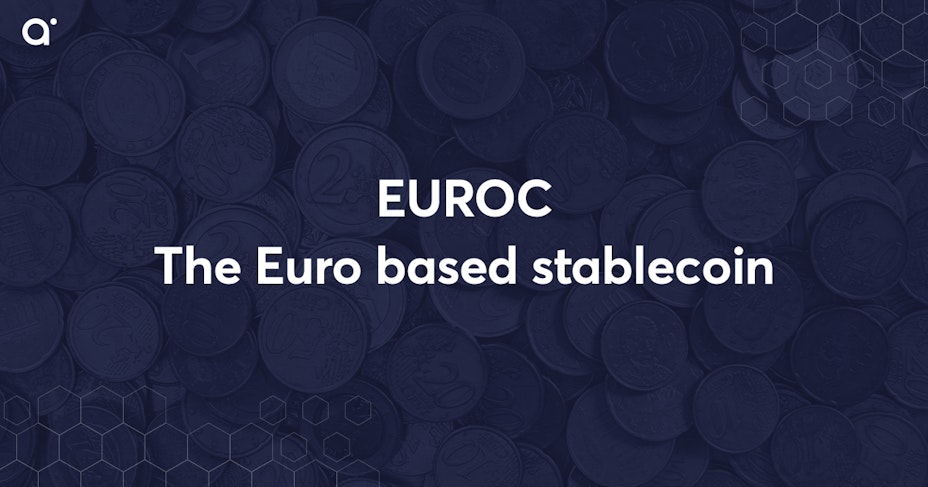 What is Euro Coin?
Euro Coin (EUROC) is the euro equivalent of USD Coin (USDC), the second largest stablecoin behind Tether. Where USDC is pegged to the dollar, EUROC is pegged to the euro. Meaning that every EUROC token in circulation has an equivalent euro-denominated reserve held in custody at financial institutions that in turn are regulated by the United States. The demand for stablecoins is rising, especially in a bear market where traders are looking for fast liquidity in a rapid moving environment. That is why Circle, the company behind EUROC and USDC, has officially released a euro counterpart.
Although the crypto adoption rate is higher in the US, crypto is becoming more popular amongst young adults in Europe. Euro Coin will launch on the Ethereum network, which could bring some hick-ups as the Ethereum network has had some congestion issues in the past. But when we look at USDC, we might have a sneak peek at all the other networks it will soon be launched on. We guess that the Algorand, Solana and Stellar Lumens network will follow suit. With this network and the negative news surrounding other stablecoins, EUROC has the potential to become Europe's biggest stablecoin. For those of you who do not know what stablecoins are, let's break it down for you real quick.
What are stablecoins?
The Euro Coin stablecoin is fully backed by euros and is, therefore, always pegged to the value of one euro. Where most stablecoins are backed by all kind of different types of reserve assets (such as gold or dollars), Euro Coin is completely backed by euros and euro-denominated assets. So how does this all work? For example, let's say you want to buy one EUROC with fiat currency (worth 1 euro). In that case the fiat currency is stored as 'euro' and the equivalent of one EUROC is minted (generated). If you want to sell a Euro Coin, you get one euro back from the storage. The EUROC will be 'burned' once the fiat currency is sent to your bank account. This system makes sure that EUROC has zero to no volatility issues and can be used as a hedge against inflation. This last part has not been the case for all stablecoins. That is why Circle, the company behind the coin, has made sure that every EUROC is accounted for. Let's take a look at how they achieve this by looking at the company behind the project.
Who is Circle, the company behind Euro Coin?
Euro Coin and USD Coin are issued by a company called Circle, which was created by the American exchange Coinbase. The company was originally designed with peer-to-peer payment technology in mind but had bigger plans as they proceeded. Circle was founded by Sean Neville and Jeremy Allaire back in 2013. The company envisions a world where they build a bridge between the traditional financial system and the huge potential of blockchain technology. The company wants to achieve this goal by building an open financial infrastructure. With the introduction of USDC and EUROC they are sure making big steps towards their vision. As they say themselves: Circle wants to raise global economic prosperity through the frictionless exchange of financial value.
But what separates these stablecoins from the other more known ones like Tether (USDT) and the infamous example of UST (LUNA's former stablecoin)?  Well, Circle was the first company to receive a BitLicense (business license for virtual currency activities) from the New York State Department of Financial Services. Simply put, EUROC is a fully regulated cryptocurrency. To obtain this license Circle had to prove to the American government that they could back up their assets (and in this case their promises) in a legal and verifiable manner. Otherwise, Circle could have never obtained their BitLicense. This isn't the case for every stabelcoin out there…
The advantage of a euro-pegged stablecoin
With the crypto interest in the European market expending, a commonly used currency that can move across borders and time zones is essential. To paint a picture, in terms of global exchange turnover, the euro is the second largest fiat currency in the world, according to the Bank for International Settlement (BIS). As a matter of fact, this same BIS stated that 32% of all currency trades worldwide are done with euros. Let's face it, with all the constant calculations and currencies it is weird that the world of cryptocurrency has been so dollar focused up till now. The Euro Coin stablecoin will give European traders amounts they are used to, putting things into perspective. It will also give businesses worldwide access to euro liquidity, which in turn can be used for payments, trading, lending and borrowing.
In addition, this could serve third world countries besides the European market. Don't forget that stablecoins were originally designed as an answer to banks that restricted cryptocurrency trading. Stablecoins were a way to give traders 'stable' liquidity in a volatile market. But, with banks slowly embracing cryptocurrency, the latest utility of stablecoins has shifted to the unbanked. People in countries that don't have banks, can now also receive euros instead of digital dollars. The potential still remains endless. It is time for real life use-cases to move the market forward. Let's hope EUROC does its part.