Dogecoin (DOGE) – A prediction for 2022
- 7 minute read

As we approach the end of a tumultuous year, we take this opportunity at Anycoin Direct to preview the year 2022. In our previous forecast we focused on Ethereum. This week we highlight Dogecoin, the memecoin of memecoins in the crypto industry. Dogecoin symbolizes the volatile, unpredictable and opportunistic crypto market. Let's take a look at what Dogecoin is, its contemporary and historical price developments, and lastly, the price expectations for 2022.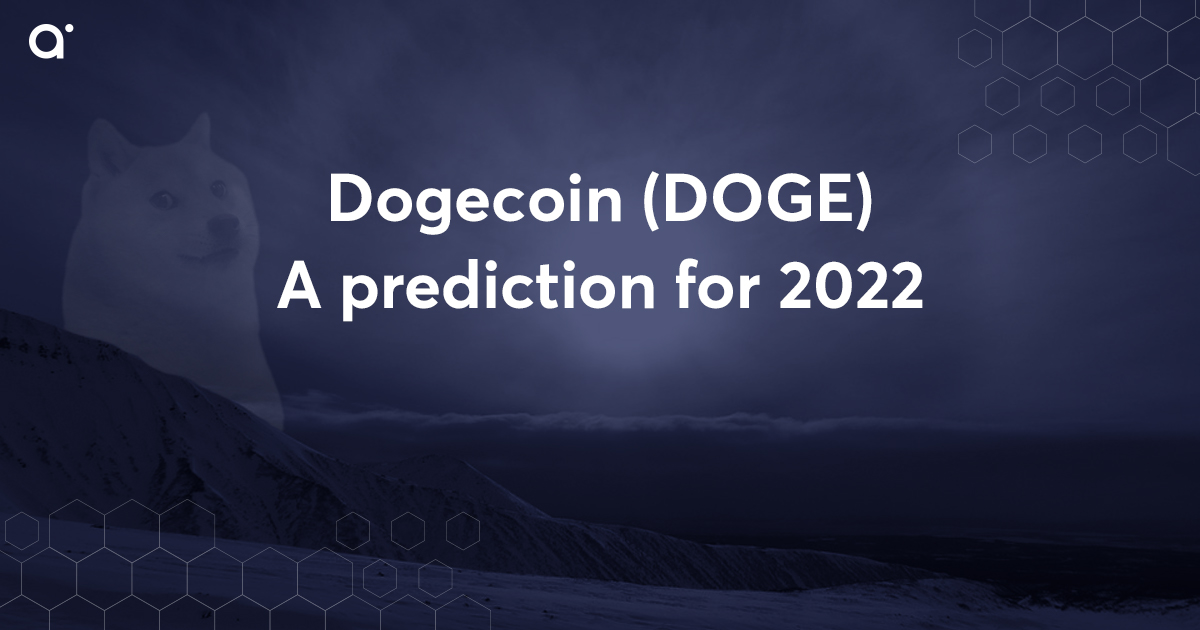 Table of Contents
What is Dogecoin?
Before we look at the predictions for 2022, let's talk about what Dogecoin is and how this crypto has become so relevant. Dogecoin was founded in 2013 by a group of friends and was developed as a memecoin.
Although Dogecoin is a memecoin, you can use the coin in everyday life. Transactions can be done in a secure manner and in many cases transactions are faster than Bitcoin'. Due to Dogecoin's growing popularity you can conduct transactions with Dogecoin in more and more places around the world.
In the bull run of 2017, Dogecoin showed its true potential as a memecoin. The value of Dogecoin's coin, called DOGE, rapidly increased by thousands of percent. Its value reached just over 1 US cent, an amount no one would have thought possible at the time.
After the bull run of 2017, the crypto industry entered a bear market. Cryptocurrencies dropped tremendously in value over the years and were no longer worth a fraction. This was also true for Dogecoin. In 2020, the crypto market started to pick up again. First Bitcoin, then Ethereum and then many other cryptocurrencies rose in price. However, Dogecoin did not and remained stuck in its value. Dogecoin seemed dead and buried, until Elon Musk came into the picture.
When one of the richest and most influential person in the world starts tweeting about you, it brings you fully into the limelight. As of last year, Dogecoin can talk about that. Elon Musk was already tweeting about Dogecoin sporadically throughout 2020, but as of December that year, sporadic changed to regular.
Elon Musk proved to be an avid Dogecoin enthusiast and his tweets around Dogecoin were always positive. The value of Dogecoin rose by hundreds of percent and other celebrities and influencers picked up on the hype around Dogecoin.
The value of Dogecoin continued to rise, reaching an impressive value of over 70 cents per DOGE in May. From the hype surrounding Dogecoin, new memecoins were created, such as the Shiba Inu coin and the Dogelon Mars coin.
Dogecoin Price Chart
Dogecoin Price History
A characteristic of cryptocurrencies is that they can be very volatile. In the case of Dogecoin, this is an understatement. In the bull run of 2017 to 2018, Dogecoin experienced gigantic price increases of thousands of percent. In the bear market that followed, Dogecoin was only worth a fraction compared to its all-time high.
Meanwhile, partly thanks to Elon Musk, Dogecoin has skyrocketed and the majority of people in the crypto industry know Dogecoin. In order to put the price of Dogecoin through the years into perspective, we have displayed a price trend of DOGE through the years. We do this by comparing the all-time highs and all-time lows of these years.
Dogecoin price 2015: Lowest - €0.00008564 / Highest - €0.00023929
Dogecoin price 2016: Lowest - €0.00013461 / Highest - €0.00050046
Dogecoin price 2017: Lowest - €0.00037496 / Highest - €0.01072880
Dogecoin price 2018: Lowest - €0.00237450 / Highest - €0.01877330
Dogecoin price 2019: Lowest - €0.00183904 / Highest - €0.00442340
Dogecoin price 2020: Lowest - € 0.00134397 / Highest - € 0.00550000
Dogecoin price 2021 (so far): Lowest - €0.0046400 / Highest - €0.73905000
Dogecoin 2022 Roadmap
Whereas most high-valued cryptocurrencies have drawn up a roadmap describing the course to be taken, Dogecoin does not. It is a memecoin that owes its price predictions mainly to influential people, such as Elon Musk, who are enthusiastic about the coin. Dogecoin is therefore highly dependent on other developments than the average cryptocurrency, which often presents several technological developments per year.
The hype surrounding memecoins
Dogecoin lacks real, useful foundations. So what can we expect from DOGE's price? To put it bluntly, that depends on many factors. One of the most important factors in 2022 will be whether influential figures will continue to support memecoins.
Earlier in the article we mentioned Elon Musk, who is a Dogecoin supporter. Other well known phenomena such as Snoop Dogg and Gene Simmons have also frequently expressed positive views on Dogecoin. And there are many others besides them. Naturally there are also opponents of Dogecoin who say that investing in memecoins is dangerous for your assets. Long story short; Dogecoin largely depends on the (media) exposure it gets.
Dogecoin is the people's crypto

— Elon Musk (@elonmusk) February 4, 2021
Community
In the crypto industry, Dogecoin has one of the largest and most loyal supporters. Its community is incredibly large. On Twitter, Dogecoin has over 2.4 million followers and on Reddit, the official Dogecoin page has over 2.2 million subscribers.
On these social media platforms, memes are mainly posted. Not surprising for the best known memecoin. But there are also serious issues being discussed such as fundamental and technical analysis. The community is therefore a very important factor for Dogecoin. Together with influencers they have helped Dogecoin to unprecedented heights. But because of this they can also ensure that these achievements can be undone.
If anyone is wondering, I'm still holding every single one of my #dogecoin - I've bought every dip in 2021 and I can't wait to see where #doge is in 2022 & 2023. The future is bright for currency with a cute dog meme on it. If I can retire at 35 with 10 million I'll be happy 😂🚀

— SlumDOGE Millionaire (@ProTheDoge) September 28, 2021
What to expect in 2022
Memecoins such as Dogecoin and Shiba Inu are unprecedentedly popular. These memecoins have increased in value by hundreds to thousands of percent by 2021. However, the value of these coins is mainly about hype and media attention. They do not have strong foundations and most memecoins cannot be used as a means of payment, as in the case of Dogecoin.
But in terms of price, what can we expect from Dogecoin in 2022? Anycoin Direct does not give financial advice and therefore we do not venture to make price predictions. The internet is not yet full of price predictions for 2022, and if there were, they would likely be wildly out of sync as there is little logic to DOGE's price.
Fortunately, a number of price forecasting companies specialising in predicting stock and crypto prices have ventured to predict the DOGE price in 2022. The company DigitalCoin predicts that Dogecoin will hit a maximum value of $0.46337 USD during 2022. This is cautiously pessimistic as Dogecoin has already reached this value. This means that Dogecoin may only double from its current value, as DOGE is now hovering around $0.23 cents.
A more optimistic price forecast comes from CryptoNewsZ. They predict that by 2022, Dogecoin may reach $1.22. Should things go less bullish than predicted, a value of $0.96 is still assumed. This means that CryptoNewsZ expects a minimum price increase of times 4 compared to today's price.
Finally, we have The Economy Forecast Agency's price forecast. They take a mathematical approach to their predictions and expect Dogecoin to reach a maximum value of $0.42 per DOGE. We should always take these price predictions with a grain of salt, as these price predictions rarely come true. In the coming months, plenty of crypto influencers, agencies and experts will venture to make a price prediction for Dogecoin in 2022.
Value of $1,000 invested 1 year ago:

Dogecoin: $274,521
Ethereum: $17,186
Bitcoin: $5,872
Penn National: $4,700
The Gap: $4,375
Tesla: $4,103
Moderna: $2,754
FedEx: $2,613
Zoom: $1,900
Twitter: $1,797
PayPal: $1,748
Google: $1,728
Apple: $1,679
Amazon: $1,383

— Jon Erlichman (@JonErlichman) May 8, 2021
In conclusion, cryptocurrencies are unpredictable and memecoins like Dogecoin all the more so. Many people get into Dogecoin for the High Risk, High Reward factor. It is advisable to do proper research before investing in cryptocurrencies. This is especially true for Dogecoin because sentiment can change quickly around the coin. But DOGE is a coin with a large community and relatively many celebrities are positive about the memecoin. We are curious to see whether Dogecoin in 2022 can bring what many expect from it.