Ethereum (ETH) – Price prediction 2022
- 7 minute read

As we approach the last stretch of 2021, we at Anycoin Direct like to look ahead and see what 2022 has to offer. In our previous Forecast, we investigated what Cardano has planned for next year. Today, we are taking a deep dive into Ethereum's roadmap which is honestly pretty exciting. There's no denying that 2022 is going to be an eventful year for the number two crypto. Let's zoom out, take a look where we stand, and summarize what we can expect for Ethereum in 2022.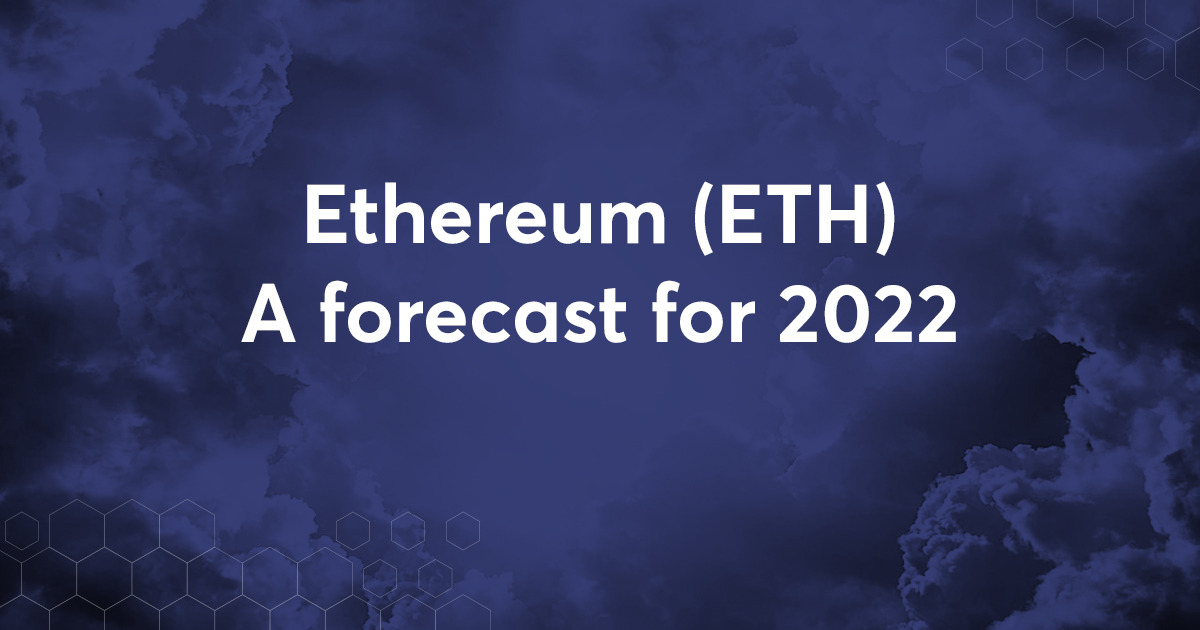 Table of Contents
What is Ethereum?
Before we dive deeper into the 2022 forecast, we first want to paint a picture of what Ethereum actually is. Most of you know Ethereum as the number two cryptocurrency behind Bitcoin BTC. In 2013, Vitalik Buterin (Ethereum's founder), published his white paper where he described Ethereum as an open-source & public blockchain-based distributed computing platform that could run smart-contracts. Easy right? Most people think about the transfer of digital assets when they think about cryptocurrency, but crypto has evolved to so much more than that. With Ethereum, Vitalik has created a decentralized computing platform. Instead of running a computer program on one PC, Ethereum runs on thousand devices simultaneously. Developers and users can run their code via a distrusted network (smart contracts). The fuel that runs the network? The coin called Ether.
The Ethereum network paves the way for smart contracts, code (a computer program) that is executed when certain conditions are met. This smart contract network on Ethereum has created the foundation on which many popular dApps (decentralized applications) have been built, including:
ERC-20 tokens (tokens that run on the Ethereum network such as Tether USDT or Chainlink LINK)
DeFi exchanges
NFT's
Blockchain based games
A lot of exciting aspects of the cryptocurrency world are happening on the Ethereum blockchain. But what are the plans for the Ethereum network in 2022?
Ethereum Price Chart
Ethereum Price History
The Ethereum price had an amazing bull run during 2017 and 2018. After that, the Ethereum price consolidated rising gradually until 2021. This year, almost all cryptocurrencies have exploded exponentially and multiple all-time-highs have been broken. Still, it is sometimes good to zoom out and take a look at the bigger picture. To put things into perspective, we will now take a look at the Ethereum price development throughout the years by comparing the all-time-high's and all-time-low's of that year.
Ethereum price 2016: Lowest - € 0,0863 / Highest - € 18,26
Ethereum price 2017: Lowest - € € 7,67 / Highest - € 701,10
Ethereum price 2018: Lowest - € 74,09 / Highest - € 1.187,08
Ethereum price 2019: Lowest - € 91,47 / Highest - € 296,59
Ethereum price 2020: Lowest - € 98,88 / Highest - € 612,10
Ethereum price 2021 (so far): Lowest – € 604,66 / Highest - € 4.192
Ethereum Roadmap 2022
The biggest dot on the horizon is of course, the full implementation of Eth2 (Ethereum 2.0). In short, Ethereum has been improving its platform by upgrading the network in small chunks over a two-year period. These smaller upgrades will continue next year. The entire Eth2 upgrade is divided into two phases:
Phase 0 The Beacon Chain (DEPLOYED): Introduced the Proof-of-Stake ecosystem.
Phase 1 The Merge: Will herald the transition from Proof-of-Work to Proof-of-Stake.
Phase 1 Shard Chains: Will divide the blockchain into multiple shard-chains, each one dedicated to one specific task.
Phase 0 was the implementation of the Beacon Chain, which focused on the implementation of a Proof-of-Stake mechanism that runs parallel to the Eth1 blockchain. This chain is primarily used to test the transition. Phase 1 will see the true transition from Proof-of-Work to Proof-of-Stake (expected in February) and will also introduce Shard Chains. Shard-chains will divide the blockchain into 64 smaller chains where each chain is dedicated to a specific thing. For example, ERC20 tokens can run within one single shard. That way, node users only need to synchronize their data with that specific node instead of the entire blockchain. Shard chains will tackle Ethereum's scalability and capacity issues.

Ethereum ETF's
During the end of 2021, Bitcoin ETF's were launched. ETF is short for Exchange Traded Fund (ETF) and can be bought and sold on traditional stock exchanges. ETF's focus on diversifying investments, instead of buying stocks individually. The first Bitcoin ETF's were approved at the end of October, resulting in the Bitcoin price reaching a new all-time-high. Furthermore, the Bitcoin ETF shattered an 18-year old record for fastest fund to reach a billion dollar in assets under management (AUM). The record was reached after just two days of trading and was reminiscent of the first gold EFT that launched in 2004.
After the initial approvals of Bitcoin ETF's, you can guess which coin is next to have its own ETF. Ethereum, of course. According to the Financial Times, many traders are positioning for the inevitable Ethereum price surge, predicting that Wall Street regulators will give the green-light in 2022. Option Pricing, a tool commonly used by investors, predict that the Ethereum price might even go as high as $15,000 by March next year, should Ethereum follow the same patterns as Bitcoin did.
Ethereum, what to expect in 2022?
With a lot of Ethers being currently staked and an average transfer fee of $46, scarcity of ETH might become a bigger issue. Apparently, 15.000 Ethers are being burnt daily to keep up with the high demand. This might become a problem, because at the moment more Ethers are being destroyed than they are created. This 'deflationary issuance' was not meant to happen until the 'Merge' of Phase 1, indicating that the Ethereum network is incredibly popular, but also heavily congested. It seems that Ethereum gas prices will remain high throughout 2022.
Anycoin Direct does not give any financial advice, nor would we ever predict what the price is going to be. We can, however, take a look at what certain experts within the market have to say regarding the upcoming Ethereum price. Raoul Pal, a former Goldman Sachs hedge fund manager, predicts that the bull cycle will not end at the end of 2021, but will continue until June. He predicts that due to this extended bull cycle BTC and ETH will have one or two sell-off points in between.
Pal also thinks that this longer cycle is due to people staking their Ethers: "Everybody is staking their ETH. It's creating this incredible supply and demand imbalance in ETH where there's only about 11% of the total ETH supply available. Everything else is locked up for this staking," Pal said.
Now let's take a look at two 'forecast agencies', bureau's that specialize in forecasting oil-, gold-, stock- and crypto prices. The Economy Forecast Agency (EFA), also known as The Long Forecast, expects the ETH price to rise during 2022 with the lowest Ethereum price at $6,151 in February and the highest possible Ethereum price at $17,701 in December. The agency called Trading Beasts, a popular crypto prediction platform, is more conservative in their forecast signaling a lowest minimum price of $3,518 and a highest possible Ethereum price of $5,614.
What about technical analysis and the most popular social media predictions? Let's take a look at some noteworthy Tweets from the last few weeks:
#Ethereum to $15,000-20,000 in Q1 2022 too.

— Michaël van de Poppe (@CryptoMichNL) October 10, 2021
#Ethereum is just getting started...

The extreme move is coming

$14,000+ pic.twitter.com/5XSYoxAJ6F

— Matthew Hyland (@Parabolic_Matt) November 1, 2021
#Ethereum will very likely hit $10,000 before the end of the year!

— The Moon (@TheMoonCarl) November 2, 2021
We can only conclude that the forecast of Ethereum is extremely bullish short-term. The end of 2021 and the start of 2022 will see a lot of institutional money entering the market. But how long will the bull cycle continue? Will there be corrections? Will we follow the same path as in 2017, with the extreme downfall of 2018 mimicking the trend? Be fearful when others are greedy is a common saying in cryptocurrency. Let's see the course that Ethereum will sail next year.
Ethereum Q2 Update
We just wanted to give you an update regarding 2022 and the current developments around Ethereum. The price of one Ethereum is currently struggling around the 3K dollar resistance level, while the first quarter of 2022 is at an end. Were the above mentioned 10K predictions to optimistic? Let's take a look.
On the 10th of November 2021, Ethereum reached an all-time high of $4,878 per ETH. Now, four months later, the price for one Ether has dropped with almost 38%, mimicking a similar path as Bitcoin (which dropped 41%). We can see that it isn't just Ethereum dropping. The general interest in cryptocurrency has been declining lately, as global pandemics, dropping markets and international conflicts have been influencing the economy. When we look at Google Trends and the general interest in Ethereum, we can see that it has slowly been dropping for a while.
Another drop is happening in the NFT market as interest in the non-fungible tokens have been declining for a few months now. The biggest NFT market out there? You guessed it, the Ethereum network. This decline in interest has caused the average Ethereum gas fee to hit a six-month low (which isn't necessarily a bad thing). So, is every market declining? A little bit. Which was to be expected after the past few bullish years (when in doubt, zoom out). But that doesn't mean that everything is doom and gloom in 2022, as Ethereum is still anticipating The Merge. An important moment for Ethereum.
Ethereum 2.0 and The Merge
The Merge, the final step of the project formally known as Ethereum 2.0, will herald the transition from Proof-of-Work to Proof-of-Stake. This is the most important moment in the history of Ethereum, as it will make Ethereum cheaper, faster, and more efficient. In short, The Merge will mean the following things:
The Merge is the final step of a multi-stage process that marks the shift to Proof-of-Stake.
Due to this switch, the energy consumption will drop with 99,9%!
The Merge will make Ethereum faster, cheaper and more secure.
Lately, the Ethereum developers have been testing and testing. Last month, the Merge was deployed on the Kiln test net. The Kiln execution layer ran on the proof-of-work network (the old one) parallel to the proof-of-stake Beacon Chain (the new one). With success! On the 15th of March, the Merge was successfully tested and the Kiln test net made the switch from proof-of-work to proof-of-stake. The Ethereum developers are now analyzing and 'rehearsing' for the real merge. Developer Tim Beiko estimates that the update could happen in July of this year. As you can see, the interest in The Merge is steadily climbing.
Ethereum price prediction 2022
The sentiment is rather bearish lately, which has caused quite a drop in the market. On the other hand, the upcoming merge marks an important upgrade to the number one smart contract platform. Let's have a look at some updated price predictions experts have made recently. Mike McGlone, an intelligence analyst at Bloomberg, is known for his extensive research paper on cryptocurrency. With the current downtrend, McGlone believes that a realistic target for Ethereum is between $4,000 and $4,500.
Henri Arslanian, Senior Advisor at PwC and keynote speaker on digital assets, doesn't want to name a specific price but still calls Ethereum 'the only show in town'. He does mention that Ethereum can only rise in price if the functionality for investors increases. A lot is depending on the upcoming Merge and the way Ethereum will function afterwards. This sentiment is shared by Ian Balina, founder of Token Metrics, saying that the price of Ethereum has the potential to go towards the $8K mark if something is done regarding Ethereum's high gas fee. With competitors gaining terrain on Ethereum, we would like to point out the importance of a successful Merge.
Ethereum prediction 2023, 2024 and 2025
Specific predictions so many years ahead are almost impossible. Still, forecast bureaus and experts try to pinpoint a price based on algorithms and technical analysis. When taking the average into account, we can give an approximate estimation based on what experts have to say. Predicted average per year:
| | |
| --- | --- |
| 2023 | $5700 per ETH. |
| 2024 | $7800 per ETH. |
| 2025 | $9500 per ETH. |
Once again, we would like to emphasize that we do not make any predictions ourselves and that most predictions do not come true, because nobody knows what developments will take place in the future and how the crypto market will react to them. Making price forecasts to the exact dollar cent is therefore unrealistic but can be used by some as an indication to make the right decision.