Elon Musk and his effect on the Crypto Economy
- 5 minute read

If you've been in the crypto sphere for quite some time, you know by now that certain prices can fluctuate enormously. At one point, you may be up 50 percent. On other days you don't even want to look at the number. But where do such big fluctuations come from? The most common factors can be found on our price pages. But lately, certain fluctuations can come from the comments and actions of one single man. In this blog, we will tell you why and in which ways Elon Musk has an impact on the crypto world.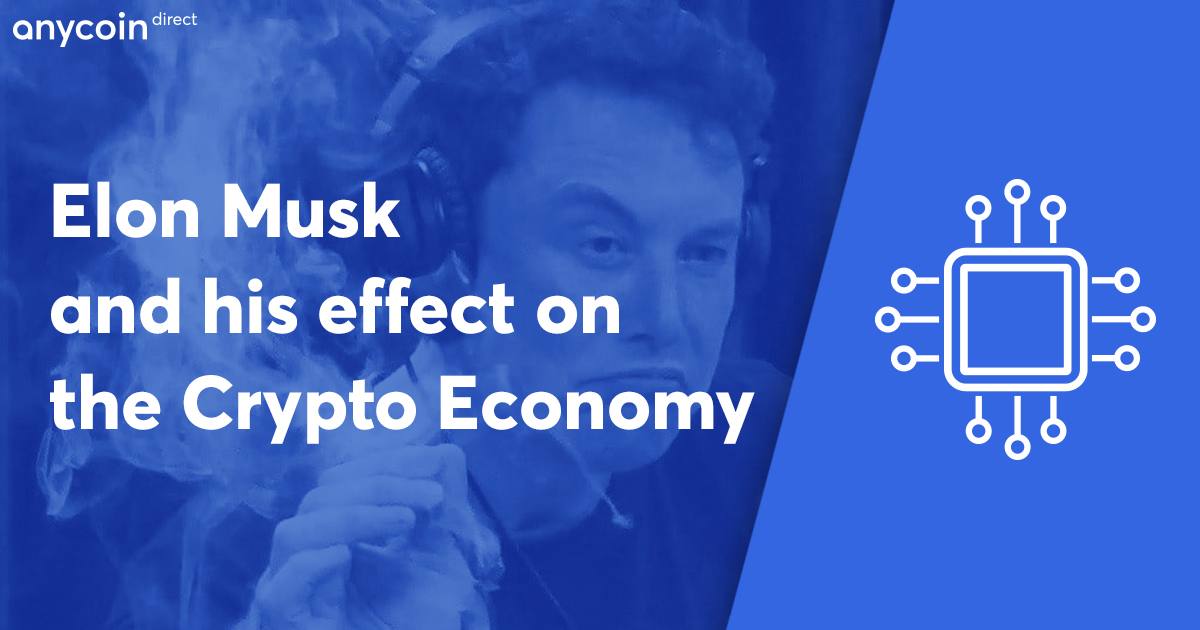 Who is Elon Musk?
CEO, entrepreneur, engineer, meme-lord and owner of his own rocket company. The chances that you haven't heard about Elon are slim to none, but we still feel that we should give some info for those who haven't. Elon Musk is the founder and CEO of Tesla Motors and SpaceX and gathered his fame by co-creating the payment company PayPal. Since 2016, Elon founded companies such as Neuralink and The Boring Company. According to the Bloonmberg's Billionaires Index, Elon Musk was the richest man on earth in January 2021. Most of his capital is through his ownership stakes in the companies he owns. On top of all these things, Elon Musk is an enormous cryptocurrency fan.
In retrospect, it was inevitable

— Elon Musk (@elonmusk) January 29, 2021
Elons effect on the Bitcoin price
The first time Elon and Bitcoin appeared together in one sentence, was back in 2017. That was because there were rumours going around that Musk might be Satoshi Nakamoto (the unknown founder of bitcoin). Reporters asked about these rumours but Elon denied every single one. In fact, he claimed not to have any Bitcoin at all. This turned out to be false because in 2018, Musk admitted that he owned 0.25BTC (worth $2,500 at the time). An insignificant amount for the richest man on the planet.
Bitcoin is my safe word

— Elon Musk (@elonmusk) December 20, 2020
In January of this year, Musk put #bitcoin in his twitter bio. The effect? A price surge of 20% How is that even possible? To say that Elon is a major influencer as the wealthiest man on earth is an understatement. With a Twitter account of more than 49 million followers, Musk has a relatively considerable impact on everything that he endorses. This new description quickly went viral, opening the floodgates for people that were eager to invest. Musk later proclaimed that he became a big fan of Bitcoin lately, even stating the following on the popular Clubhouse app:
Doge Domination
In just a short period of time, Elon has become one of the biggest BTC supporters. However, there is another cryptocurrency which Elon has has an enormous effect on, namely Dogecoin. Dogecoin is a currency, invented in 2013, with a very 'meme' image. The use of comic sans ms, the mascot, the name itself. The Dogecoin brand doesn't take itself very seriously. After an enormous dip in 2018, Dogecoin disappeared from the radar for a lot of people. Thanks to Elon the coin got a revival.
ur welcome pic.twitter.com/e2KF57KLxb

— Elon Musk (@elonmusk) February 4, 2021
During January and February, Musk tweeted about DOGE multiple times. Fantasizing whether the currency could reach the price of one dollar. The effect? At that time, the price of a dogecoin was below one dollar cent. People started buying Dogecoin on a massive scale, celebrities started tweeting about it and the currency was even on international news. Dogecoin was a hot topic and its value per coin rose to $0.08 cents, with a staggering market cap value of over seven billion, making it a top twenty currency. This even resulted in a small backlog of new registrations on our platform. Musk later stated that the tweets were 'just meant as a joke', not fully realising what impact his statements have.
Literally pic.twitter.com/XBAUqiVsPH

— Elon Musk (@elonmusk) February 24, 2021
Conclusion
Apart from Elon's tweets and statements, Musk also puts his money where his mouth is. In January 2021, Tesla invested $1.5 billion in Bitcoin, impacting the value of Bitcoin with a rise of 17%. Since his initial investment, the price has increased 60% in value. We can conclude that the Tesla CEO has a strong influence on the price of cryptocurrencies. With his tweeting, he stimulates (unconsciously) people to buy without doing research. On the other hand, Musk's crypto talk makes the subject more and more mainstream. Through his investment via Tesla in Bitcoin, he has personally contributed to BTC's market value skyrocketing by billions. And this is nothing when you consider that Elon Musk was at the start of a true revival of the coin Dogecoin. The laws of trading do not seem to work for Elon. Trends, analysis and market developments seem to be nothing compared to a simple Elon tweet. In time, we will discover whether this is a good thing or a bad development in the relatively new world of cryptocurrency.