Elon Musk and Dogecoin. What can we expect in 2022?
- 8 minute read

Elon Musk tweets and Dogecoin rises with almost 25%. Market manipulation? Or actually really great news that a company like Tesla accept DOGE for their merchandise? Even though the person of the year's (according to Time magazine) motives have been questioned before, you can't deny that real life use cases like these are good for the industry. Furthermore, last month the Dogecoin project released a roadmap highlighting eight projects they want to focus on. Is our meme coin growing up? Let's find out in today's article.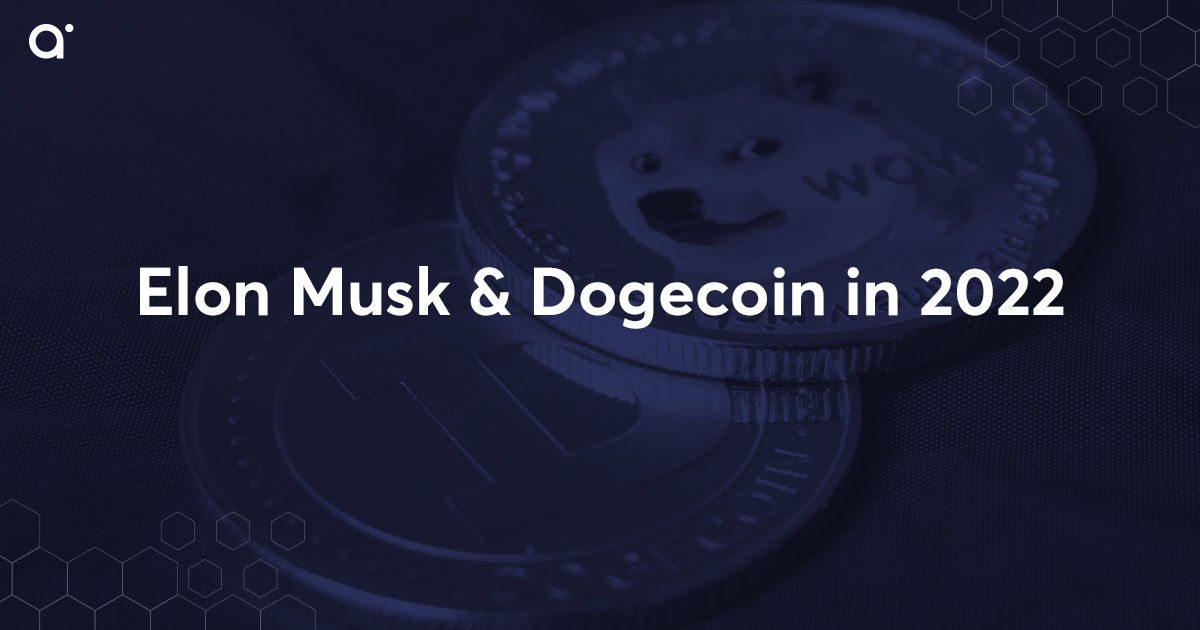 Elon Musk + Dogecoin
Some people find him an unparalleled genius, others find him incredibly annoying and too intrusive for the crypto market. Elon Musk is one of the most influential people in cryptocurrency. A mention in Saturday Night Life or the tweet of a meme, usually translates to quick pumps of 15% for DOGE. You could blame the market for taking Musk's word to seriously, but one tweet from the man can potentially set off a chain reaction of pumps and scams.
An example of this is Doge-1. Elon Musk mentioned that Space-X was going to launch a satellite around the moon. This mission was dubbed 'DOGE-1 Mission to the Moon' and was set to launch in the first quarter of 2022. It didn't take long for someone to create a Doge-1 token on the Binance Smart Chain. The token described itself as a deflationary token that dishes out rewards in DOGE. These tokens are, of course, cashing in on the hype. After Shiba Inu or Floki tokens, another Dogecoin knock off is nothing more than a quick cash grab. Billy Markus, co-creator of Dogecoin itself, warned people on Twitter regarding this Doge-1 token.
Q1 2022 Elon Musk will launch satellite Doge-1 to the moon! Doge-1 is a deflationary reward token in Doge.https://t.co/1zj84uCxGuhttps://t.co/7kLkhPsf7p#Doge #Dogecoin #Dogecointothemoon #BTC #Bitcoin #crypto #cryptocurrency #DOGE1 #Binance #BinanceSmartChain @elonmusk pic.twitter.com/61moKSWS2H

— Doge1 Mission (@Mission_Doge1) January 17, 2022
would you invest in a company that just started a day ago, makes wild promises for riches and/or future work, has nothing to show for their words, and has random anonymous people behind it?

why do people "invest" crap tokens / NFT "metaverse" projects doing this?

¯\_(ツ)_/¯

— Shibetoshi Nakamoto (@BillyM2k) January 30, 2022
Whether positive or negative, you can't deny Elon's influence on the entire crypto market. Last month he stated that Tesla will now accept Dogecoin as payment for all Tesla merchandise. Great news! With the immediate effect of DOGE climbing 14%. Tweeting McDonalds that they should accept DOGE, we are exited to see what the year will bring us further.
Dogecoin roadmap/trailmap
It's pretty clear that Musk's influence on the DOGE project is huge. But what about the currency itself? Surprisingly, Dogecoin published a roadmap in 2021 mapping the route they want to take in the future. In this roadmap they introduced eight projects they want to focus on. First off, they want to make some things clear. Dogecoin is a community driven, open-source project and they would like to have it stay that way. That is why they created a dialogue with the community in August with their Dogecoin Manifesto. Here, they tried to capture everything the community wanted out of Dogecoin. Capitalizing on the following: 'Currency of the people, for the people and by the people', something humanity could really use, to buy a coffee or pay the rent. With this set in stone, they wanted to create the first pillar of the Dogecoin manifesto.
They want a decentralized project led by shepherds instead of rulers. So instead of a roadmap (that is usually issued by a company or one entity), they envision a 'trail' on which the dogs can walk. This is the first time in eight years, that Dogecoin has published such a detailed roadmap. They want to focus on the following eight projects:
Project: Dogecoin.com makeover & Dogepedia
Project: Libdogecoin
Project: Dogecoin Standard
Project: GigaWallet
Project: Dogecoin Keyring (App / SDK)
Project: RadioDoge (Starlink + Radio nodes for remote locations)
Proposal: Community Staking (Proof of Stake)
Partnership: Point of Sale (L2 app)
The first four of these projects have some more details. First up, is a much needed re-design of the dogecoin website and the Dogecoin Wikipedia (named Dogepedia), where they will drop all frequently asked questions.
Dogecoin utility --> adoption
The second project is a bit more important. With Libdogecoin, they want to create a Dogecoin library which allows developers to create Dogecoin compliant products. This falls in the new way of Doge thinking, namely that adoption will follow after utility. They do stress that this will be a pure library, not some white-label node facility. They say that by transforming the core functionality of Dogecoin into a C library, they multiply the community's ability to innovate. Want to create a new Dogecoin Wallet in Python? Ruby? Node.js? Do it! By giving the community the key's, they diversify their product and lower the dependance on the original Core wallet.
The first part of the #Dogecoin Foundation's #trailmap is up. More to come! https://t.co/snYwhxiIge

— Dogecoin Foundation (@DogecoinFdn) December 23, 2021
Dogecoin Standard
With this library, the time has come for a long awaited event. The Dogecoin whitepaper. That's right. Dogecoin doesn't really have a whitepaper, making it incredibly difficult for new developers to create new things. Currently, you need to be either a Doge-fan from the beginning or read the entire code to actually understand how the wallet is built. The Dogecoin Standard will be derived from the Libdogecoin and will start with a Written Specification and Test Suite for the Dogecoin Core Wallet. With the Dogecoin Standard they want to focus on three aspects:
Lower the barrier for new Devs;
Create a test suite to actually test things;
Introduce DIPS (Dogecoin Improvement Proposals).
Again, Dogecoin wants to focus on diversifying by relying on their community. Which is understandable. The one thing you can't deny about DOGE is that they have an incredibly big community. By giving the reigns to them, they can innovate further they previously imagined. Dogecoin believes that utility comes from adoption and adoption comes from utility. A feedback loop.
Dogecoin Gigawallet
The first few projects focus on documentation and a test suite on which the community can build on. After documentation and testing comes a bigger step. Implementation. Currently, the creation of DOGE friendly integrations are incredibly hard. The cycle time for development is just to long, scaring a lot of people to actually use it on their website. With Gigawallet, the Dogecoin project wants to create an open source wallet that any service or platform can implement in their backend. Your own infrastructure, but with the additional power of Dogecoin transactions. This open-source initiative comes in the form of a node or API solution that can be set up in seconds, according to the project. We honestly can't wait! Dogecoin has always been something of a memecoin, but with the focus on community and actual implementation, the future for Dogecoin is actually looking bright
Want to know more about our cryptocurrency portfolio?
Check out our cryptocurrencies overview