Ten Bitcoin price predictions for 2021
- 10 minute read

Since reaching its recent all-time-high, Bitcoin has been attracting an impressive amount of media attention. People are wondering what heights Bitcoin will reach this year. The answer? No one knows. Fortunately, some experts have voiced their opinion about Bitcoin and provided a variety of price forecasts. This article shows you the 10 price predictions of 2021 based on remarkable personalities and institutions in the crypto space.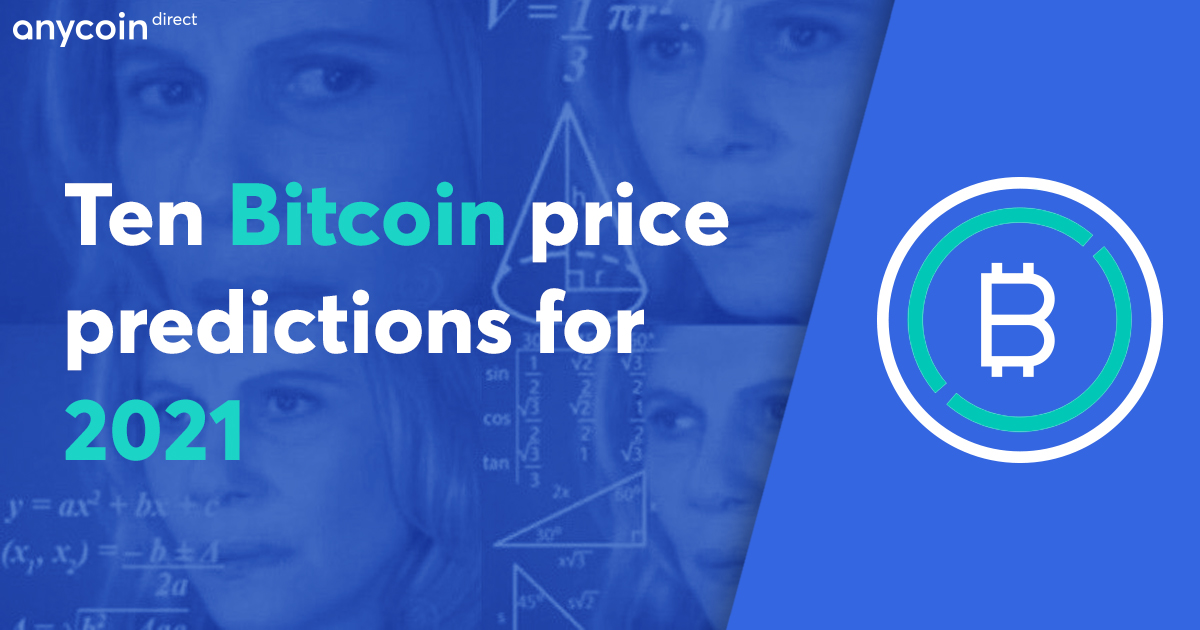 Max Keiser ($220,000)
Max Keiser is a financial analyst and well-known phenomenon regarding Bitcoin price predictions. In 2019, Kaiser predicted that by the end of 2020, one bitcoin would be worth 28k. At the end of the year, one bitcoin was worth 29k, so Max came pretty close. For 2021, Keiser's predictions are more willful. Keiser predicted that by the end of the year, the price of Bitcoin will be around $220,000.
In this interview 3 weeks ago I predicted for 2021: #Bitcoin $220,000
Gold $3,000
>>> Silver $100

"Max Keiser Reveals Bitcoin, Gold and Silver Price Forecast for 2021, After Nailing 2020 Call"

👉 https://t.co/Kv21m4ISAx pic.twitter.com/18M2T6UsoX

— Max Keiser (@maxkeiser) January 30, 2021
Mike McGlone ($50,000)
Mike McGlone is a senior commodity strategist at Bloomberg intelligence. He is also an avid analyst of Bitcoin. McGlone expects that the price of Bitcoin will continue to rise as he claims BTC is the digital gold. Furthermore, the amount of money being printed by governments will create an institutional FOMO that will push the price up even higher, according to McGlone.
Although a Bitcoin bull, his Bitcoin price prediction for 2021 is a bit conservative in comparison with other experts. He foresees the price reaching $50,000 by the end of this year. However, it should be mentioned that he is more optimistic for 2022, where McGlone foresees the price of one Bitcoin reaching $170,000.
Outlook Cryptos October; #Bitcoin on Track for $100,000 in 2025, Historical Growth Guides --
Bitcoin should continue doing what it has for most of its nascent existence, appreciating in price on the back of increasing adoption, but at a slower pace as we see it. pic.twitter.com/w9Ak3X8jTs

— Mike McGlone (@mikemcglone11) October 5, 2020
Anthony Pompalino ($225,000)
Anthony Pompalino is co-founder of Morgan Creek Digital Assets, is known to invest in early stage companies and a well-known Bitcoin enthusiastc. Pompalino based his prediction upon the fact that the Bitcoin supply is limited (21,000,000 to be precise) but demand for it is skyrocketing. Near zero interest rates from banks and Wall Street's growing enthusiasm for digital assets, also play a significant part in boosting Bitcoin's price. This is why Pompalino's Bitcoins price forecast for the end of 2021 is no less than $225,000.
Bitcoin is a 10x improvement on gold.

We will one day see a $1M Bitcoin price, which is only 2x the gold market cap.

Everyone is underestimating Bitcoin's potential. I explain with @MelissaLeeCNBC & @CNBCFastMoney pic.twitter.com/fTEE4NZq9a

— Pomp 🌪 (@APompliano) January 7, 2021
PlanB ($288,000)
PLanB, who wishes to remain anonymous, is an institutional investor and the creator of the Bitcoin Stock-to-Flow valuation model. The popular Stock-to-Flow model estimates the future price of Bitcoin by factoring in existing supply and new supply.
Using this model, PlanB forecasts that the price of Bitcoin will be between $100,000 and $288,000 in 2021. Since PlanB expects a spectacular 2021, he assumes the more bullish scenario of the two.
#Bitcoin Stock-to-Flow model on track .. like clockwork🚀 pic.twitter.com/x7o8mwbzj7

— PlanB (@100trillionUSD) January 7, 2021
Dan Morehead ($115,212)
Dan Morehead is Founder and CEO of Pandera Capital, a blockchain investment fund. He predicts that Bitcoin will be worth $115,212 by 2021. Morehead bases his prediction on Bitcoin's historical price movements while looking at the Stock-to-Flow model. He also refers to the compound annual growth rate (CAGR), which for Bitcoin is 215%. CAGR is the rate of return that would be required for an investment to grow from its initial balance to its final balance, assuming that the profit is reinvested at the end of each year of the investment's lifespan. To conclude, Morehead noted that unlike other financial assets, Bitcoin has the ability to grow in an economic crisis.
Bitcoin now three weeks ahead of our April forecast schedule -- to hit $115k this summer.#bitcoin surpassed $1 trillion market cap 🚀

More in our current investor letter: https://t.co/YEb6zfTb2N pic.twitter.com/QoqVThO6rJ

— Dan Morehead (@dan_pantera) February 19, 2021
Ben Armstrong A.K.A. BitBoyCrypto (360,000)
Ben Armstrong, primarily known for his Youtube channel BitBoy Crypto, is a Youtube, crypto enthusiast and founder of BitBoyCrypto. Over the past months, he has become one of the leading crypto YouTube channels (391K subscribers as of writing).
Armstrong bases his prediction on three numbers. First, he based it on the Stock-to-Flow model which roughly indicates $290,000. Secondly, he uses the CITI prediction which indicates $318,000. For the final figure Armstrong looks at $360,000. It represents the previous all-time high of Bitcoin times eigteen. Why the number eighteen? The bull run in 2017 saw Bitcoin increase in value by eighteen in comparison to its previous all-time high. These three numbers combined result in Armstrong predicting a $322,000 Bitcoin by the end of 2021.
If you think I have haters now, wait until 2022

— ₿it₿oy (@Bitboy_Crypto) March 8, 2021
Winklevoss Twins ($500,000)
The Winklevoss twins own the well-known cryptocurrency exchange called Gemini. in 2017, the twins have been named the first Bitcoin billionaires. Being early adaptors, they invested eleven million dollars in Bitcoin during 2013. this has risen more than 40,000 percent up to the present day. These true masters of Bitcoin dare to make a price prediction of $500,000 per Bitcoin by the end of the year.
#bitcoin is life

— Tyler Winklevoss (@tyler) March 6, 2021
JPMorgan ($146,000)
JP Morgan is America's largest bank and the world's number seven bank in terms of assets. Their CEO, Jamie Dimon has been an outspoken Bitcoin opponent for years and even called cryptocurrency a fraud. However, JPMorgan's analysts and investors have a very different opinion. They alerted Dimon that Bitcoin is not something to be ignored, as a price rise of up to $146,000 is projected.
Round-up
Many high-profile figures in the crypto-space have varying expectations when it comes to the Bitcoin price in 2021, each more spectacular than the other. It should be mentioned though that most of these people would benefit from a rising price themselves, and therefore their views should be met with a healthy dose of skepticism. Who knows that the future brings? We will just have to wait and see.
Important:
Anycoin Direct does not provide investment nor financial advice, these are price predictions by experts. As always, do your own research!