The Third Bitcoin Halving - One week later
- 5 minute read

Last week on the 11th of May, the third Bitcoin Halving took place. With this third halving, the mining reward went from 12.5 BTC per block to 6.25 BTC per block. In today's article we will glimpse back at this long awaited event as we took a look at the ripples the halving has caused. For those who are unaware of the third halving, a previously written article can be read here .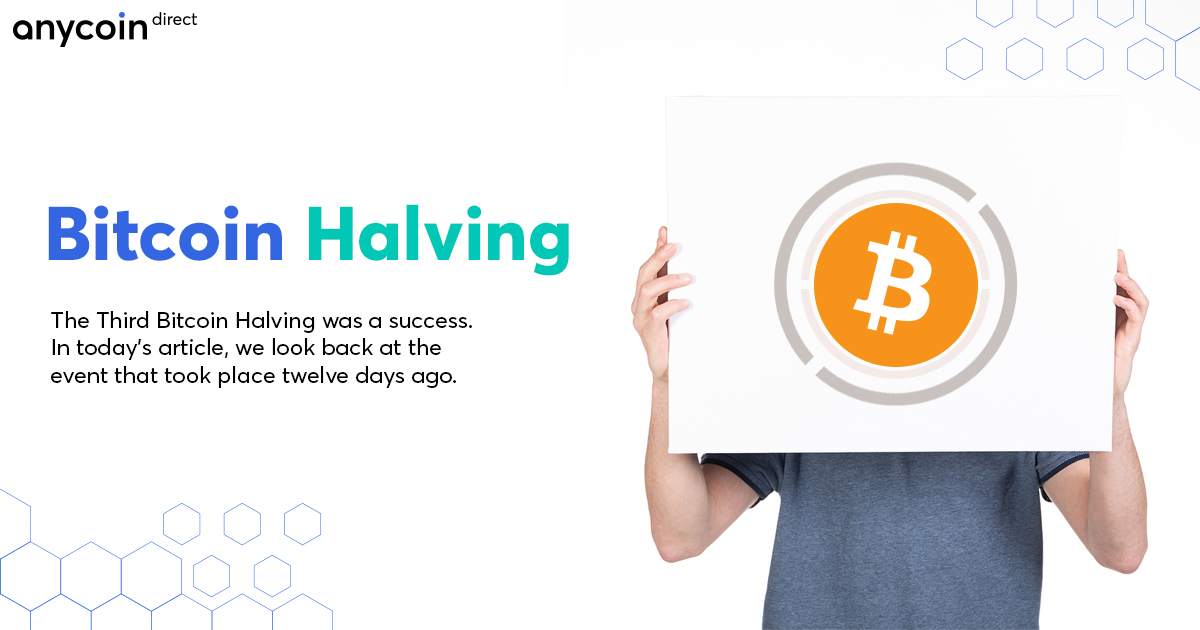 The hidden message
On 21:23 block 629.999 was mined, reducing the block reward with 50%. The block was mined by a company called f2pool, a mining pool that has been active since 2013. What's more interesting, is the fact that f2pool left a hidden message in the coinbase data string* stating the following:
R🐟NYTimes 09/Apr/2020 With $2.3T Injection, Fed's Plan Far Exceeds 2008 Rescue
The message points directly to a New York Times article written in April this year, quoting the American Federal Reserve saying they could pump €2.3 trillion dollars into the American economy. This hidden message and article is a clear reference to Satoshi's original message in the very first Bitcoin block where he also directed to an article:
The Times 03/Jan/2009 Chancellor on brink of second bailout for banks.
The interest in Bitcoin
It seems that the interest in Bitcoin has not slowed down. During the writing of this article (20-05) the price has risen with almost 11% since the third halving, twelve days ago. As a matter of fact, data published by Cointelegraph Markets and Arcane Research reveals that the demand for Bitcoin continues to rise. This is showcased by not only the increasing volume, but also the increasing usage of Bitcoin ATM's with 90%. The open interest in CME Bitcoin futures were also increased with 1000% (since the start of May) according to the report. This of course all relative as it has only been twelve days since the third Bitcoin halving. We will do a follow up in the near future to see what the true effects where.
*Blockchain messages
There are multiple ways of placing an embedded message in the blockchain. We will write an article regarding these messages in the nearby future!
Want to learn more about Bitcoin?
Read all you need to know in our 'What is Bitcoin?' info page!