What is Zilliqa and where did the price breakout come from?
- 5 minute read

The price of Zilliqa suddenly increased  by around 160% last weekend, allowing the coin to reach the top 80 in Coinmarketcap. In particular, the Metapolis launch and collaboration with Agora are the main reasons. What is Zilliqa and what do the updates mean for Zilliqa's native token, ZIL?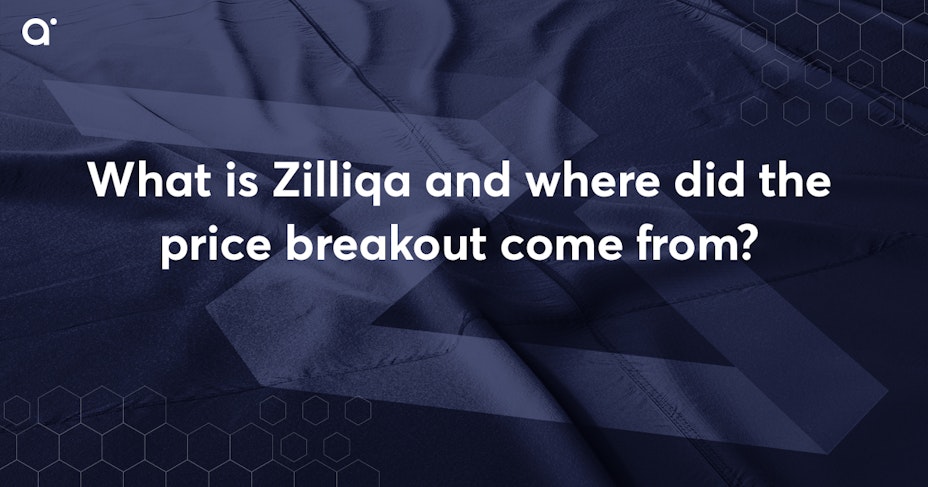 Table of Contents
What is Zilliqa?  
Zilliqa is in 2017 introduced as a public blockchain and is developed by academics, entrepreneurs and engineers at the National University of Singapore. The blockchain is active in the finance, digital advertising and gaming industries. Zilliqa was introduced to the public as an Initial Coin Offering (ICO) in December 2017. This means that through a token sale, Zilliqa offered their coins to the general public, for which they received funding in exchange for ZIL coins. The ICO lasted a week and they managed to raise $22 million.   
What makes Zilliqa unique is that they want to create scalability and speed through sharding. Sharding makes it possible for 'nodes' to perform transactions in a parallel way. As a result, the network can perform more transactions per second. With sharding, a minimum of 600 nodes are combined as one shard. Each shard performs a small piece of the transaction and is also called a microblock. The microblocks are then joined together as one block on the blockchain. A shard must have a minimum of 600 nodes to guarantee the security of the network. All in all, sharding ensures scalability, privacy and decentralisation. The network can handle 2500 transactions per second based on 6 shards. That is way more than Bitcoin (7 transactions per second) and Ethereum (15 transactions per second).  
The second unique feature of Zilliqa is Scilla. Scilla is a proprietary programming language that enables the creation of smart contracts. A smart contract arranges and concludes agreements between parties without the intervention of third parties.  
How does the Zilliqa coin work?  
The coin that is linked to the Zilliqa blockchain is Zilling, but the abbreviation ZIL is actually always used. ZIL is used as a 'gas' to carry out transactions on the Zilliqa blockchain. This is done by the Proof-of-Stake algorithm. This means that users act as nodes. They do this by making their ZIL coins available for a longer period of time to keep the network running. As a reward they get paid in ZIL coins.  
To be able to act as a node you first have to be added to the network. This is done by the Consensus Proof-of-Work-BFT mechanism. With the Proof-of-Work mechanism companies or individuals provide their computer power to help the network solve complicated formulas. As a reward, the so-called 'miners' receive ZIL. BFT (Byzantine Fault Tolerant), on the other hand, is there to protect the network from dubious computers that want to take over the network and keep them out. Once you have gone through the Proof-of-Work mechanism once, you are added to the network.  
Zilliqa Price  
Why did Zilliqa coin increase in price?  
On 26 March 2022, the value suddenly began to rise sharply. There are two possible explanations why the value managed to increase by 160% per ZIL coin in just two days.  
Metapolis  
It is expected that the price rose due to the announcement of the launch of Metapolis, making Zilliqa the first low-1 protocol to launch a metaverse platform. Metapolis is XR metaverse, which is a composite of AR and VR and is powered by Zilliqa's blockchain. Metapolis will be an online network where artists, brands and companies can create an online world by creating games, e-stores and real estate within an online and decentralised environment. The network is self-sufficient and allows for the creation of NFTs, but can also be used to create play-to-earn games and for advertising purposes. Zilliqa will reveal more about the project on the second of April.  
Agora  
Besides Metapolis, it has been announced that Zilliqa is going to collaborate with Agora . They plan to host Agora NFT World Festival in Metapolis. Agora is an NFT marketplace, where you can view digital artworks and where you can invest in digital artworks.  
Conclusion  
The price explosion was mainly caused by the coverage of Metapolis and the collaboration with Agora. A few days later you can see that the price is consolidating which means that investors are selling part of their ZIL coins. This could possibly create a short-lived "FUD", or doubt among investors which could cause the price to fall further. What the updates will do to the price of Zilliqa in the long term will depend, among other things, on the information that Zilliqa will release on the second of April.