The Metaverse – Buying digital land through NFT's
- 5 minute read

We already highlighted that NFT's are hot in 2021 and even showcased the most unique examples that have entered the market. The non-fungible art pieces are the talk of the town inside the crypto-scene (and even beyond that). But in the past week, it wasn't art or music that performed the best on the NFT marketplaces. They all got outpaced by the sales of digital land. Today we are going to take a closer look at the Metaverse and the rise of certain sandbox games.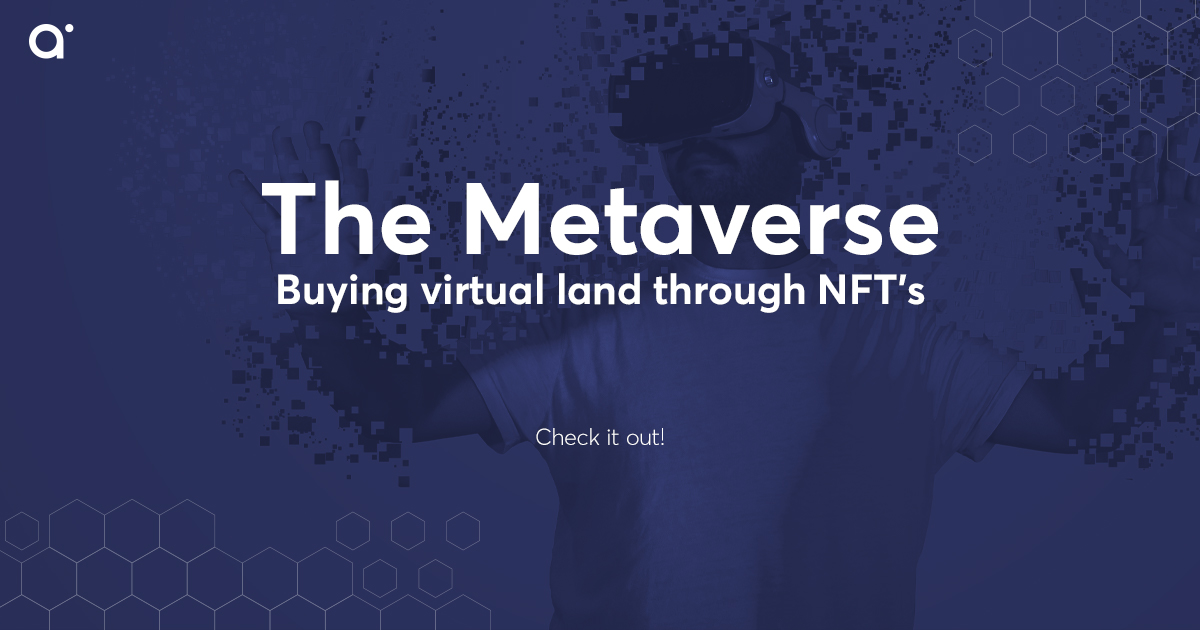 What is the Metaverse? From Roblox to Facebook
You probably know someone that play's Fortnite or Roblox. In these games, millions of people spend countless hours in a virtual world. They, of course, play the game but in addition also hang out and communicate with each other. They want to have the latest weapons and collect the latest skins. An online world that runs 24/7 parallel to ours. Enter Mark Zuckerberg, the CEO of Facebook who has just announced that the company behind Facebook is rebranding itself to 'Meta'. In his presentation, Zuckerberg mentioned the Metaverse, a digital world where people could interact with each other in virtual reality. Meet in online lobbies, play games and just hang out with likeminded people. A few years ago this would have sound ridiculous and farfetched, but with the pandemic going on for multiple years our perspective on things have changed. People couldn't imagine classes or meetings through Zoom either. The Metaverse is essentially the new version of 'cyberspace'. Remember the novel (and movie) Ready Player One? According to Zuckerberg that fantasy could become a reality.
Microsoft Teams enters the metaverse race with 3D avatars and immersive meetingshttps://t.co/gGt2g3FQqq pic.twitter.com/V6Z1EIXbsT

— The Verge (@verge) November 2, 2021
But these examples are run by companies that make billions of dollars. It goes without saying that Mark Zuckerberg wants to be the facilitator of this brand new virtual world. But the Metaverse is not solely owned by Facebook (Meta) or by the creators of Fortnite. At this early stage, multiple companies are creating their own 'Metaverse'. Two of these are becoming more and more popular. In these two worlds rules are set in place by the blockchain and items are set up through NFT's. In these collaborative worlds, you could really own an item or you could really own a piece of (digital) land. I'm talking about the Metaverse games called The Sandbox and Decentraland.
The #SandboxAlpha is LIVE!

Create your Avatar, Download the Game & Enter the #Metaverse! 👑

Discover experiences and #Play2Earn 1,000 $SAND + 3 #NFTs! 🎮

👉 https://t.co/Tgvzakp0NH 👈 pic.twitter.com/oSAEaJwWb9

— The Sandbox (@TheSandboxGame) November 30, 2021
Owning (virtual) land
SAND and MANA, you must have heard about these two crypto's recently due to their rapid risings in the charts. These two coins and their respective projects have been growing enormously in the last six months. These two tokens are connected to two projects named The Sandbox and Decentraland. In these two Metaverses you are able to play, build, own and monetize….well actually anything (virtual). Remember Second Life? Well, this kind of the same but with blockchain technology underlying the world. But does the popularity stem from the world mechanics or is it due to the currencies, virtual land and NFT's. Only time will tell, but in the last few months it has become extremely popular. How popular is it you might ask? Let's take a look at these examples:
Republic Realm, a company based in New York, has spent approximately 4.3 million dollars on a patch of digital land in The Sandbox.
Tokens.com, a Canadian crypto company, purchased a digital lot for 2.4 million dollars in Decentraland.
One player of the game Axie Infinity bought an in-game plot of land. He purchased the land NFT for 550 ether, which at the time translated to 2.3 million dollars.
One player of the game Axie Infinity, purchased nine land NFT's in February, for the collective sum of 888.25 ether which at the time translated to 1.5 million dollars.
As you can see, digital land is very hot at the moment. As a matter of fact, virtual land outsold any other type of NFT according to Nonfungible, a data analysis platform solely dedicated to NFT data. We are very curious how big this phenomenon is going to become. That is why we will be diving deeper into the Metaverse in future articles. Keep an eye out to our channels and don't mis our following piece regarding these new interesting worlds.