Buying real estate in the Metaverse
- 6 minute read

We previously talked about buying digital land. But what's the next step when your patch of land is al set up? You build a house obviously! All jokes aside, the Metaverse has been under a lot of criticism lately. With Zuckerberg's Meta stocks diving and a lot of skepticism towards the Metaverse in general, certain numbers do not lie. The interest in digital plots and digital property keeps growing. Is this a pipe dream waiting to pop, or is this quickly becoming a race to the top. In today's article we want to show the two sides of the spectrum. Let's break it down.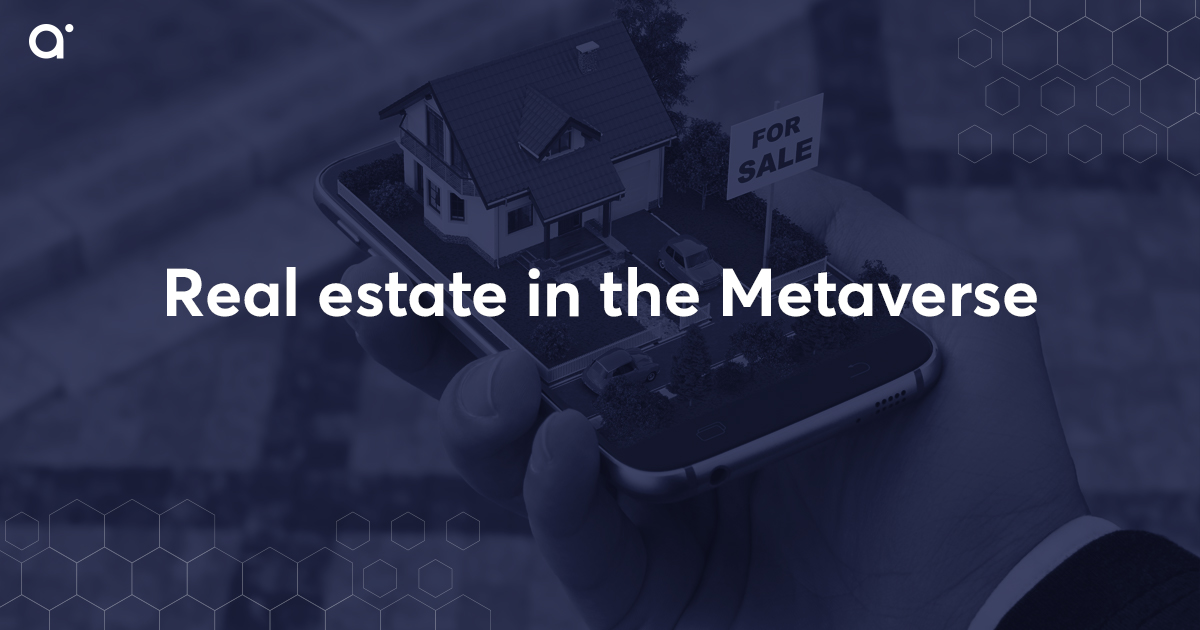 Why the Metaverse will succeed
Although it sounds futuristic, the Metaverse is already kinda here. Games like Second Life and Roblox have been popular for almost twenty years. Virtual Reality is not exactly new and is improving and upgrading every year. Due to the pandemic, we have been doing our meetings virtually through Zoom and Teams, customizing our backgrounds or using avatars. The building blocks for a Metaverse are already there, we just haven't fitted them together.
But who will facilitate this brand new reality. Will it be Facebook's Meta, or will it be the crypto centric worlds of Decentraland and Sandbox? Currently, Decentraland is the biggest Metaverse where users can already buy and sell digital land and digital real estate. In addition, you can talk to other people and play games together. The project began in 2015 and immediately gathered 26 million dollars through an ICO. Meanwhile, these projects are booming! In one of our previous articles we detailed some highlights of previous year:
Republic Realm, a company based in New York, has spent approximately 4.3 million dollars on a patch of digital land in The Sandbox.
Tokens.com, a Canadian crypto company, purchased a digital lot for 2.4 million dollars in Decentraland.
One player of the game Axie Infinity bought an in-game plot of land. He purchased the land NFT for 550 ether, which at the time translated to 2.3 million dollars.
One player of the game Axie Infinity, purchased nine land NFT's in February, for the collective sum of 888.25 ether which at the time translated to 1.5 million dollars.
This is just for the digital land. Now it is time to build and interact. According to a latest Bloomberg report, interest in digital real estate keeps on growing, even outside of the crypto sphere. Matter of fact, there are talks of digital real estate REIT's. REIT stands for Real Estate Investment Trust. These are companies that own and finance real estate across all kinds property sectors. The latest sector they are currently investigating? The digital version of course. These listings would go public this year or the next. In the same Bloomberg report, they predicted that the Metaverse market would become the next tech market. The following graph showcases this success with the following four metrics: Social media ads, Gaming AR and VR, Live Entertainment and Gaming Software and services.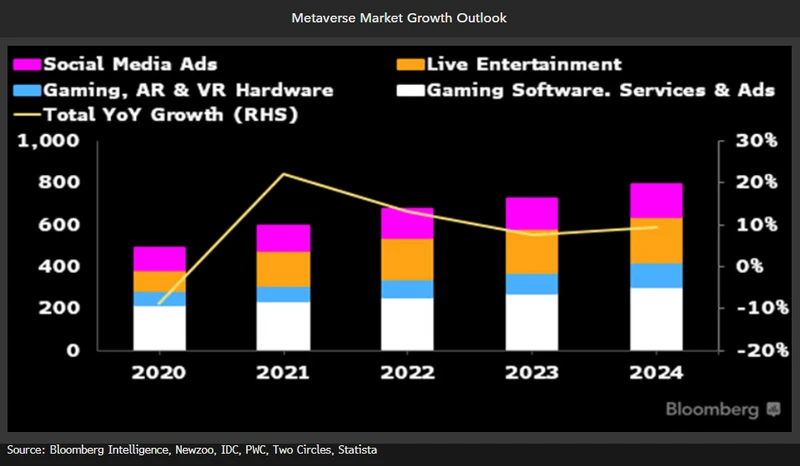 Celebrities are also noticing this trend. Sandbox has announced a collaboration with rapper Snoop Dogg to build a Sandbox mansion and Paris Hilton will DJ an upcoming event called the Metaverse Festival. Now some of you might be thinking: isn't this all a bit ridiculous? Digital land? Digital buildings? Why is so much many put into this? Even though there are reports indicating that the Metaverse is the next big thing, public sentiment is quite as positive. Let's take a look at some reasons why the Metaverse will fail.
This is how Walmart envisions Shopping in the #Metaverse.

Thoughts? 💭 pic.twitter.com/5l7KhoBse7

— Homo Digitalis (@DigitalisHomo) January 3, 2022
Why the Metaverse will fail
Lawsuits over data usage, a failed cryptocurrency project and a 32% drop in shares. Meta (formerly known as Facebook) is not doing so great and is now going all in on the Metaverse (hence the rebranding). The Metaverse MUST succeed for Zuckerberg's declining behemoth, as his empire is currently depending on it. Two metrics that are being used for Metaverse's success are the increasing profits in gaming and people working at home these last few years. But this is mostly due to the pandemic. Who knows how digital meetings will develop now that numbers are dwindling down. A lot of studies have shown that people being isolated has caused a lot of mental health issues.
Marketoonist on the metaverse hype cycle@marketoonist @tomfishburne pic.twitter.com/DS7ScQ5xOu

— Marketing Week (@MarketingWeekEd) February 16, 2022
Bloomberg is also citing a 800 billion market opportunity for the Metaverse, but this is based on the already popular Roblox. Let's not forget that VR has been around for quite some time but that sales of VR products have been declining since 2018. Finicky controls, people getting headaches, the VR equipment certainly has some issues. In addition, the social sentiment around the Metaverse are not positive. The super bowl commercial of Meta itself was greeted with laughter and projects like 'Cryptoland' have been met with cringe inducing reactions. Does the future look bright? Or does the future look like this: