Q&A with our Support Team
- 5 minute read

One of the most important parts of our platform is one we are very proud of: our Support team. They are on standby 7 days a week to answer any question. But what happens on an average day in our support department? What kind of questions do they get? In this article, we ask Team Coach Xander to give a glimpse of his routine.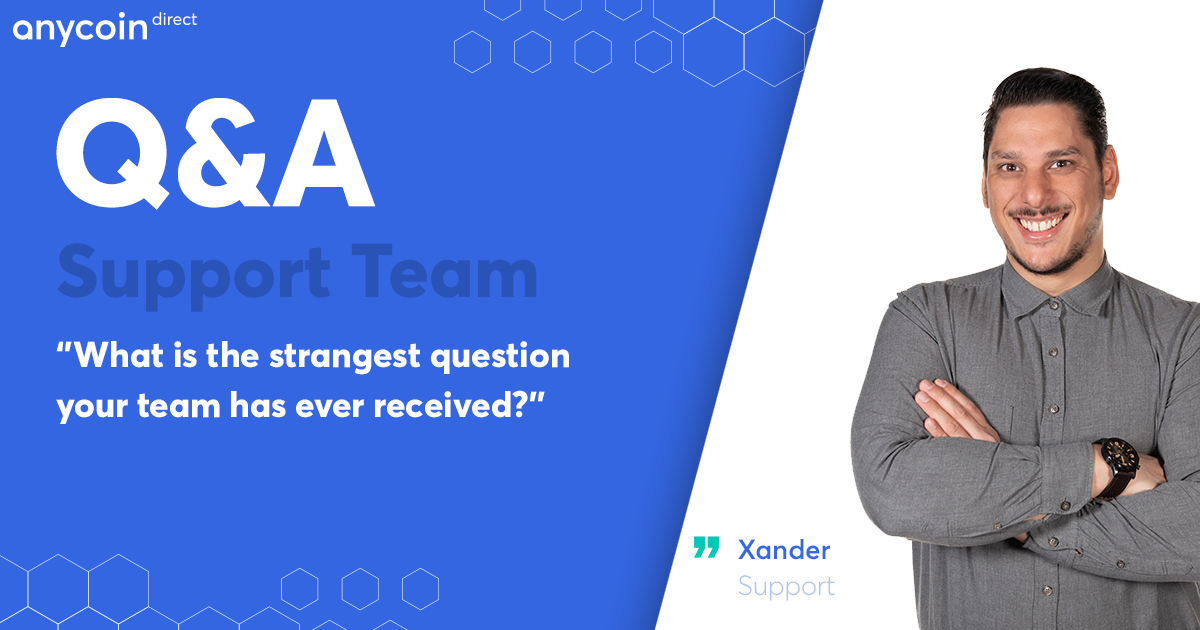 Can you tell us something about the agents in your team?
Xander: Our core team, including myself, had very little knowledge about what cryptocurrency is and how it works when we started. That's why for the past few years, Anycoin Direct has provided various courses in collaboration with other departments. For example, our Marketing team has helped us learn about various cryptocurrencies, wallets, network changes, etc.
We also do our best to have a very open feedback environment. A lot of changes to our website or procedures are ideas from our agents because they are the ones who have to work with it the most. We think that having a very open culture like this gives the feeling that everyone is treated equally and respectfully and to me, that's a big part of why it's fun to work at Anycoin Direct.
In one of our past blogs, we talked about common scams in the crypto industry. Can you tell us how Anycoin Direct tries to prevent scams?
Xander: There are indeed several scams we know of. To combat this, we have set a few security checks on our website. For example, if an order matches certain criteria, we might give our customers a call to ask a few questions just to make sure that everything is okay. Next to that, we have a pretty strict verification procedure that has been set up to counter identity theft to the best of our ability.
How do you deal with rapidly changing legislation and regulations in the Support department?
Xander: Our Compliance department is on top of these changes and if it affects the way we do our support, they often come by with training or presentation. For example, they have taught us about financial legislation, how to detect and counter fraud, and so on. We believe that having a strong co-operation within the company is essential to our core business.
What kind of questions do you get the most?
Xander: Our focus is to help people get started with cryptocurrency, so often we get asked 'What is a coin address?' Or 'How can I sell my coins?'
And what is the strangest question the department has ever received?
Xander: Allow me to answer that with a part of the conversation:
Customer: How can I sell a cryptocurrency?
Anycoin Direct: Well, may we ask which coin you would like to sell and which wallet you use to store them?
Customer: I don't have coins but I want to sell them.
Anycoin Direct: You do need to have coins before you can sell them though.
Customer: You don't want to help me
That was a very interesting conversation.
And the funniest one?
Xander: ''Can you make bitcoin go to the moon please?''
How come there are no waiting times for the live chat?
Xander: Well, there are occasions where we do have a waiting line for the live chat. What we learned over the years is that how busy it is for us, is often linked to how the market is doing. If there are big changes in the market, be it new updates or a drastic change in the price, our support line is automatically busier. But our team does work very hard to address every customer as fast as possible with up to a maximum of 5 chats per agent at a time.
Want to learn more about Dogecoin?
Read all you need to know in our 'What is Dogecoin?' info page!