Bitcoin (BTC) – A prediction for 2022
- 10 minute read

The last few weeks have been tough for Bitcoin holders. Where some anticipated Plan B's 98k prediction, the actual results were a bit less bombastic. 2.5 billion dollars was liquidated and Bitcoin dropped (with 22%) to the 41k mark, erasing the progress it made since September. Some people didn't want to open their portfolio, others were happy to buy the dip. With Bitcoin dancing around the 45/50K mark, one question is on top of everyone's mind: What can we expect in 2022?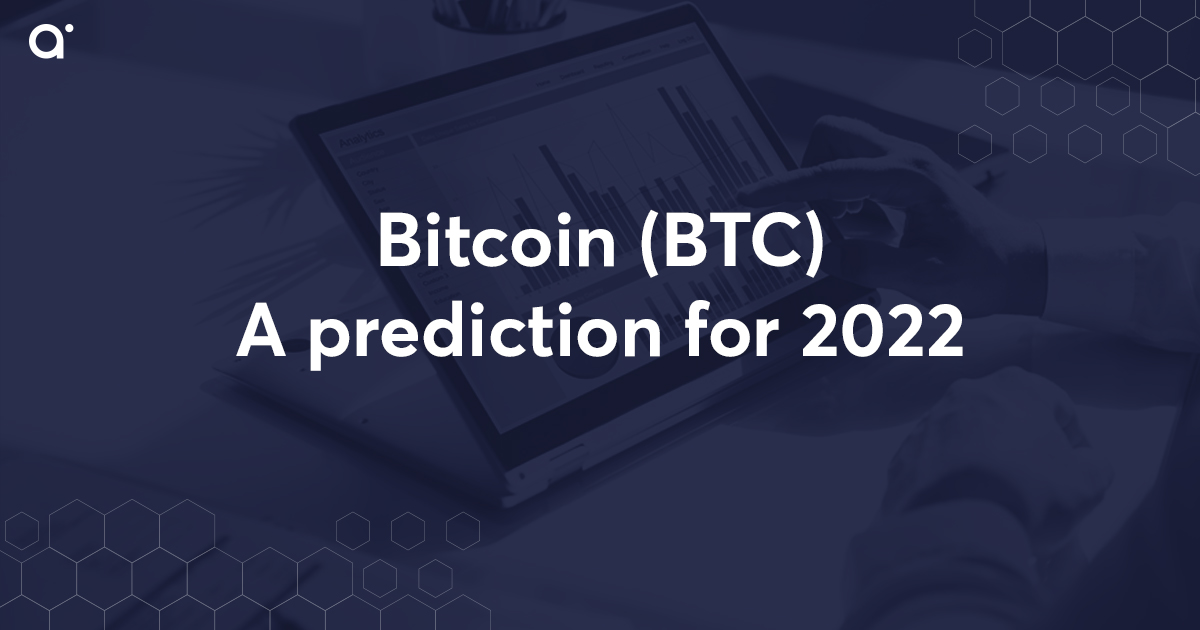 Table of Contents
What is Bitcoin?
Alright, this question seems to be a bit redundant but let's give a quick overview for those who are just dipping their toes into the crypto market. Bitcoin is a decentralized (digital) currency that was created by Satoshi Nakamoto in 2009. This new financial ecosystem is created and distributed via the use of a blockchain, a decentralized ledger database. Simply put, Bitcoin is a peer-to-peer electronic cash system (Satoshi's own words). Due to it being 'decentralized', no third party or bank is involved behind the scenes. All transactions are verified and secured by the people that run the network on their devices, making it direct and borderless. A financial ecosystem by the people, for the people.
We could go on and on about Bitcoin, but we just wanted to paint a picture to set the stage for this article. Regarding Bitcoin, the key takeaways are:
Bitcoin is the first crypto and is also the largest in terms of market capitalization;
Bitcoin's all-time-high was $69,044 on the 10th of November 2021;
Cryptocurrencies (and therefore Bitcoin) are known for their volatility and go through multiple cycles of 'boom and bust';
Bitcoin is also known for its use of the blockchain, a decentralized distributed database (ledger) that runs on a network of devices (computers).
Bitcoin got into the spotlight due to its constant price developments. The price of Bitcoin has been on a rollercoaster since its inception. After all, a commodity that went from $1 in 2011 to 69K in November 2021, gathers some attention in the long run. Even though Bitcoin is not tangible, it is rated so highly due to supply and demand, cost of production and scarcity. In November 2021, Bitcoin had a total market cap of 1.11 trillion dollars, a staggering amount, considering that Bitcoin is still in its early days of adoption and implementation.
$50K-60K #bitcoin since March, patience is key pic.twitter.com/I3rfFMPEI3

— PlanB (@100trillionUSD) December 12, 2021
Bitcoin Price Chart
Bitcoin Price History
The price of Bitcoin is the most discussed topic of cryptocurrency. People that know nothing about cryptocurrency have been confronted with headlines like 'Bitcoin reaches new all-time high', but also with headlines such as 'Bitcoin price crashes'. This extreme volatility is what makes Bitcoin a much-debated commodity. But did you know that until 2013 (two years after its inception), Bitcoin had not risen above $25? In that same year, Bitcoin reached a price of $1000. From $25 to $1000 in the span of just one year. This type of market development was unseen and it didn't take long for the snowball effect to kick in. Obtaining Bitcoin got a lot easier (Anycoin Direct was created in 2013) and media attention started to follow.
The breakthrough year for BTC was 2013 when the price went from 13 dollars to 1200 dollars. Word of mouth got around and the possibilities to purchase and store Bitcoin got a lot easier. Bitcoin became popular amongst nerds and early investors. The year that followed was also important for Bitcoin, as Bitcoin experienced its first major crash. Due to the bankruptcy of Mt.Gox, Bitcoin dropped from 1241 dollars to 91 dollars. The extreme volatile swings would later become a known aspect of the crypto market and launched terms like 'HODL' into existence. It would not be the last crash for Bitcoin.
Things started getting big in 2017, when an enormous influx of buyers, institutional money and media, transformed Bitcoin from a nerdy niche hobby to a financial phenomenon. The price went from 707 dollars to almost 17K. Crypto brokers and exchanges couldn't handle the traffic and all-time high after all-time high broke the headlines. This is the year that Bitcoin became mainstream and just like its breakthrough year in 2013, it flew too quickly to the top. From its highest point in 2017 to its lowest point in 2018, BTC dropped from 16K back to almost 3K. Again, these cycles of boom and bust were starting to define cryptocurrency and became an important aspect of people's investment strategy.
Bitcoin throughout the years:
BTC price 2011: Lowest - € 0,3 / Highest - € 31,9
BTC price 2012: Lowest - € 3,9 / Highest - € 15,4
BTC price 2013: Lowest - € 13,2 / Highest - € 1.241
BTC price 2014: Lowest - € 91,7 / Highest - € 1.093
BTC price 2015: Lowest - € 135,85 / Highest - € 426,79
BTC price 2016: Lowest - € 314,69/ Highest - € 937,90
BTC price 2017: Lowest - € 707,06 / Highest - € 16.727
BTC price 2018: Lowest - € 2.775 / Highest - € 15.249
BTC price 2019: Lowest - € 2.928 / Highest - € 12.223
BTC price 2020: Lowest - € 5.409 / Highest - € 23.445
BTC price 2021: (so far): Lowest - €23.758/ Highest - € 59.716
Bitcoin, what to expect in 2022?
Unfortunately, there are no upgrades or developments planned for Bitcoin in 2022. Bitcoin isn't run like currencies such as Ethereum and Cardano, with an almost company-like board deciding the roadmap. This makes Bitcoin more decentralized, but also makes it slower in regards to upgrades. Therefore, we need to look at what experts say and focus on the economical expectations of 2022.
Global inflation
Even though Bitcoin dropped quite a bit and PlanB's model was demoted to PlanC, the outlook on Bitcoin is still extremely positive. Bitcoin ETF's got approved in 2021, meaning that the U.S financial regulators do not oppose Bitcoin in comparison to China's ban. With inflation rising and Bitcoin's limited supply (against fiat's unlimited supply), companies, institutions and investors are heavily interested in Bitcoin. Mike McGlone, an analyst at Bloomberg Intelligence, dives deeper into this subject in the recently published Crypto Outlook 2022. In this outlook (published by Bloomberg Intelligence), McGlone details the current situation in America:
McGlone says that the revolutionary developments around NFT's and stablecoins will cause the US public to further embrace cryptocurrency in 2022. According to his analysis, the current dip is not the end of the bull market, but rather part of a 'consolidating bull market'. Bitcoin 'surviving' issues regarding China and energy consumption are seen as bullish and according to McGlone it is not a question if Bitcoin will reach $100k, but when Bitcoin will reach $100K. He mentions that the $40K mark is seen as 'good support' and $70K as 'initial resistance'.
$100,000 #Bitcoin, $50 #Oil, $2,000 #Gold? 2022 Outlook in 5 Charts - Peaking commodities and the declining yield on the Treasury long bond point to risks of reviving deflationary forces in 2022, with positive ramifications on Bitcoin and gold. pic.twitter.com/j3VNAOCwuz

— Mike McGlone (@mikemcglone11) December 9, 2021
"Bitcoin appears to be on a trajectory for $100,000 … A paused, corrected and refreshed bull market is how we see bitcoin approaching 2022… We see it as more of a question of time, notably due to the economic basics of increasing demand vs. decreasing supply." McGlone said
It seems that Bitcoin is on everyone's radar in 2022, especially investment portfolios. According to a survey conducted by Natixis Investments, 28% of the larger enterprises in the USA have increased their crypto exposure. Visa, the largest credit card company in the world, has stated that "every bank should have a crypto strategy in 2022." With Bitcoin ETF's up and running, more companies are adding Bitcoin and crypto to their balance sheets. An example of this is Tesla, which holds Bitcoin as part of their investment strategy, forcing the American IRS to openly discuss frameworks for such constructions.
The 100K price prediction gets mentioned a lot. Some predict BTC might reach 100K in 2023 or later, some mention 2022. Jurrien Timmer, director at Fidelity Investments states that the $100.000 threshold is in sight. Kiana Danial, the author of the book Cryptocurrency Investing For Dummies, expects volatility short term but growth long-term where again the 100K mark is inevitable.
Conservative Bitcoin Predictions
Al these predictions are incredibly bullish, but let's face it: a lot of people were anticipating PlanB's 98K prediction for the end of the year. Bitcoin's price (and cryptocurrency in general) is developing so quickly that sometimes it's good to show multiple perspectives. After all, there are some experts with a more 'bearish' outlook on things. Therefore, we have also investigated more nuanced opinions on what to expect of Bitcoin in 2022. Let's break it down.
Will Harborne is the CEO of DeversiFi, a DEX (decentralized exchange) where you can swap tokens anonymously. Harborne sees two possibilities short term. 1: there will be a market correction before it continues its trajectory. 2: Ethereum will flip Bitcoin, pointing at the current number two's utility in the DeFi space.
"We are in a bubble," he said. "There have been multiple bubbles through the history of cryptocurrency, and that's not necessarily a bad thing, that's because there is genuine value being created and people speculate on that and everyone gets way ahead of themselves. The CEO does not want to hang a prediction to his quote, stating that anyone who tries to predict the market gets it wrong.
Fred Schebesta, the co-founder of Finder.com, is more optimistic but thinks that Bitcoin will stabilize by the end of the year. He mentions that the crypto bull run will continue in 2022 and that especially (lesser-known) altcoins will thrive next year. However, he predicts that after reaching ATH territory, Bitcoin will experience a cool off point predicting that Bitcoin will fall to $32K where it will move sideways for quite some time.
I don't think $69K was the top for this halving cycle.
If $69K were the top, than a typical bear market -80% drawdown would bring the bottom to $14K .. below 2017 ATH ($20K) and below 200WMA ($18K). Nah, that has never happened and IMO will never happen. pic.twitter.com/HYo8Pb1E3F

— PlanB (@100trillionUSD) December 10, 2021
It's clear that there are multiple perspectives on Bitcoin. Most of them are quite positive now that multiple countries and institutions are looking into the framework instead of fighting against it (China). Promotion will continue, economic instability will continue and regulations will continue, meaning that Bitcoin is bound to move one way or the other. The developments on the Lightning network and real-life use cases will also play an integral part regarding fast adoption outside the crypto scene. Let's see where next year will actually take us. When in doubt, zoom out.