Cardano (ADA) – price prediction 2022 - 2025
- 6 minute read

In the series "A Forecast for 2022", we take a closer look at some of the largest and best-known cryptocurrencies with regard to their price and expectations for the coming year. This week, we look at the price of Cardano, one of the largest cryptocurrencies in terms of market cap. In this article, we analyse the price history and find out what you can expect from Cardano in 2022.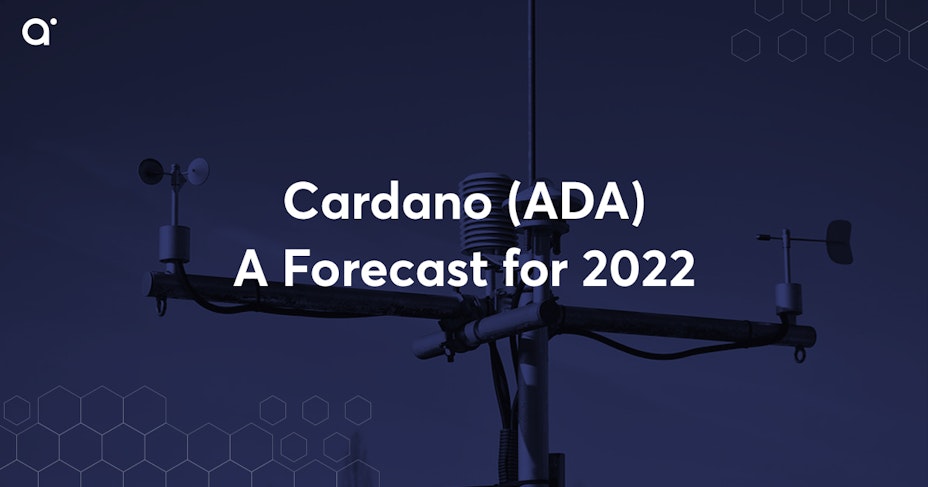 Table of Contents
What is Cardano?
Cardano is a decentralised proof-of-stake (PoS) blockchain platform. PoS allows users of the network to generate a passive income. On Cardano's network, this is 6% per year, and all you have to do is hold Cardano's coin, ADA, in your wallet. The blockchain recently supports smart contracts. Thanks to Cardano's smart contracts, various decentralized applications ( dApps) can be built on Cardano's network.
In addition to the many dApps that Cardano intends to facilitate in the future, they are also focusing heavily on improving scalability, interoperability and sustainability. With scalability, Cardano focuses on scaling up the transactions that can be carried out simultaneously on their network. The aim is to be able to scale up infinitely, so that in the future Cardano can handle up to millions of transactions per second, at the lowest possible transaction costs.
With Interoperability, Cardano focuses on successful communication between the thousands of blockchains that currently exist and will continue to be added. In the future, Cardano hopes to use sidechains to enable all blockchains to communicate successfully with each other.
In terms of sustainability, Cardano wants to continue to provide crypto projects that launch on the network with development funding. It happens regularly that a crypto project is started, but is not further funded, causing the project to stagnate. By means of a treasury that is supplemented by transactions on the Cardano network, projects can be financed.
Cardano Price Chart
Cardano Price History
The price history of Cardano starts from 2017, because that is when ADA was first traded. Within a short period of time, Cardano has taken a position at the top of the cryptocurrencies. Below is an analysis of the price of ADA over years.
Cardano price 2017
Cardano landed on the crypto market during 2017. The cryptocurrency industry was in that time in the middle of a bull run. Many cryptocurrencies rose by hundreds to thousands of percent during the year. Cardano, which was only traded in October that year, also experienced an enormous price increase. Within two months, the price of 1 ADA rose from less than 0.03 dollar cents to 1.15 dollars.
Cardano price 2018
On January 6, 2018, ADA was worth an incredible $1.15. Investors thought that the cryptocurrency market was indestructible and that it would rise even further. This turned out to be a huge misconception. The crypto market collapsed like a house of cards and an enormous correction was also suffered by ADA.  During 2018, Cardano lost 95% of its value. At the end of the year, its value was dangling around $0.02 cents, the same value at which ADA first traded at the end of 2017.
Cardano price 2019
2019 was a fairly irrelevant year for Cardano in terms of price. ADA's value moved between 0.03 and 0.10 dollar cents during the year. These are relatively very low fluctuations in the volatile cryptocurrency market.
Cardano price 2020
In 2020, the situation changed for Cardano, and the entire cryptocurrency market. Sentiment around crypto started to pick up and slowly people started to invest again.
In March that year, ADA's growth was briefly held back (by covid-19) but the market soon picked up again. ADA was worth more than 10 cents again for the first time in two years. ADA closed its price at 18 cents.
Cardano price 2021
At the end of 2020, sentiment for another bull run began to emerge. The market recovered from the covid-19 crash in March much faster than expected. This "bullish" sentiment converted into a true price increase of Cardano in 2021. The price of ADA rose from $0.17 cents to over $2.30 in a few months. In May of 2021, Cardano, like the rest of the market, underwent a correction. It has since recovered and Cardano now has an all-time high of above $3.
Cardano Fundamentals 2022
Cardano's share price for 2022 depends on various factors. Fundamental factors are very important. Some of the most important fundamental factors for Cardano are as follows:
Cardano's Roadmap developments
The Cardano roadmap is a summary of Cardano's development and consists of five phases, named Byron, Shelley, Goguen, Basho and Voltaire. The phases are completed in chronological order and all ensure that Cardano's blockchain continues to improve.
The most recent phase, Goguen, was completed last August. During 2021, several updates were released that fell under the Goguen phase. These updates have repeatedly shown to have a positive effect on Cardano's share price. In particular, the second-to-last update called Alonzo had a major effect on the price. Cardano reached a new all-time high around that time and the ADA coin was worth around $3.
During 2021, Cardano will be working hard on the development of the fourth phase, Basho. We can therefore expect a number of major upgrades. Given Cardano's history, there is a chance that these upgrades will have a positive effect on the price. Mind you, in a bear market it is less likely that a major upgrade will have a positive effect on the price.
Community
Cardano believes it is important to have a strong community, so they put a lot of energy into growing the ever-expanding community. On Cardano's Reddit page, r/cardano, almost 650 thousand people are connected. The community on that platform discusses and communicates all things related to Cardano.      
The fact that Charles Hoskinson, the founder of Cardano, frequently communicates with his followers via YouTube streaming, also shows that the community is of great importance to Cardano. In these streams, he discusses a variety of subjects and answers questions from the viewers.
Cardano's huge community has caused the price to rise several times in the past. Everywhere on the internet you can find positive statements and news about Cardano. It is therefore important for Cardano to continue to meet the needs of their community.
Cardano will therefore have to make real strides with the development of their blockchain. In fact, last year there was slight irritation among the community because Cardano had once again delayed a number of updates, thus delaying the completion of the Goguen phase.
The crypto market
Like all cryptocurrencies, Cardano is also dependent on the crypto market. Should the crypto industry enter a bear market, Cardano will sooner or later participate in this financial malaise, if the price history of 2018 and 2019 is to be believed. In these years, ADA's share price fell to record lows, as did the entire crypto market.
Cardano price predictions 2022
Cardano has become one of the largest cryptocurrencies in the world in terms of market value during 2021. In addition, their blockchain technology is in full development, upgrades are regularly released that greatly improve blockchain, and the NFT marketplace is poised for full growth in 2022. All these events lead to different price predictions from various individuals and agencies.
The first price prediction for Cardano for 2022 that we are discussing is from TradingBeasts, a Price Forecasting Agency. By the end of 2022, they predict that Cardano will have a minimum price of $0.57 and a maximum price of $0.84.
Changelly is another price prediction agency. They predict that Cardano's price will fluctuate between $0.59 and $0.70 in 2022, with an average trading price of $0.61.
DigitalCoinPrice has similar price predictions for Cardano in 2022. They expect Cardano to trade between a minimum price of $0.41 and a maximum price of $0.69 in 2022.
DigitalCoinPrice heeft vergelijkbare koersvoorspellingen voor Cardano in 2022. Zij verwachten dat Cardano in 2022 tussen een minimumprijs van $0,41 en een maximumprijs van $0,69 zal verhandelen.
| | | |
| --- | --- | --- |
| TradingBeasts | 2022: | $0.57 - $0.84 |
| Changelly | 2022: | $0.59 - $0.70 |
| DigitalCoinPrice | 2022: | $0.41 - $0.69 |
When looking for a price prediction from Cardano, it is important to keep in mind that cryptocurrency markets remain extremely volatile. This makes it difficult to accurately predict what the price of a coin will be in a few hours, and even more difficult to provide a long-term projection. As such, analysts and algorithm-based forecasters can get their predictions wrong.
Cardano price predictions 2023 – 2025
These agencies can make price predictions for several years thanks to algorithms. Based on their predictions, we have listed the price predictions from 2023 to 2025.
TradingBeasts, based on their algorithm, expects Cardano's price to slowly rise in 2023. Throughout 2023, Cardano's trading price is predicted to fluctuate between $0.48 and $.91. The peak of $0.91 is anticipated towards the end of 2023. In 2024, the price is predicted to rise slightly further, fluctuating between $0.58 and $1.15. The peak in 2024 is also anticipated at the end of the year. The fact that TradingBeasts predicts that Cardano's price will continue to rise proportionally is also reflected in the 2025 price forecast. The prediction is that Cardano's price will fluctuate between the minimum price of $0.79 and the maximum price of $1.37 in 2025. This maximum price is again anticipated at the end of the year.
Based on previous analyses, Changelly predicts that Cardano's price will be a minimum of $0.85 and a maximum of $1.01 in 2023. This price will further increase to a minimum price of $1.25 and a maximum price of $1.46 in 2024, according to the price forecasting agency. Subsequently, in 2025, Cardano's price is expected to make a bigger jump. The minimum price for ADA is predicted to be $1.87 and the maximum price could even reach $2.19.
DigitalCoinPrice predicts that Cardano's price will not rise dramatically in 2023. The price will not fluctuate much during the year and the minimum price is predicted to be $0.63 and the maximum price $0.84. This maximum price is anticipated at the beginning of the year according to DigitalCoinPrice. In 2024, Cardano's price is predicted to fluctuate between $0.57 and $1.03. The peak of this price is expected in the summer of 2024. Finally, a small price increase is predicted in 2025. The minimum price rises sharply to $0.80, but the maximum price is expected to increase slightly to $1.16. The peak of the price is expected at the beginning of 2025 as well as at the end of 2025.
| | | | | | | |
| --- | --- | --- | --- | --- | --- | --- |
| TradingBeasts | 2023: | $0.48 - $0.91 | 2024: | $0.58 - $1.15 | 2025: | $0.79 - $1.37 |
| Changelly | 2023: | $0.85 - $1.01 | 2024: | $1.25 - $1.46 | 2025: | $1.87 - $2.19 |
| DigitalCoinPrice | 2023: | $0.63 - $0.84 | 2024: | $0.57 - $1.03 | 2025: | $0.80 - $1.16 |
Again, price predictions of cryptocurrencies remain extremely difficult due to the extremely volatile market. Therefore, do not take these price predictions for truth. If you are considering investing in Cardano, we recommend you to always do your own research. Check out the latest Cardano crypto news, market trends, technical and fundamental analysis, and expert opinion before making a trading decision. Keep in mind that past performance is no guarantee of future returns. And never invest money you can't afford to lose.